Obama Slams Trump as He Pushes To Reinstate Assault Weapons Ban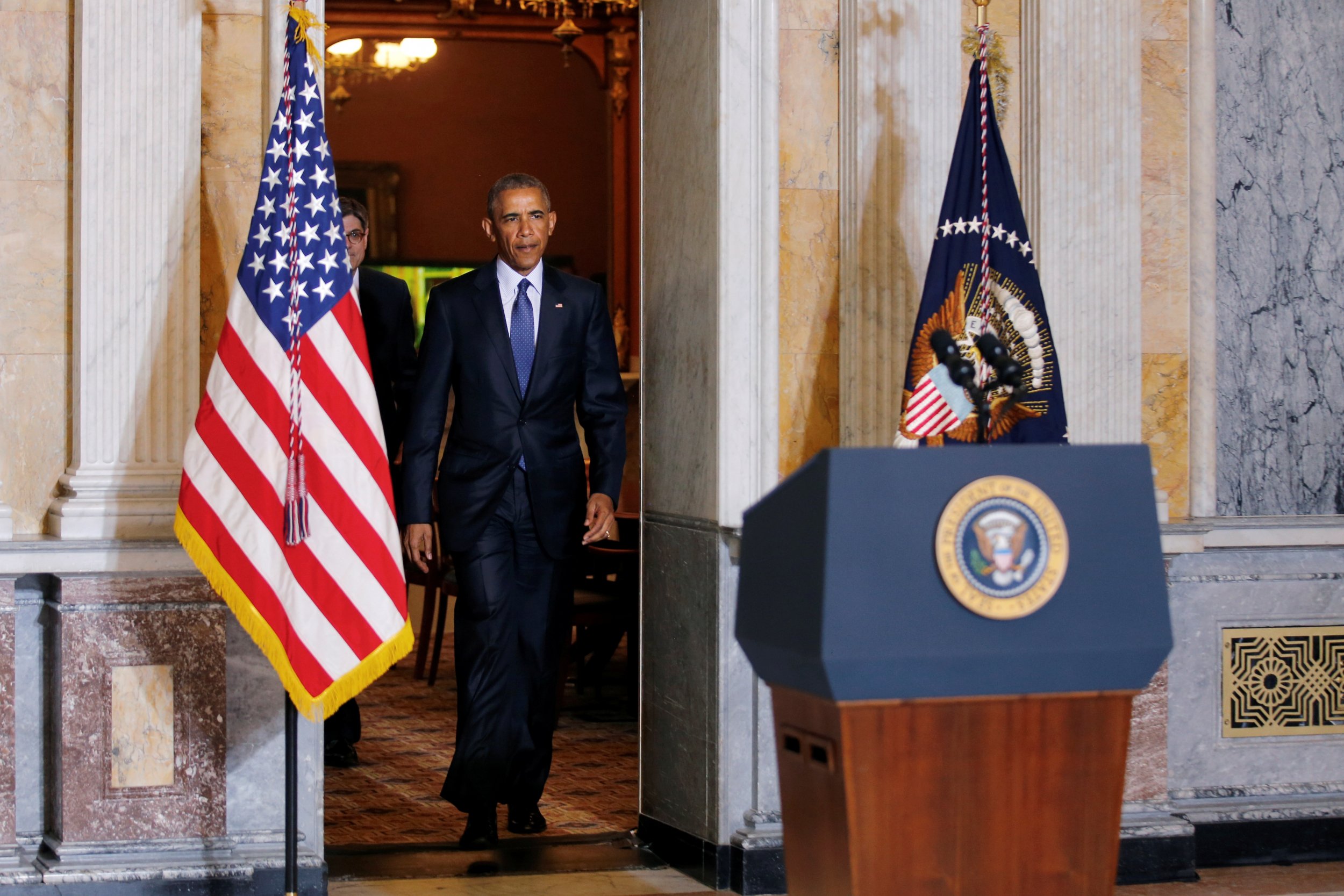 Speaking in the aftermath of this past weekend's massacre at an Orlando, Florida, nightclub, President Barack Obama on Tuesday called for reinstatement of the assault weapons ban while also attacking his Republican colleagues and Donald Trump for criticizing his choice not to use the term "radical Islam."
Obama met Tuesday with his National Security Council as part of their regular effort to review and intensify the campaign to destroy the Islamic State militant group, also known as ISIS or ISIL. The meeting had been planned before the Orlando attack, where a 29-year-old gunman, Omar Mateen, opened fire early Sunday morning at the popular gay nightclub Pulse, killing 49 individuals and injuring another 53.
As law enforcement agencies continue to investigate the incident, there have been calls to renew an expired ban on assault weapons, a class of semi-automatic firearms. Assault weapons, specifically the AR-15 rifle, have been chosen by gunmen to carry out recent mass murders, including those in Orlando; San Bernardino, California; Newtown, Connecticut; and Aurora, Colorado. Just seven states—California, Connecticut, Hawaii, Maryland, Massachusetts, New Jersey and New York—and the District of Columbia have enacted laws banning assault weapons.
While speaking to reporters at the White House on Monday, Obama stressed the need for stronger gun control, a topic he has repeatedly returned to during his presidency, which has seen more than a dozen high-profile mass shootings in the United States. Senate Democrats restarted the debate Monday by calling for legislation to prohibit the sale of weapons to individuals who have been on terrorist watch lists. Authorities have said the U.S.-born Mateen, who was killed by police Sunday morning, was previously placed on such lists and investigated by the FBI in recent years.
"We have to make it harder for people who want to kill Americans to get their hands on weapons of war that let them kill dozens of innocents," Obama said in a televised address Tuesday afternoon. "We cannot prevent every tragedy, but we know that, consistent with the Second Amendment, there are common sense steps that could reduce gun violence and could reduce the lethality of somebody who intends to do other people harm."
Obama demanded the enacting of provisions that would make it more difficult for individuals who pose a threat to public safety to obtain weapons. Without such measures, mass killings will continue to occur, he said. Obama also argues that those prevented from boarding an airplane shouldn't be allowed to purchase guns.
Then, in a dramatic shift, the president took on an angry and impassioned tone. While never directly mentioning Trump, the Republicans' presumptive nominee for president, he called out politicians who tweet and appear on cable news shows to imply that the thousands of officials working around the world to defeat ISIS aren't taking the fight seriously.
Trump has previously brought controversy for his behavior on Twitter. He has used the platform to retweet white supremacist propaganda and to call Fox News anchor Megyn Kelly a "bimbo," to cite just two examples. Around 2 p.m. Eastern time on Sunday, in the hours after the Orlando massacre, Trump criticized Obama for not using the term "radical Islamic terrorism" to describe such acts of violence. Then, in a speech Monday, he questioned the president's determination in taking on ISIS.
Obama directed the remainder of his 25-minute speech to Republicans who have criticized him for not using the terms "radical Islam" and "radical Islamic terrorism." He argued that referring to a threat with a different name doesn't make it disappear.
"That's the key, they tell us. We can't beat ISIL unless we call them radical Islamists," he said. "What exactly would using this label accomplish? What exactly would it change? Would it make ISIL less committed to trying to kill Americans? Would it bring in more allies? Is there a military strategy that is served by this? The answer is none of the above."
Obama called such criticisms "a political distraction" and "partisan rhetoric" that Americans are now accustomed to hearing. "There's no magic to the phrase 'radical Islam,'" he added. "It's a political talking point. It's not a strategy. And the reason I am careful about how I describe this threat has nothing to do with political correctness and everything to do with actually defeating extremism."
Again, without mentioning Trump, Obama—who last week endorsed his former secretary of state, Hillary Clinton, for president—continued to criticize the GOP candidate's repeated pledge to ban all Muslims from entering the U.S. The president asked where such ideas end.
"Are we going to start treating all Muslim-Americans differently? Are we going to start subjecting them to special surveillance? Are we going to start discriminating against them because of their faith?" he asked. "We've heard these suggestions during the course of this campaign. Do Republican officials actually agree with this? Because that's not the America we want. It doesn't reflect our democratic ideals. It won't make us more safe. It will make us less safe, fueling ISIL's notion that the West hates Muslims."
Citing FBI Director James Comey, Obama began his address by saying that there are no indications a foreign group directed the attack in Orlando. But it's becoming clear that the suspect took in propaganda information over the internet, and during his killing spree he pledged allegiance to ISIS.
During the speech, the president explained that the government's objective is to destroy ISIS. Forces are still having trouble rooting out the militants in parts of Syria and northern Iraq. The U.S.-led operation against the group is making significant progress, though, with the deaths of more than 120 top leaders and commanders; lost ground in Iraq, Syria and Libya; and shrinking ranks and dwindling morale.
"Across our government at every level, federal, state and local, military and civilian, we are doing everything in our power to stop these kinds of attacks," Obama said. "We work to succeed 100 percent of the time; an attacker as we saw in Orlando only has to succeed once."