Read Olivia Rodrigo's Full Glastonbury Speech on Roe v. Wade: 'We Hate You'
Olivia Rodrigo, 19, took to the Glastonbury "Other" stage on Saturday, June 25 performing hits from her Grammy-winning album Sour. However, Saturday's performance for Rodrigo was like no other and for years to come, it will hold a solid spot in the Glastonbury history books.
Midway through her set, Rodrigo revealed she would be bringing British icon Lily Allen to the stage. Allen, who last released music in 2018, joked after their performance, that maybe she was not done with music after all.
Their duet was slightly different from the other ones taking place over the weekend and for a very important reason. Their song choice, F*** You by Allen, which was originally written in 2009 about U.S. President George Bush, was politically charged and belted out in anger regarding the overturning of Roe v. Wade in the U.S.
On Friday, June 24, the U.S. Supreme Court overturned Roe v. Wade, a landmark ruling in 1973 that protected a woman's freedom to choose to have an abortion, removing federal and state abortion laws that were in place at the time. The decision means that individual U.S. states are now able to ban access to abortions.
Rodrigo and Allen did not let the ruling go down quietly or let it be ignored. Before breaking into Allen's iconic track F*** You, Rodrigo gave an emotional speech to the crowd, saying women and girls will die as a result of the decision.
"This is actually my first Glastonbury and I'm sharing this stage with Lily, this is the biggest dream come true ever," she said. "But I'm also equally as heartbroken about what happened in America yesterday. I'm devastated and terrified. So many women and so many girls are going to die because of this."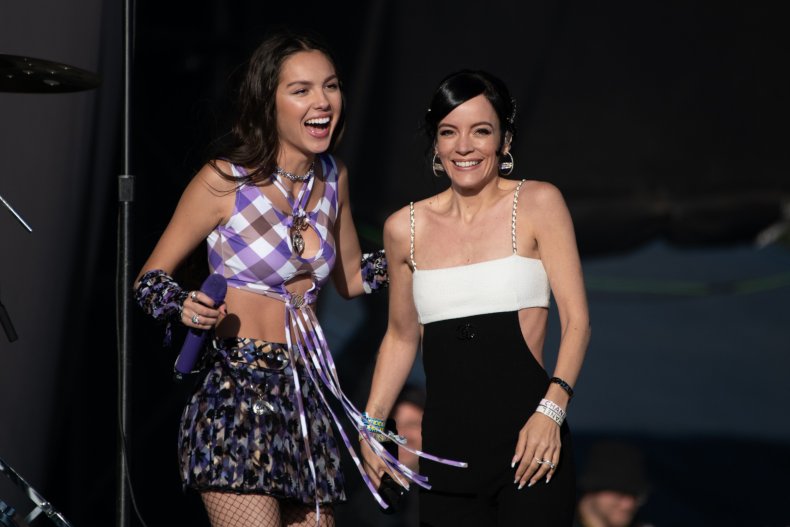 Rodrigo then dedicated the song to the five Supreme Court Justices who voted in favor of overturning Roe v. Wade — Samuel Alito, Clarence Thomas, Neil Gorsuch, Amy Coney Barrett, and Brett Kavanaugh.
John G. Roberts, Stephen Breyer, and Sonia Sotomayor, Elena Kagan, the three other Justices on the panel, voted to uphold Roe v. Wade.
"I wanted to dedicate this next song to the five members of the Supreme Court who have shown us that at the end of the day, they truly don't give a s**t about freedom," she said. The song is for the justices: Samuel Alito, Clarence Thomas, Neil Gorsuch, Amy Coney Barrett, Brett Kavanaugh. We hate you! We hate you."
As the familiar notes of F*** You began to play, the Glastonbury crowd went wild.
Rodrigo and Allen were not the only famous faces performing at Glastonbury to slam the Supreme Court's Decision.
Phoebe Bridgers who recently shared she had an abortion in 2021, told the crowd: "F*** America and all these irrelevant old motherf****** trying to tell us what to do with our f****** bodies."
During her set on the Pyramid Stage, Lorde said "Welcome to sadness."
"The temperature is unbearable until you face it," she continued. "You wanna know a secret, girls? Your bodies were destined to be controlled and objectified since before you were born. That horror is your birthright."
Billie Eilish, who headlined Pyramid Stage on Friday said: "today is a really dark day for women in the U.S." and Megan the Stallion got the crowd to chant "my body, my motherf****** choice!"