Olivia Wilde Speaks Out Against Pugh Feud Rumors Once Again: 'Laughable'
Olivia Wilde responded to rumors of a feud with Florence Pugh again after previously shutting down talk of tension.
The Don't Worry Darling director, 38, clapped back at the "baseless" speculation regarding her and the film's leading lady, 26, in Vanity Fair's October 2022 issue, which was published on Thursday.
The cast has been surrounded by controversy before the movie even premiered at the Venice International Film Festival on Monday.
Initially, reports surfaced alleging that Pugh opposed Wilde's relationship with her co-star Harry Styles, 28. There was also chatter about her unusually quiet social media behavior surrounding the flick.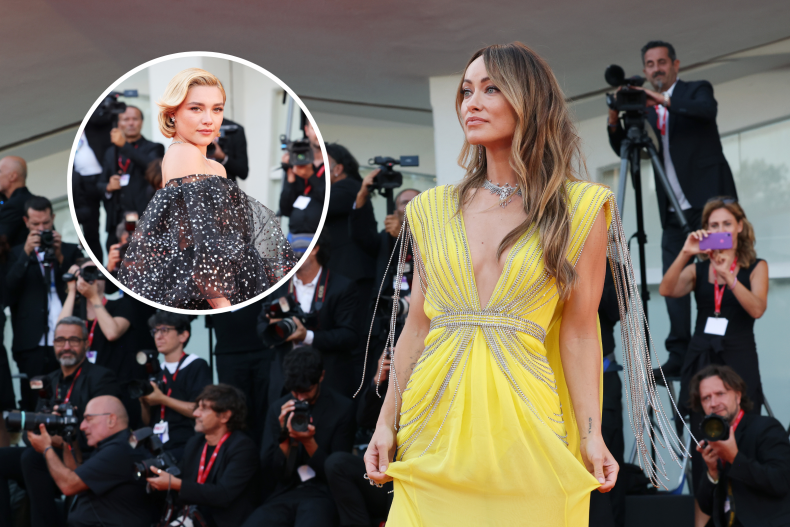 In August, Wilde said she fired Shia LaBeouf from the project, though he shot back saying he was "confused about the narrative." Instead, the Transformers actor, 36, cited scheduling conflicts as the reason for parting ways.
Fast-forward to the Campari Passion for Film Award event at the festival, where it appeared that Styles spit on Pine, 42. However, a video that had been passed around online was later called "ridiculous" by Pine's representative.
"It is very rare that people assume the best from women in power. I think they don't often give us the benefit of the doubt," Wilde told Vanity Fair while discussing her relationship with Pugh. "Florence did the job I hired her to do, and she did it exquisitely. She blew me away. Every day I was in awe of her, and we worked very well together."
Wilde added, "It is ironic that now, with my second film—which is again about the incredible power of women, what we're capable of when we unite and how easy it is to strip a woman of power by using other women to judge and shame them—we're talking about this.
"The idea that I had five seconds in the day to be distracted by anything is laughable. I was there before everyone. I was there after everyone. And it was a dream. It's not like this work was not enjoyable. It was just all-encompassing."
She continued her lengthy message to the magazine, saying that Pugh "is one of the most in-demand actresses in the universe."
While responding to critics who hoped the Black Widow star would be "engaging more on social media," Wilde fired back: "I didn't hire her to post. I hired her to act. She fulfilled every single expectation I had of her. That's all that matters to me."
Newsweek reached out to Wilde for additional comment.
During the film's press conference on Monday, September 5, ahead of its premiere, the mom of two—who shares kids Otis, 8, and Daisy, 5, with ex-fiancé Jason Sudeikis—debunked tension after Pugh skipped out on the film's press conference.
Variety later confirmed that Pugh's absence was due to her plane arriving late from Budapest, where she was filming Dune: Part 2. She did, however, attend the premiere that evening.
"I mean, the internet feeds itself," Wilde said during the panel. "I don't feel the need to contribute. I think it's sufficiently well nourished."
Don't Worry Darling hits theaters in the United States on Friday, September 23.