Only 3 Percent of Bernie Sanders Supporters Have Donated to Joe Biden's Campaign
Only 60,000 donors of the approximately 2.2 million that gave money to the now-defunct presidential campaign of Democratic Vermont Senator Bernie Sanders have also made donations to Presumptive Democratic presidential nominee Joe Biden, according to The Wall Street Journal.
As such, less than 3 percent of Sanders supporters have given to Biden thus far. Six months away from the election, the low percentage suggests that Biden hasn't made inroads to the Vermont senator's base despite his overtures to appear receptive to their political needs.
But the Journal estimates that Biden could potentially gain at least $41 million if each of these untapped donors gave just $19 each to his campaign, the average donation to Sanders' campaign. Plus, seeing as most of Sanders' supporters made multiple donations to his campaign, Biden could also potentially rake in much more from this group.
While a USA Today/Suffolk University poll showed 77 percent of Sanders supporters said they'd vote for Biden in November, a March 2020 Wall Street Journal/NBC News poll also found that nearly 40 percent of Sanders supporters "had reservations about supporting" Biden.
Biden will need to up his donations to remain competitive against President Donald Trump. While Biden outraised Trump during April by a margin of $43.7 million to $16.9 million, Trump had $107 million left in his personal war chest by the end of the month compared to the $57 million in Biden's, according to NPR.
Also, the Republican National Committee outraised the Democratic National Committee by nearly $12 million during April. While all of those funds won't go towards Trump, they do suggest a more active Republican base.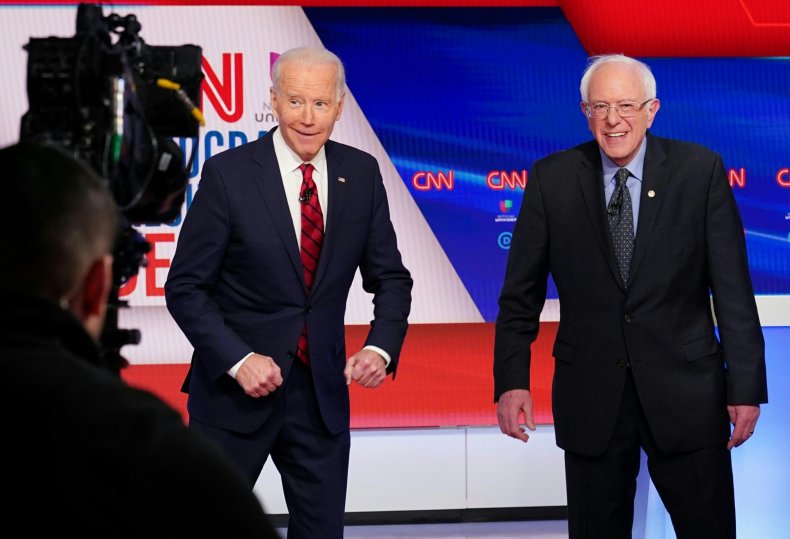 Courting progressives isn't just about money. A dedicated base of supporters often devotes critical time and grassroots work to knock on doors, speak with constituents and turn out voters on election day.
While recent national polls show all show Biden with a lead over Trump, Biden is still making overtures to try and win over his party's progressive base.
On May 13, Biden announced a joint policy task force coordinated by him and Sanders to focus on campaign goals meant to attract Sanders supporters. The task force will focus on issues of climate change, criminal justice, the economy, education, immigration and health care.
Towards this end, Biden conscripted progressive Democratic New York Representation Alexandria Ocasio-Cortez to serve as the co-chair of the climate change group.
Biden has also promised to pick a woman as his vice-presidential running mate, leading Democratic donors to speculate whether he'll choose a Black woman, like former Democratic Georgian gubernatorial candidate Stacey Abrams, who could help turn out black voters, or Democratic Massachusetts Senator Elizabeth Warren whose policies also appeal somewhat to the party's progressive wing.
However, three decades of Senate votes, two terms as President Barack Obama's vice president, frequent gaffes and sexual assault allegations from former senatorial aide Tara Reade make it hard for some political progressives to see Biden as an inspiration, even though he's the party's choice to challenge Trump.
Newsweek reached out to Biden's campaign for comment. This story will be updated with any response.