All Of The Famous Cast Members In 'Only Murders In The Building' Season 2
If you loved the cast of Only Murders In The Building (OMITB) Season 1, you will not be disappointed when you see who is paying a visit to The Arconia in Season 2.
In OMITB Season 2, Charles (played by Steve Martin), Oliver (Martin Short), and Mabel (Selena Gomez) find themselves as suspects in the murder of Arconia Board President Bunny (Jayne Houdyshell).
Things are not looking good for the true-crime-loving trio as at the end of Season 1, Bunny was found dead in Mabel's apartment with Mabel's knitting needle plunged into her chest.
As they try to clear their name and find Bunny's killer, they will be introduced to a whole host of interesting Arconia residents and more.
With Sting, Amy Ryan, Jayne Lynch, and Nathan Lane all appearing in Season 1, Newsweek has everything you need to know about the famous faces and their characters appearing in Season 2 of OMITB.
All OF The Famous Cast Members In Only Murders In The Building Season 2
Amy Schumer
Following in the footsteps of Sting's hilarious cameo in Season 1, Amy Schumer appears in Season 2 of OMITB as herself.
She is looking to work with Oliver to turn their podcast series, OMITB, into a TV series.
In her small-screen adaptation, Schumer plans to play the role of Tim Kono's killer and Charles's love interest Jan, who was played by Amy Ryan in Season 1.
Stand-up comedian and actress Amy Schumer is best known for starring in the film Trainwreck which she wrote, and was directed by Judd Apatow.
Schumer is also well known for starring in 30 Rock, SNL, The Humans, and Life & Beth as well as her hugely popular comedy specials such as Amy Schumer: The Leather Special, Amy Schumer: Growing, and Amy Schumer: Live at the Apollo.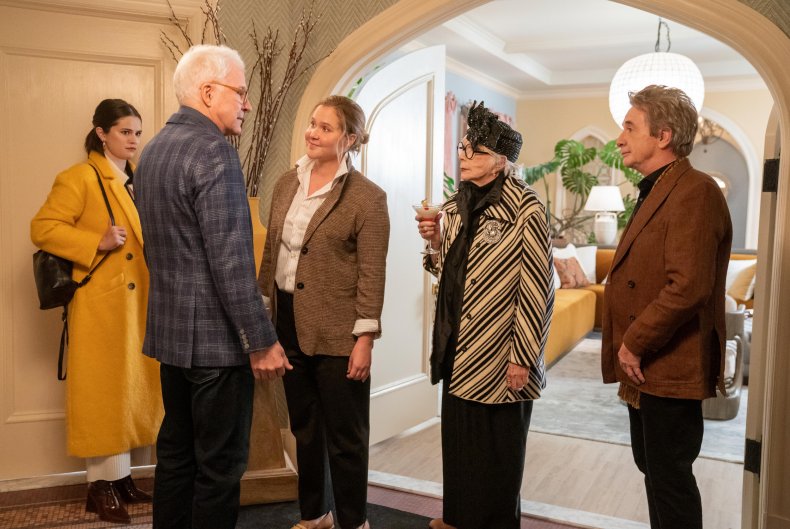 Alice Banks — Cara Delevingne
British model Cara Delevingne has returned to acting after a short hiatus to play the role of Alice Banks in OMITB Season 2.
Her character, Alice, is an art gallery owner who is a fan of Mabel's (played by Selena Gomez) work. By Episode 2, the pair have developed a romantic bond but exactly how it will play out remains unseen for now.
Delevingne is best known for her hugely successful modeling career, but she has appeared in the films Anna Karenina, Paper Towns, and Suicide Squad as well as the TV series Carnival Row.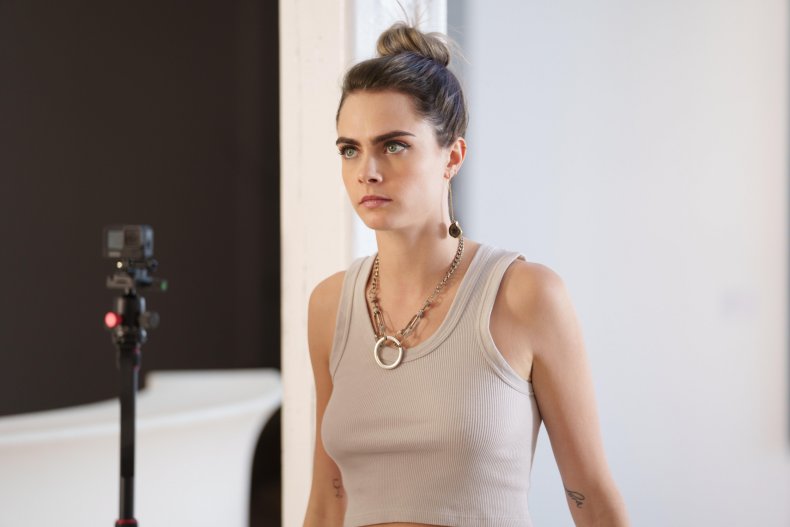 Nina — Christine Ko
Taiwanese-American actress Christine Ko guest-stars as Nina, the new Board President of The Arconia.
At the moment, very little is known about her character but one thing is for sure: cat-loving Arconia resident Howard Morris (Michael Cyril Creighton) does not trust her in the slightest.
Ko is best known for her roles as Emmy on The Great Indoors, Mandy on Upload, and Emma in Dave.
Charles Savage's Father — Ben Livingston
Ben Livingston appears in Episode 2 of OMITB as Charles Savage's father.
In flashback scenes, audiences learn a little more about Charles' childhood and his largely absent father, who was also a struggling actor.
At the end of Episode 2, it is revealed Charles's dad had numerous affairs and was in and out of prison. He died when Charles was just a boy.
Livingston is best known for his early Hollywood roles in Love & War and The Pursuit of Love in the 90s.
His well-known movie credits include The Post, The Knick, and The Raven.
Leonore — Shirley Maclaine
Shirley Maclaine enters the world of OMITB Season 2 as Bunny's mother, Leonore.
Her role in OMITB marks Maclaine's return to television in over a decade.
Following her daughter's murder, Leonore has arrived at The Arconia to retrieve a very expensive piece of art Bunny owned but little does she know, it could hold the key to solving Bunny's murder.
Maclaine is an American actress, singer, author, activist, and former dancer who is the winner of an Oscar, Emmy, two BAFTA's, and six Golden Globe Awards to name some of her many accolades.
She s best known for her roles n the films Around the World in 80 Days, Terms of Endearment, The Turning Point, and Bewitched.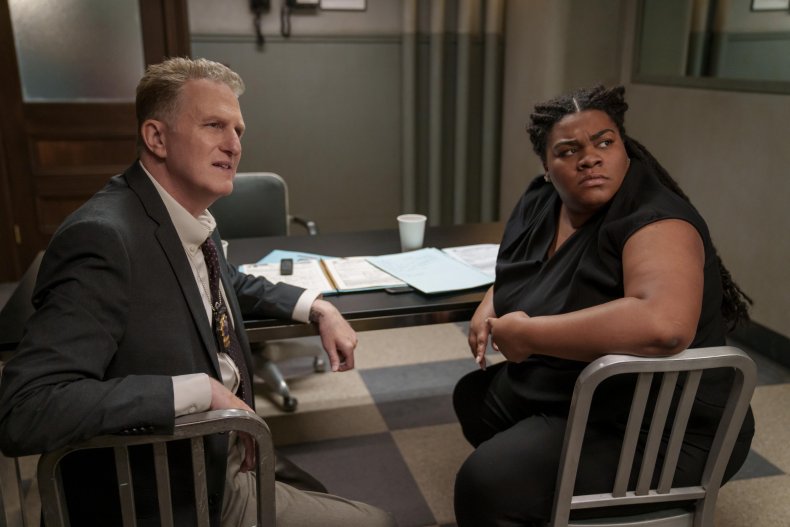 Detective Kreps — Michael Rapaport
Michael Rapaport stars as foul-mouthed Detective Kreps in OMITB, who is certain Mabel, Charles, and Oliver were responsible for Bunny's death.
Rapaport is an actor and comedian, who has starred in over 100 films and television series.
He is perhaps best known for his appearances in the films True Romance, Depp Blue Sea, Dr. DoLittle 2, and The Heat.
Rapaport has also starred in the TV series My Name Is Earl, Justified, Prison Break, and Boston Public.
Most recently he played the role of Doug Gardner in the Netflix comedy, Atypical.
Cinda Canning — Tina Fey
Award-winning actress and comedian Tina Fey is back as a rival podcast host, Cina Canning and for the second season of the podcast, she is delving deep into Bunny's murder, framing Charles, Mabel, and Oliver in the process.
Fey is best known for her work on SNL and for creating the hilarious shows 30 Rock and Unbreakable Kimmy Schmidt.
Her other well-known credits include Mean Girls, Mr. Mayor, Modern Love, and Free Guy.
Only Murders In The Building airs Tuesdays on Hulu and Disney+.