Amy Schumer Takes Lie Detector Test Years After Joke-Stealing Claims
Amy Schumer has finally given in and taken a lie detector test after years of teasing, over accusations of joke stealing.
The Trainwreck star took part in Vanity Fair's polygraph test feature where she was grilled about many aspects of her acting career, personal life and indeed, her jokes.
Back in 2016, Schumer was accused of stealing other comedians' jokes in a now-deleted thread on Twitter.
At the time, three female comedians—Wendy Liebman, Tammy Pescatelli, and Kathleen Madigan—shared their frustrations and made claims that Schumer had stolen material and used it in her stand-up specials.
Schumer denied she had ever stolen jokes and shortly afterward, Pescatelli rescinded her accusations and apologized to the comedian.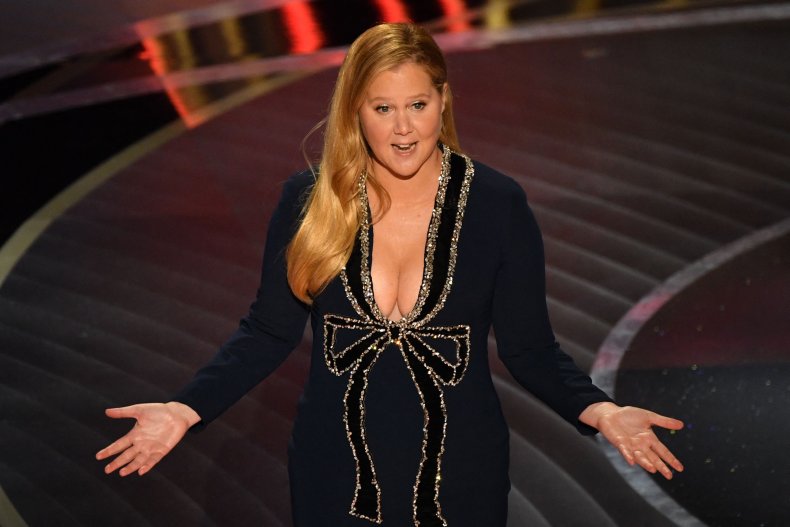 "I went too deep," Pescatelli said on the Jim Norton Advice Show, per Refinery29.
"I went too far and I am super apologetic."
On the same radio show, Schumer said: "I'm being accused of stealing jokes and I wanted to come and talk to you about it and clear my name because I would never ever do that and never have."
It was at this time that she said she would happily prove her innocence with a lie detector test.
Now that time has come—and during the magazine feature this week, Schumer was asked: "Coming up with new material is difficult, have you ever stolen a joke?"
Schumer responded with a definitive "no" and a clip of the machine showed it as being non-responsive to her answer.
"Yes, she's telling the truth," the polygraph technician confirmed.
She was then asked a series of rephrased questions about whether she had ever stolen material or ideas.
"What about an idea for a sketch?" the interviewer asked. "An idea for a character?"
Schumer responded "no" to both questions before the interviewer concluded this topic of questioning with: "Let me rephrase. Have you ever taken inspiration for a joke from somebody else?"
Again, Schumer answered "no" and was determined to be telling the truth.
The comedian hosted the Oscars last week on the night that saw Will Smith storm the stage and slap Chris Rock over a joke.
Schumer expressed frustration over the situation but then faced serious backlash on Tuesday when she revealed a joke she wanted to tell at the event but was advised not to.
The joke inquisition was: "Don't Look Up is the name of a movie, more like don't look down the barrel of Alec Baldwin's shotgun."
She added during her stand-up show at the Mirage Theater in Las Vegas: "I wasn't allowed to say any of that but you can just come up and [clock] someone."