Oscar Pistorius's Sentence Forces South Africa to Look at Itself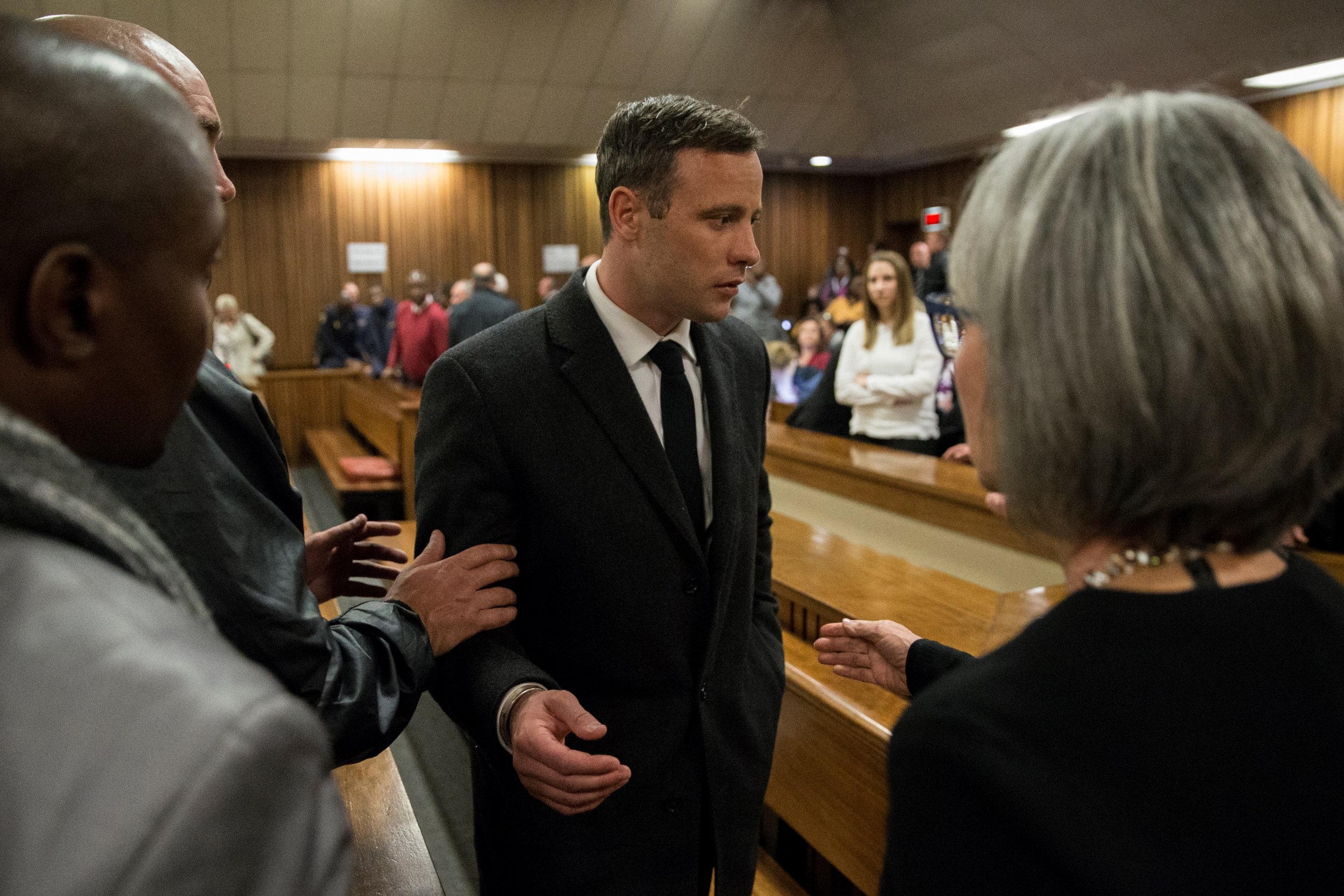 Many South Africans have become emotionally invested in the Oscar Pistorius trial. That's no surprise, considering how much he was celebrated during his heyday. He was one of the country's paragons of excellence, paraded on the world stage. After his Icarus-like fall from grace and the tragic circumstances surrounding the death of Reeva Steenkamp, it would be difficult for the nation not to be caught up in the case.
This is why when Judge Thokozile Masipa handed down a six-year sentence to the Blade Runner for murdering Steenkamp, the response from the public was one full of anger, frustration and despair.
There was a sense of astonishment that Masipa had chosen to deviate from the legally-required minimum sentence of 15 years in prison. Masipa found mitigating circumstances, which she believed showed that Pistorius should receive a reduced jail term. The sentence was just one year more than the one Masipa had handed down for the lesser conviction of culpable homicide in October 2014, a conviction that was overturned by the Supreme Court of Appeal in December 2015. The addition of only one year was inexplicable for many.
What Masipa's judgment served to do was to reinforce the belief—and reality for many—that in South Africa people experience different kinds of justice based on class, race and privilege.
As someone who spends a great deal of time in the country's courts, I was not surprised by her sentencing decision and, like many of our legal experts, had predicted a seven-to-10 year sentence. Masipa's finding has to be considered in the context of the specifics of this particular case and she had to weigh up the factors pertinent to the incident. As the judge herself stressed, she presides over a court of law, not a court of public opinion.
But when you step out of the legal realm and into reality, how do you explain to the average person that a six-year jail term—which in all likelihood will translate to three years of time behind bars—is sufficient for taking a life? And what message does that send to society about the punishment for murder?
The impulse to compare this case to others was always going to be inevitable. On social media, many were quick to share that, just weeks earlier, two men had been sent to prison in Johannesburg for 15 years for robbing a broadcast crew live on television. In that instance, not one shot was fired and no one was killed.
Undoubtedly, despite Masipa being a black judge, her decision was still viewed by many through the lens of race and class. It was interpreted by some as the epitome of privilege at play. Pistorius was able to employ the very best legal, psychological and forensic minds in the country in order to defend himself. Elsewhere in South Africa, two teenagers were recently sentenced to 15 years each in prison after stealing milk and sweets worth less than 400 rand ($27). The two cases are simply not comparable.
At the opposite end of the spectrum, there is the argument that Masipa applied the law as she saw fit with integrity, and that race and class cannot enter the equation. If there is any quibble with her ruling, this must be taken up through the appeals process. The Supreme Court of Appeal overturned her verdict once before and there is no reason to think that it cannot do so a second time. It is one of the successes of the country's justice system—that there is no jury—and that public interest is served rather than public opinion.
However, there is still a persistent belief that despite having what is arguably the most advanced constitution in the world, all are not equal before the law. After all, this is a country in which President Jacob Zuma has spent years successfully defending himself against corruption charges using a Stalingrad approach applied by his lawyers and an alleged manipulation of the criminal justice system.
The Oscar Pistorius case has never been solely about the law. It has always been clouded in emotion and while the judge stressed that hers was a decision of law alone, it was received by a deeply passionate society that largely believes it has not seen justice being done. In South Africa, it is as important for the law to be seen to be done as it is for it to be legitimately enacted. For many, the case has undermined the criminal justice system in South Africa and all that it stands for.
Regardless of Masipa's judgment, the general public was unlikely to accept anything but a harsh sentence because of a widespread belief that Pistorius should have been convicted of murder dolus directus —that his intention was to kill Steenkamp. (Pistorius was instead convicted of murder dolus eventualis —where his intention was to kill whoever was behind the toilet door. Pistorius claimed he thought this was an intruder, rather than Steenkamp.)
In her sentencing judgment, Masipa remarked on the perception by the public that there was an argument between Pistorius and Steenkamp before the shooting: "This was confirmed by the father of the deceased as he let slip this very assertion. Such a perception does exist and cannot be ignored by this court. There is not a shred of evidence placed before the court that supports such assertion." Masipa did not believe that Pistorius intentionally killed his girlfriend. Instead, she found sympathy in the defense argument that he felt vulnerable and threatened by an intruder. The public does not like that view and for that reason it was never going to be satisfied with a lesser, more lenient sentence for manslaughter.
What this trial has achieved, however, is to force the country to introspect and to consider carefully the state of the justice system. Because of the massive public interest and the ramifications of the decisions made, it has forced us to debate whether or not the judiciary and legal fraternity are sufficiently transformed, whether or not the system benefits those who have more money or influence and whether or not the current structure is infallible. This case has also caused society to understand the nuances of the law and legal arguments more clearly, as well as how the law is applied.
These debates are crucial because, when all is said and done, ultimately it is the court of law that presides over Pistorius's fate and not the court of public opinion.
Mandy Wiener is a South African journalist and co-author of Behind The Door: The Oscar Pistorius and Reeva Steenkamp Story. She tweets @MandyWiener.