Oscar Pistorius Sentenced to Six Years in Jail for Reeva Steenkamp Murder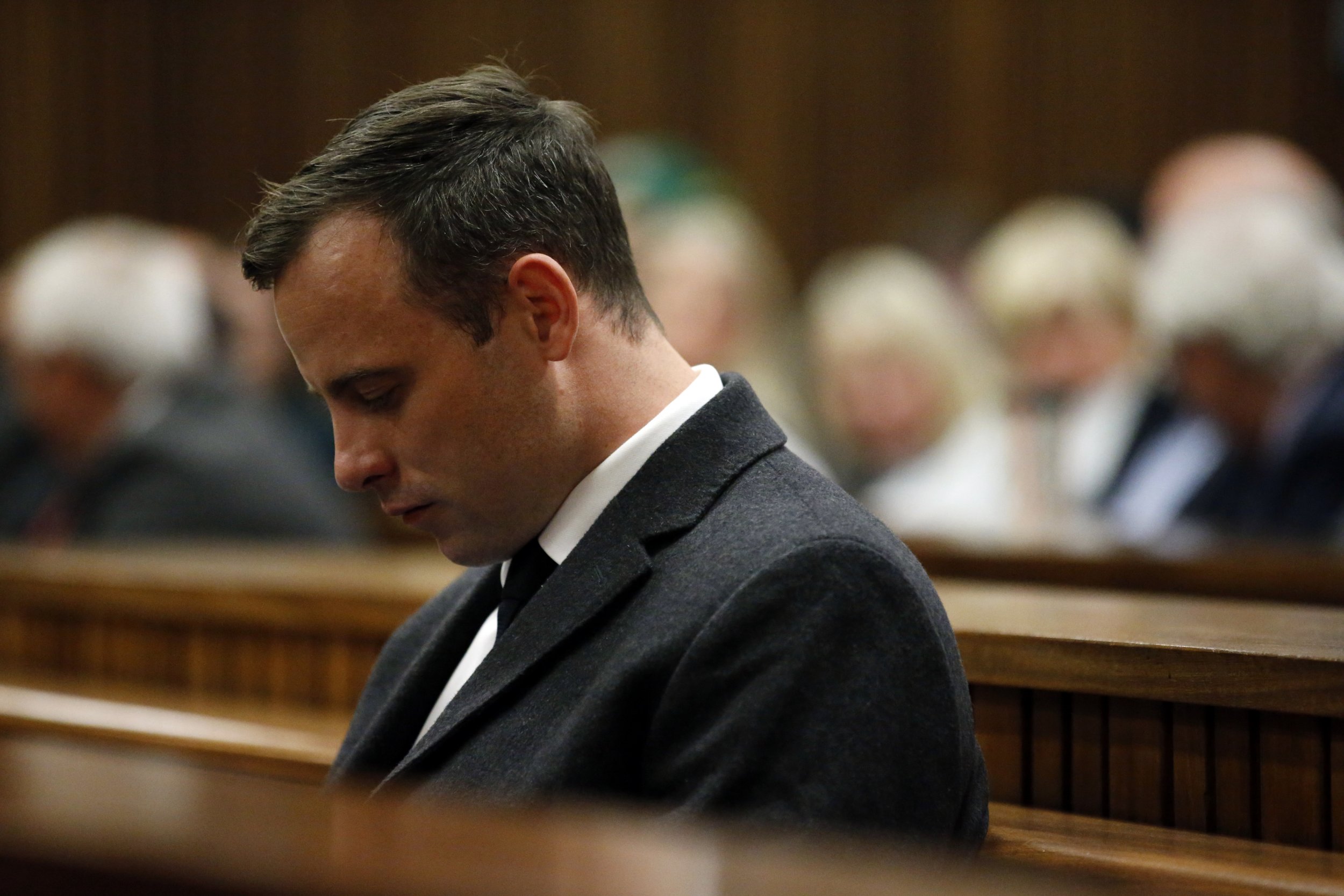 Oscar Pistorius has been sentenced to six years in jail following his conviction for the murder of girlfriend Reeva Steenkamp.
Judge Thokozile Masipa handed down the sentence to the six-time Paralympic gold medallist on Wednesday at the North Gauteng high court in the South African capital Pretoria. The minimum sentence for murder in South Africa is 15 years, but Masipa found that there were several factors that indicated Pistorius warranted a lesser sentence.
Masipa said that Pistorius's defense team were allowed to submit an appeal against the sentence if desired. The athlete will serve a minimum of three years in jail before he becomes eligible for parole.
In her judgment, Masipa said she disagreed with state prosecutors that Pistorius had shown no remorse, pointing out that he tried unsuccessfully on numerous occasions to contact the Steenkamp family privately to express his remorse before apologizing publicly in court.
Other mitigating factors included the fact that, while Pistorius was perceived by the world to be a competent athlete, his disability left him vulnerable. Masipa also said that it was the first occasion that Pistorius had been accused of a crime of such gravity, and that he represented a good candidate for rehabilitation. The judge concluded that Pistorius was a "fallen hero" who "cannot be at peace," The Guardian reported .
Pistorius remained ashen-faced throughout the sentencing, looking impassive as Masipa handed down her sentence. The Steenkamp family showed little emotion as the sentence was given. The prosecution had argued for a long-term sentence.
The athlete, known as the Blade Runner , was originally convicted of culpable homicide—South Africa's equivalent of manslaughter—in September 2014 and sentenced to a jail term of five years. After serving just under a year of his sentence, Pistorius was freed on parole in October 2015 and ordered to serve the rest of his sentence under house arrest at his uncle's property in Pretoria.
But after an appeal by state prosecutors, Pistorius's conviction was upgraded to murder by the Supreme Court of Appeal in December 2015. The appeals court found that, in her original judgement, Masipa had not applied the principle of dolus eventualis —whether Pistorius reasonably foresaw that his actions would cause death. According to the appeals court, the identity of the victim was not at issue —the athlete must have known that his actions would likely have killed whoever was in the toilet, and proceeded anyway.
On the night of February 13, 2013, Pistorius shot Steenkamp, a 29-year-old South African model, at his home in Pretoria. The runner has always maintained that he believed his home had been breached by an intruder, whom he assumed to be behind a locked toilet door. Pistorius fired four shots from a 9 millimeter pistol through the door, thinking that he was shooting the intruder, according to his account.
The athlete gave an interview to British broadcaster ITV, which was aired just weeks before the final sentencing. In the interview, Pistorius claimed that his late girlfriend would not want him to "waste" his life in prison and that he hoped to be able to help "the less fortunate," including children with disabilities.
The sentencing finally brings to rest a mammoth legal process that began on March 3, 2014. The case, which was televised in South Africa and around the world, saw emotional testimonies from Pistorius and members of Steenkamp's family.
Barry Steenkamp, Reeva's father, gave a distressing account in June of how he would stab himself in his stomach and arms with his diabetes needles to try and feel his daughter's pain. Mr Steenkamp said that, while his wife June had forgiven Pistorius, the athlete must still pay for his crime.
Pistorius himself also removed his prosthetic limbs and walked around the courtroom on his stumps in a bid to prove the extent of his disability.
Born without part of his lower legs, Pistorius achieved international acclaim with his exploits in disability sport. The runner won gold medals at three consecutive Paralympic games—Athens 2004, Beijing 2008 and London 2012—and made history by becoming the first amputee sprinter to compete in the able-bodied Olympics, competing in the 400 meters race at London 2012. The South African is arguably the world's most famous Paralympian, but his sporting achievements have been overshadowed in the wake of a turbulent, dark and compelling murder case.