'Here's to the Ones Who Lose:' How Late Night Hosts Ribbed the Oscars' Best Picture Blunder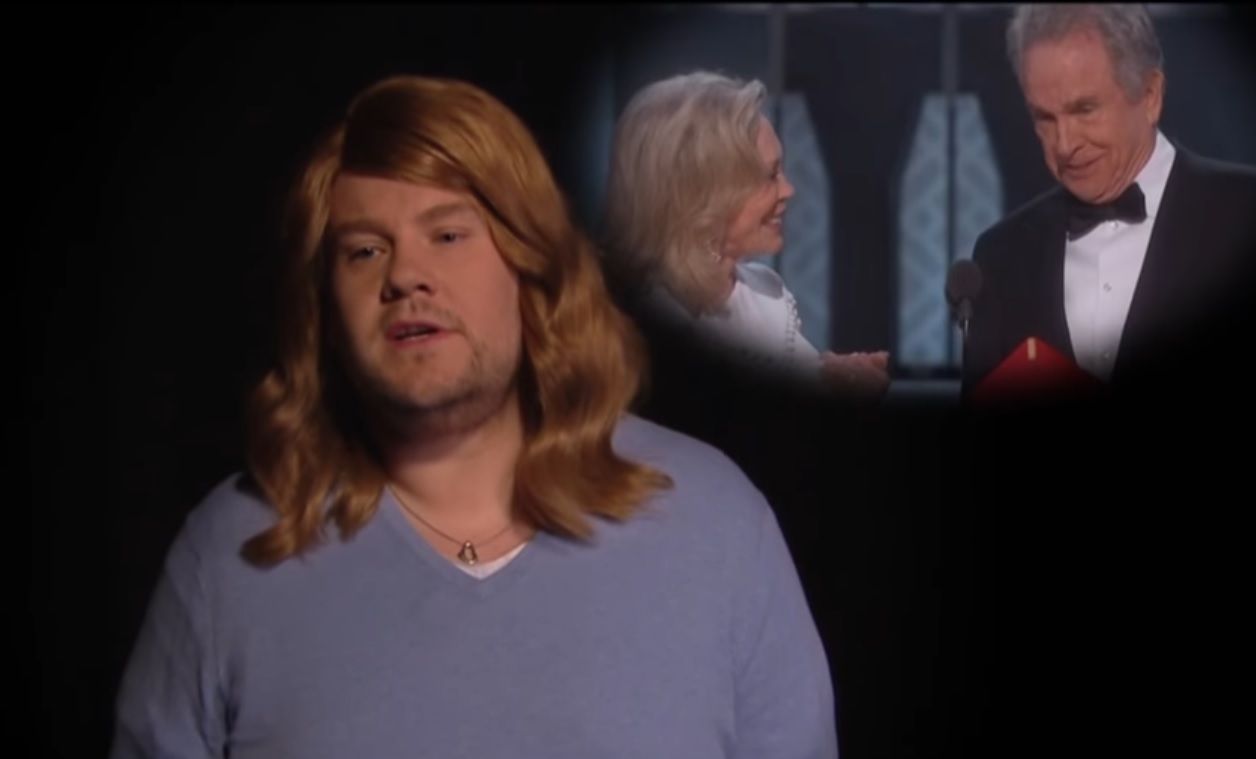 Sunday's Oscars debacle was the major talking point Monday on late night television.
Talk show hosts James Corden, Stephen Colbert, Conan O'Brien and even Academy Awards host Jimmy Kimmel lampooned the awkward best picture mix-up that resulted in La La Land mistakenly being awarded the prize instead of Moonlight .
On Jimmy Kimmel Live , Kimmel attempted to explain what happened Sunday night when Bonnie and Clyde stars Warren Beatty and Faye Dunaway announced the wrong movie as winner of best picture.
"Apart from the end, it was a lot of fun," he ribbed. "All of a sudden at the end it turned into one of those Maury Povich paternity test shows."
Kimmel joked that "Clyde threw Bonnie under the bus," noting that Beatty, in confusion about reading from the wrong envelope, handed it over to Dunaway to read the winner.
Beatty and Dunaway walked onto stage with a duplicate of the envelope announcing the winner of best actress, won by Emma Stone for La La Land . Oscars accounting firm PricewaterhouseCooper has taken the blame for the snafu.
The Late Late Show 's James Corden had a highly creative reaction to La La Land winning and then losing the best picture award.
The comedian recreated Emma Stone's audition scene from the musical drama and changed the lyrics to "Audition (The Fools Who Dream)."
"Here's to the ones who lose; God, I need so much booze," sang Corden.
He added: "Was this a mix-up, or conspiracy...a fix-up, or was Warren Beatty just blind?"
On Conan , the envelope confusion was the butt of Conan O'Brien's jokes. The star mocked up what was written on the card that Beatty read from.
" Moonlight is not the film that didn't win best picture," it read on one side. "But La La Land definitely is the film that did not lose for not being best picture."
Over on The Late Show , Stephen Colbert welcomed viewers saying: "I'm La La Land ...I'm sorry, I read that wrong."
Colbert also had his own explanation for Beatty and Dunaway reading the wrong film:
In a parody of the announcement, The Late Show mocked up the citation card to read: "Stall! We haven't finished watching Moonlight yet."
In his opening monologue, Colbert cracked that "it was so uncomfortable to watch. It's like watching Titanic —except Titanic actually won best picture."
"I feel bad for the poor Moonlight people," he added. "It should have been a great moment for African-Americans but there's always a catch: 'Here's your Oscar, but some white folks get to touch it first.'"
"To make matters worse, while they were up on stage, Ryan Gosling explained jazz to them," Colbert said, alluding to backlash that La La Land "whitesplains" the history of jazz.