Pam & Tommy is the highly anticipated drama series on Hulu about the release of Pamela Anderson and Tommy Lee's honeymoon sex tape in 1995.
Their private tape was stolen by Rand Gauthier, a former porn actor turned handyman, and was released on the internet for the entire world to see, without their permission.
The series charts the beginning of Pam and Tommy's relationship, their marriage, and their complete obsession with one another until everything blows up around them due to the release of the tape.
Along the way, audiences will see the full extent of what happened to Pam and Tommy as a result, of the misogyny and mistreatment Anderson faced in comparison to her husband and how it, ultimately, affected their marriage.
Newsweek has everything you need to know about the cast and real-life people in Pam & Tommy.
Pamela Anderson — Lily James
Baby Driver star Lily James portrays Pamela Anderson in Pam & Tommy.
For the role, James looks the spitting image of Anderson and has mastered her American accent for the performance. As part of the transformation, James wore numerous wigs, a prosthetic chest piece, fake tan, false nails, and a whole load of makeup, often sitting in the makeup chair between three to five hours a day.
Speaking to Porter Magazine, James shared how removing her Anderson accessories and costume made her feel like she was "stripped of all these superpowers."
She added: "I'd really enjoyed the physicality and sensuality, even down to the long fingernails. There was just so much character to hold onto—it was really thrilling."
James is best known for her role as Lady Rose in Downton Abbey as well as portraying Cinderella in the live-action remake of the Disney film in 2015.
Her other well-known roles include Natasha Rostova in War & Peace, Elizabeth Layton in Darkest Hour, Juliet Ashton in The Guernsey Literary and Potato Peel Pie Society, and the musical Mamma Mia! as Young Donna Sheridan.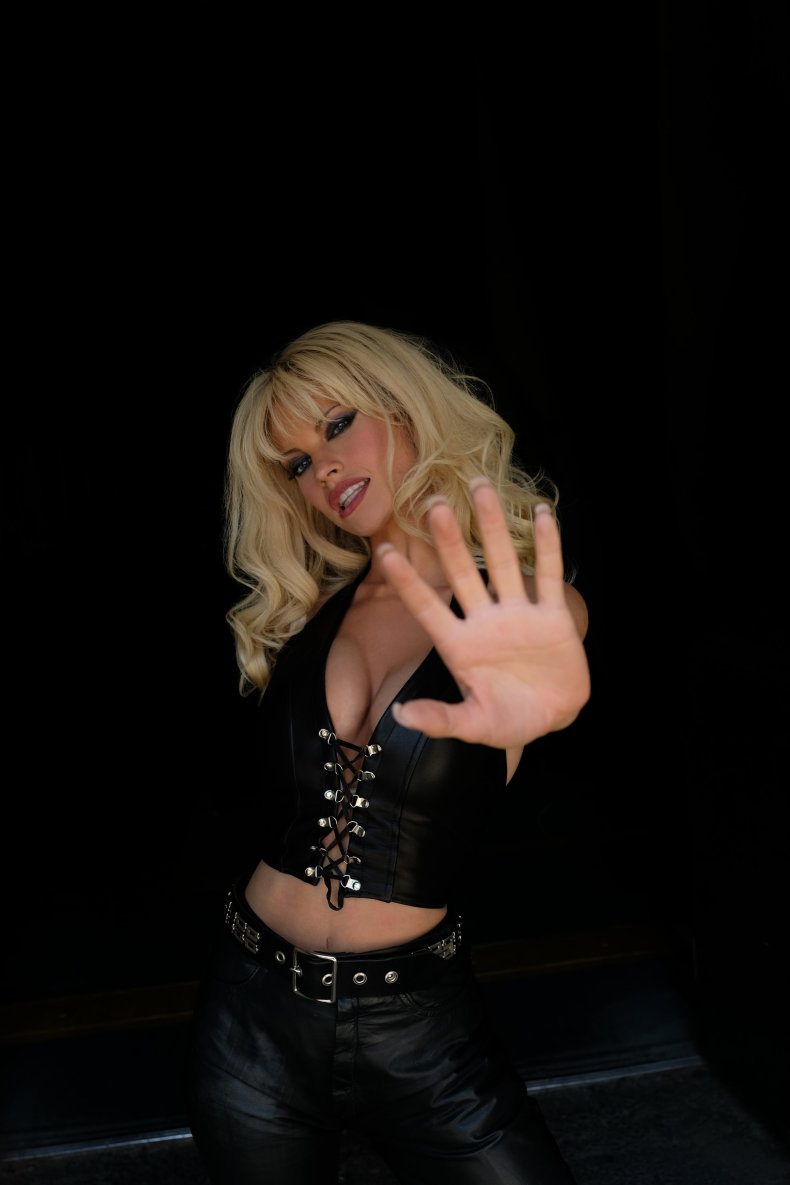 Tommy Lee — Sebastian Stan
Marvel star Sebastian Stan looks unrecognizable as the Mötley Crüe drummer Tommy Lee, in Pam & Tommy.
To embody Lee, Stan is covered in the drummer's tattoos, black eyeliner, long hair, and a goatee, which took two hours to apply. Stan even took drum lessons for three weeks.
Speaking to Entertainment Tonight in September 2021, the real Tommy Lee called the series a "really beautiful story" and shared he had been in contact with Stan.
He said: "From what [Stan's] told me, it's a really beautiful story. The story's actually cool; what actually happened wasn't."
Stan is best known for playing Bucky Barnes/Winter Soldier in the Marvel Cinematic Universe, most recently starring in The Falcon and The Winter Soldier on Disney+.
Pam & Tommy viewers may also recognize Stan from his role as Carter Baizen in Gossip Girl, Jefferson in Once Upon a Time, and T.J. Hammond in Political Animals.
He has also starred as Dr. Chris Beck in The Martian, Jeff Gillooly in I, Tonya, and Nick Fowler in The 355.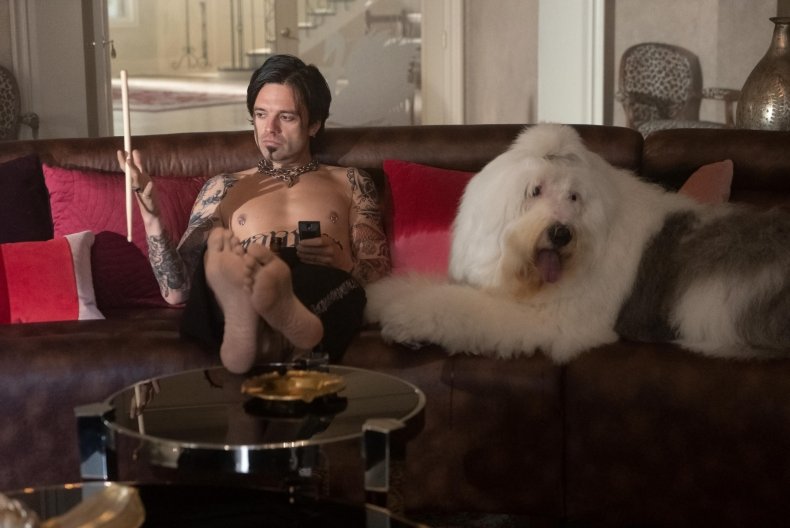 Rand Gauthier — Seth Rogen
Seth Rogen plays Rand Gauthier, the disgruntled builder who successfully broke into Tommy Lee's home and stole his entire safe, which included the explicit tape.
Rand Gauthier took the safe despite being totally unaware of its contents after Lee failed to pay him the $20,000 for the work he had done in his home, spending the entire summer of 1995 preparing for the break-in.
After successfully stealing the tape, Rand Gauthier, who had dabbled in the porn industry, reached out to his contacts in a bid to sell the tape. However, as he did not have consent from Anderson and Lee, companies rejected his offer.
Instead, Rand Gauthier had to look towards the internet, which was forever changing and growing across the world. With the help of his friend Uncle Miltie (played by Nick Offerman), they uploaded the tape to the web for viewers to order, sending tapes across the world.
Speaking to Variety, Rogen shared: "The vast majority who are acting horribly are doing as such from an exceptionally basic spot. I needed to play Rand as somebody who has next to no happening in his mind. Somebody whose eventually shrewd demonstrations aren't done out of some astonishing and profound point of view, yet in reality out of a total absence of reasoning and thinking often about what his activities would mean for others."
Rogen is an actor, comedian, and filmmaker, best known for starring in the films 50/50, Knocked Up, The 40-Year-Old Virgin, Superbad, Step Brothers, Paul, The Interview, and The Lion King.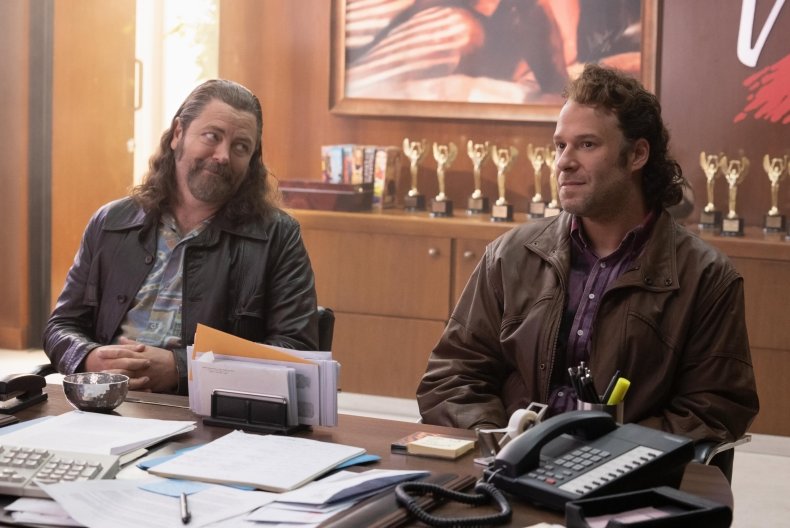 Uncle Miltie — Nick Offerman
Nick Offerman takes on the role of Uncle Miltie, real name Milton "Uncle Miltie" Ingley.
Miltie was Gauthier's accomplice, helping him try to find a legitimate distributor before helping him arrange to sell it online.
In his professional life, Miltie was a Vietnam veteran who entered the porn industry in 1977. He starred in more than 140 adult films and in the 1980s became a porn director and producer, eventually setting up his own company.
Offerman is best known for his role as Ron Swanson in Parks and Recreation. He is also well known for playing Karl Weathers in Fargo and for hosting NBC's Making It with Amy Poehler.
Speaking to Newsweek about taking on the role of Uncle Miltie, Offerman said: "He's a hard-working guy. He seems to be okay at what he does, but it ends up he's a little bit morally bankrupt. Seems like he is game to help Seth's character Rand in his caper, but ends up kind of leaving him high and dry.
"I was fascinated when they offered me this. I read the scripts. And I was fascinated by the story and I couldn't believe that the world at large doesn't know remotely the details of this story. And I think part of the reason for that is because intrinsic to the story is the fact that the internet was just beginning, which actually plays into the story quite heavily.
"I was just flabbergasted to discover that this was an actual crime that Pam and Tommy were completely the victims."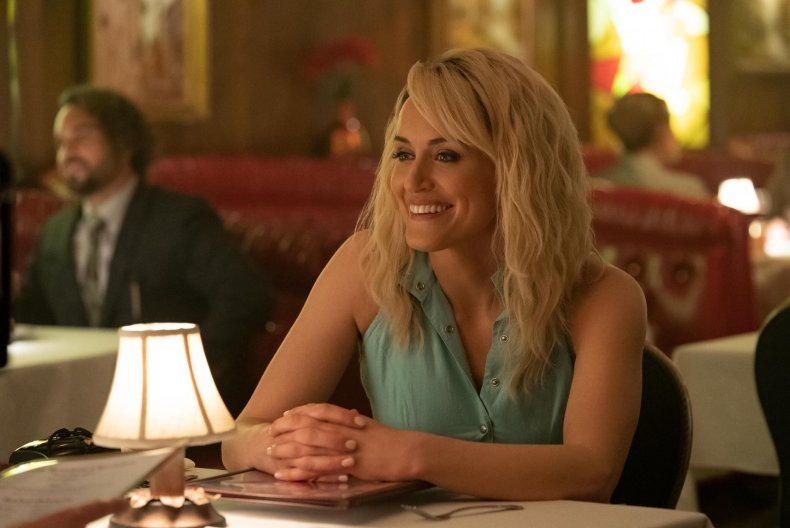 Erica Gauthier — Taylor Schilling
Taylor Schilling takes on the role of Erica Gauthier, a porn star and the moral voice of reason in Pam & Tommy.
At the time Rand Gauthier stole the sex tape, he and Erica were married but only on paper, unable to afford a divorce.
Speaking to Newsweek, Schilling shared that she saw Erica as "counterpart to Pam."
She explained: "Erica is a woman who's made the decision to be an adult actress and has done so with agency and is in charge of her own life. And in that way, she's really able to illustrate for Rand why what Pam and Tommy did is not pornography. And I think in that way, she's sort of almost an ally for Pam. And she's a really vital, vital force in this story overall."
Schilling is best known for her role as Piper Chapman in Netflix's Orange Is the New Black.
Also starring in the series is Pepi Sonuga as Melanie, Pamela's close friend, Andrew Dice Clay as Butchie, one of Uncle Miltie's accomplices, Mozhan Marnò as Gail Chwatsky, Pamela Anderson's agent and Mike Seely as the late Hugh Hefner, the founder of Playboy.
Also starring in the series is Spenser Granese as Steve Fasanella and Fred Hechinger as Seth Warshavsky.
The first three episodes of Pam & Tommy premiere on Hulu on Wednesday, February 2. The remaining five will drop every Wednesday on the platform.