Paramount+ is the latest major entertainment corporation-backed streaming service available to American viewers. Unlike services like Peacock and HBO Max, however, Paramount+ is a new version of CBS All Access, which will offer the existing content of that streaming alongside a whole host of new content from brands like MTV, BET, Showtime, Paramount and more.
How to change from CBS All Access to Paramount+
Existing CBS All Access subscribers who want to access the expanded library, you do not have to do anything. On March 4, your CBS All Access app will automatically update to become the Paramount+ app.
The CBS All Access website, meanwhile automatically redirects to that of Paramount+.
The service currently costs the same as CBS All Access—$5.99 a month with ads (or $59.99 a year) or $9.99 a month (or $99.99 a year) for the ad-free version.
What is the difference between CBS All Access and Paramount+?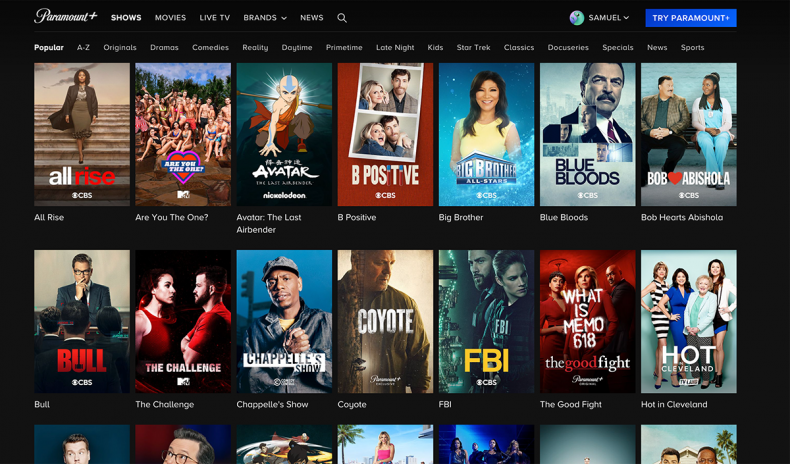 Paramount+ offers all the same blend of originals and shows currently running on CBS, but with the addition of what the streamer has teased as 30,000 TV episodes and 2,500 movies from across the CBS, BET, Comedy Central, MTV, Nickelodeon and Smithsonian Channel.
The service has launched with a limited array of originals. Among the new shows that have come to the service on launch are a spin-off of 60 Minutes, a Spongebob Squarepants prequel and a new season of The Real World that sees the 1992 New York cast that started it all back together in the same NYC loft. New movies on the service, meanwhile, include 76 Days, a documentary about the early days of the coronavirus pandemic in Wuhan, China, plus the long-delayed Sponge On the Run Spongebob movie that is premiering in the U.S.
Though its original content offerings are currently limited, the service has announced a number of major releases that it has coming in the next few years. Paramount+ is set to offer around 30 originals in 2021. Among the upcoming shows is a long-awaited live-action adaptation of video game Halo, as well as TV series spin-offs of the movies Grease and Flashdance.
The service is also banking hard on rebooting its major intellectual property—a strategy taken on by many of the major streamers in the so-called 'streaming wars' as they try to topple Netflix. Among the shows getting new episodes are Frasier, iCarly, Behind the Music and Rugrats. Avatar and Yellowstone are also set to get spin-offs.
The service is also taking the lead from HBO Max and bringing some of the biggest movies from Paramount Pictures onto the service shortly after their cinematic releases. The biggest films expected on the service are A Quiet Place Part II and Mission Impossible 7.
CBS All Access subscribers do not have to worry—the service will also keep all of the originals that are currently on the platform.