President Pence? Veep Is More Popular Than Trump, but Only Just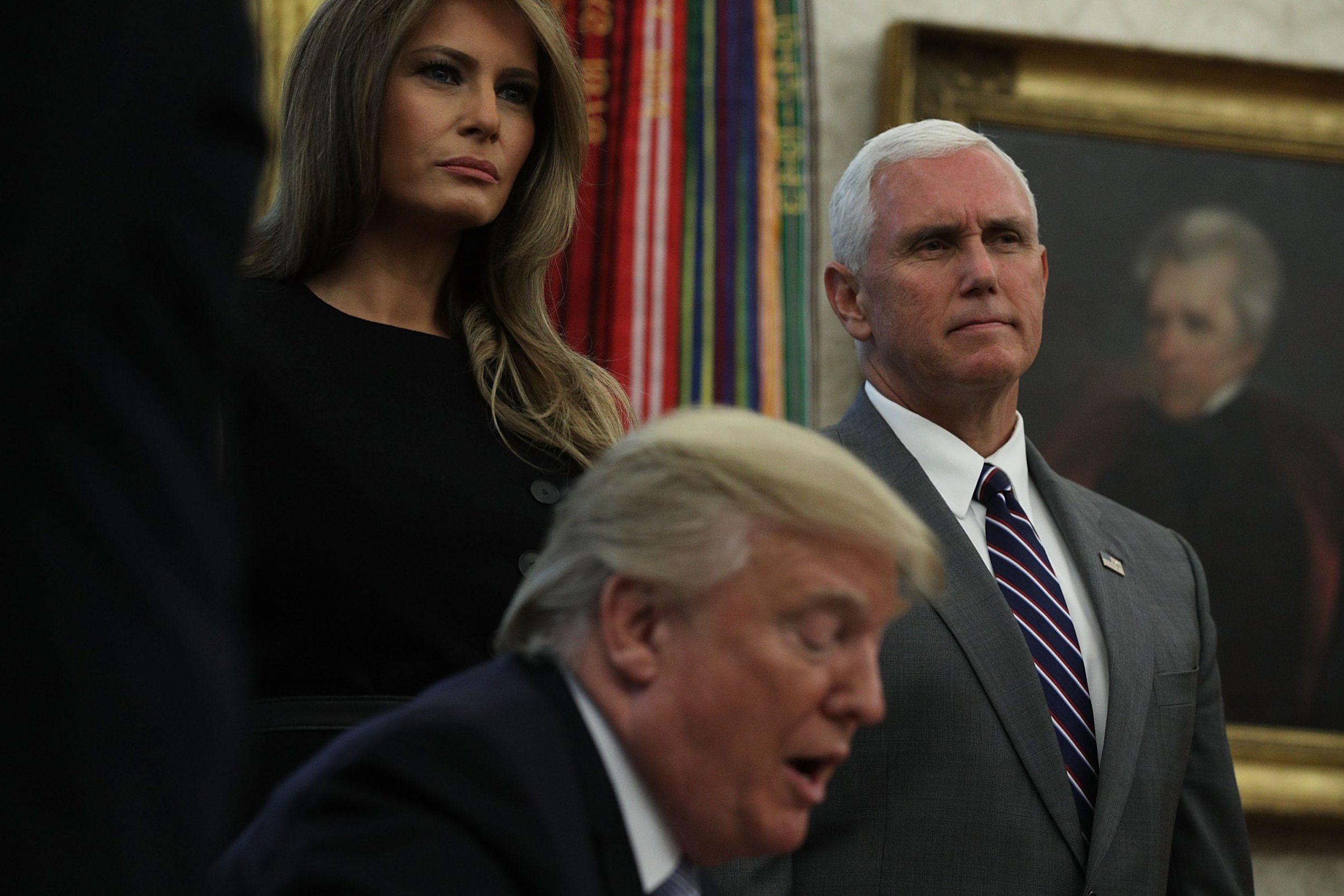 As President Donald Trump battles through record low approval ratings and a summer of chaos and controversy, everyone from Democrats to late-night talk-show hosts are speculating that Vice President Mike Pence could soon be taking over the top job. Voters, though, appear only marginally more impressed with the former Indiana governor than with the current president.
Just 44 percent of voters had a favorable opinion of Pence, according to a Politico/Morning Consult poll released Wednesday. That compares with the 43 percent who hold a favorable impression of Trump. Unlike his boss, though, Pence is viewed favorably by a plurality of voters, with 39 percent having an unfavorable opinion of him. Trump's unfavorability rating stands at 50 percent. But with 17 percent—almost one in six voters—saying that have never heard of the vice president, it remains to be seen on what side of the opinion scale they will fall should Pence one day receive the extra media spotlight that comes with being in the Oval Office.
Since before Trump was inaugurated, people have speculated whether he would complete even one full year as president. There are five active investigations into whether his campaign colluded with Russian officials during the 2016 election, and one Democratic House member has already filed articles of impeachment—claiming that Trump obstructed justice in his firing of FBI Director James Comey.
On Tuesday, another Democrat, Representative Joaquín Castro said that impeachment proceedings should begin if it turns out that a draft letter Trump initially wrote about his motivations for firing Comey confirmed that it was done over the investigation into Russia.
Aside from impeachment, it has also been floated that Trump could resign the presidency. Last month, Tony Schwartz, Trump's co-author of the 1987 book The Art of the Deal, predicted that Trump would call it quits before the end of the year.
Even if it doesn't happen nearly so dramatically, there have been reports of multiple Republicans, including Pence, preparing their own campaigns for the White House in 2020. Speculation about Pence's personal ambitions begun when in May he took the unprecedented step for a vice president of launching his own political action committee.
A story from The New York Times last month claimed that Pence was effectively running a "shadow campaign" for the presidency in 2020. The allegation was swiftly derided by Pence's press secretary as "ridiculous," while Trump has yet to give any indication about not running for a second term.