Mike Pence 'Proud' of Trump over COVID as White House Gives up Containing Virus
Vice President Mike Pence has said he "couldn't be more proud" of how President Donald Trump handled COVID-19 after White House Chief of Staff Mark Meadows detailed a shift from attempting to control its spread amid surging cases.
Pence, who has suffered an outbreak of infections among members of his staff, spoke up the president's response to the pandemic—reiterating claims made by Trump over lives saved due to banning certain travel from China early on.
It comes with the U.S. having seen record daily highs in recorded COVID-19 cases in recent days, with the total figure topping 8.6 million so far with more than 225,000 deaths.
"I couldn't be more proud of this president's leadership," Pence said, while discussing the president's response to the crisis on Fox News' Life, Liberty & Levin.
Having spoken of those to die throughout in the pandemic, stating they and their families were in his hearts and prayers, he went on to suggest he felt this might have been a higher figure.
"I'm absolutely convinced that because of the president's leadership, because of our partnership with state health officials, because of doctors and nurses and because of the cooperation of the American people that we literally saved hundreds of thousands of American lives," he said.
"And we are just a matter of weeks away from having a coronavirus vaccine that will be the beginning of us putting this pandemic in the past once and for all."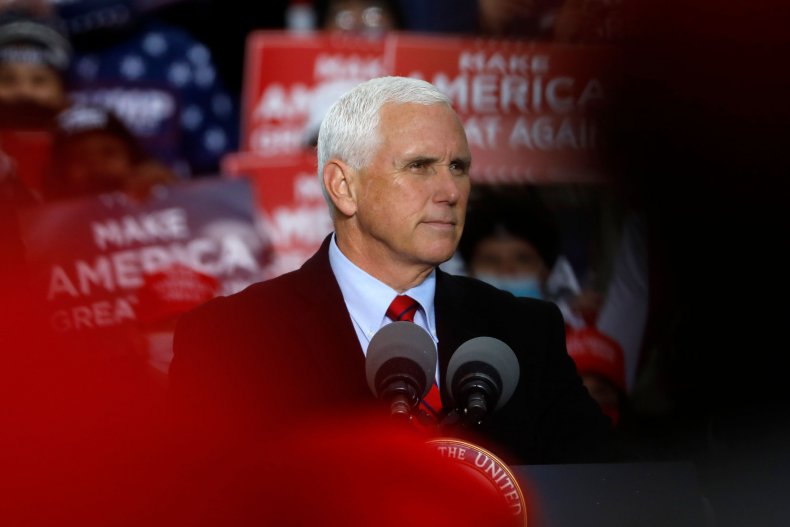 Pence's comments come after his chief of staff tested positive for COVID-19, with other members of staff also reported as having been infected. The vice president however is due to maintain his travel schedule despite this.
Meanwhile, White House Chief of Staff Mark Meadows spoke on Sunday of ending attempts to control coronavirus and its spread, suggesting the focus would be instead on vaccines and treatments.
"We're not going to control the pandemic. We are going to control the fact that we get vaccines, therapeutics and other mitigation areas," he told CNN's Jake Tapper on Sunday.
These comments were swiftly rebuked by Democratic presidential candidate Joe Biden who suggested it showed the president was looking to "wave the white flag of defeat."
"This wasn't a slip by Meadows, it was a candid acknowledgment of what President Trump's strategy has clearly been from the beginning of this crisis: to wave the white flag of defeat and hope that by ignoring it, the virus would simply go away. It hasn't, and it won't," Biden said in a statement released by his campaign.
It comes with recent comments from the president on the virus going away being contradicted by Dr. Anthony Fauci, the director of the National Institute of Allergy and Infectious Diseases (NIAID).
Speaking to the BBC on Sunday, Fauci said it was not the case the U.S. was "turning the corner" on COVID-19, as claimed by Trump, and that while people did not want a return to full lockdowns some actions to mitigate the spread should be implemented.
"There are certain public health measures that you could implement that would go a long way to turning around these increases that we're seeing," he said.
Newsweek has contacted the White House and the vice president's office for further comment on the coronavirus situation and the response to this.