Is Omarosa's Book About Trump True? Here Are All the People Who Have Denied Her Claims
As fired White House aide and former Apprentice contestant Omarosa Manigault Newman has continued to promote her new tell-all book about her time at the White House, it has triggered a whirlwind of denials from many people on the receiving end of her allegations.
In her new book, Unhinged: An Insider's Account of the Trump White House, which came out Tuesday, Manigault Newman made numerous allegations about what White House officials' had said during her year in the administration, and claimed President Donald Trump had used racial slurs during their time together on The Apprentice. Questioned once again about the credibility of her claims Tuesday afternoon by MSNBC's Katy Tur, Manigault Newman pushed back, saying: "Anything that you see in this book, particularly that's in quotes, can be corroborated.
"It's verified and well-documented," she emphasized. "Fifteen years of knowing Donald Trump and seeing his behavior, this is an insider look into Trump world."
Some of Manigault Newman's claims have been bolstered by conversations she secretly recorded and has since released, and the White House filed an arbitration suit against her Tuesday, claiming she breached a 2016 confidentiality agreement with the Trump campaign.
The list of people who have denied Manigault Newman's allegations so far include at least eight current or former administration officials.
President Donald Trump
The president continued his denial Tuesday of the former reality TV star's claims that he was a "racist" who used the "n-word" and racial slurs "multiple times" while filming The Apprentice years ago. Manigault Newman has maintained her stance on the existence of tapes that prove her claims, an allegation that led Trump to call her a "crying lowlife" and a "dog."
Sarah Huckabee Sanders
White House press secretary Sarah Huckabee Sanders again backed up the president Tuesday during the White House press briefing just minutes after Manigault Newman appeared on MSNBC and said Trump should "be afraid of being exposed as the misogynistic bigot and racist that he is."
Sanders defended Trump's choice to Manigault Newman a dog, characterizing it as the president "voicing his frustration."
"This person has shown a complete lack of integrity, particularly by her actions following her time here at the White House," Sanders said. "The president wanted to give her a chance."
Despite insisting she has never heard him say it herself, Sanders could not guarantee that a recording wouldn't surface in which the president used the "n-word."
Michael Cohen
Trump's former personal lawyer Michael Cohen, who's currently under investigation as part of special counsel Robert Mueller's probe into Russian interference of the 2016 election, called Manigault Newman's claim that Trump ate a piece of paper containing sensitive information false.
According to an excerpt from her book, Manigault Newman said she "saw him put a note in his mouth. Since Trump was ever the germaphobe, I was shocked he appeared to be chewing and swallowing the paper. It must have been something very, very sensitive."
In a tweet, Cohen denied the incident ever occurred, saying he "saw NO such thing and am shocked anyone would take this seriously."
Katrina Pierson, Lynne Patton, Jason Miller and Frank Luntz
Manigault Newman claimed she had an October 2016 phone call with Lynne Patton, then an assistant to Eric Trump; Katrina Pierson, a Trump campaign spokesperson; and Jason Miller, a campaign communications director. Audio provided to CBS News by Manigault Newman Tuesday morning of a call in which the campaign aides allegedly discssed how to handle a scenario in which a tape with the president using the "n-word" emerged, appeared to confirm that claim.
The night before, Pierson told Fox News that the call had never taken place. Patton also denied it Monday night, saying in a statement at "no time did I participate in a conference call with Katrina Pierson advising me, Jason Miller and Omarosa Manigault Newman that Frank Luntz had heard President Donald J. Trump use a derogatory racial term."
Frank Luntz, a Republican consultant and pollster, denied telling anyone he'd heard the president use the "n-word", as Manigault Newman alleged in her book.
"Not only is this flat-out false (I've never heard such a thing), but Omarosa didn't even make an effort to call or email me to verify," Luntz tweeted last week. "Very shoddy work."
Betsy DeVos
The U.S. Department of Education accused Manigault Newman of "peddling lies for profit" Wednesday in response to her claim that Trump regularly called Education Secretary Betsy DeVos "ditzy" behind her back.
In a statement to Newsweek, DOE press secretary Liz Hill said the "disgraced former White House employee is peddling lies for profit."
"The book is a joke as are the false claims she's making about Secretary DeVos," Hill added.
In her book, Manigault Newman claimed the president has nicknames for multiple administration officials. That includes DeVos, who she alleged Trump called "Ditzy DeVos" once the education secretary left the room.
Manigault Newman also alleged DeVos thought black students at Florida's Bethune-Cookman University did not "have the capacity to understand what we're trying to accomplish." DeVos was repeatedly booed by hundreds of graduation attendees at the predominantly black university in May 2017. Many students also stood up to turn their backs while the education secretary spoke.
Kellyanne Conway
Counselor to the President Kellyanne Conway has also been adamant in her denials that the president ever used racial slurs, saying she has "never a single time heard [Trump] use a racial slur about anyone."
Although a staunch supporter of the president, Conway did not defend his calling Manigault Newman a "dog." Instead, she dodged the question to say she was "disappointed" by her former colleague.
"I think the best play for Omarosa would have been to take credit for a lot of the great things that Donald Trump has done for this country, including for African-Americans," Conway said Tuesday.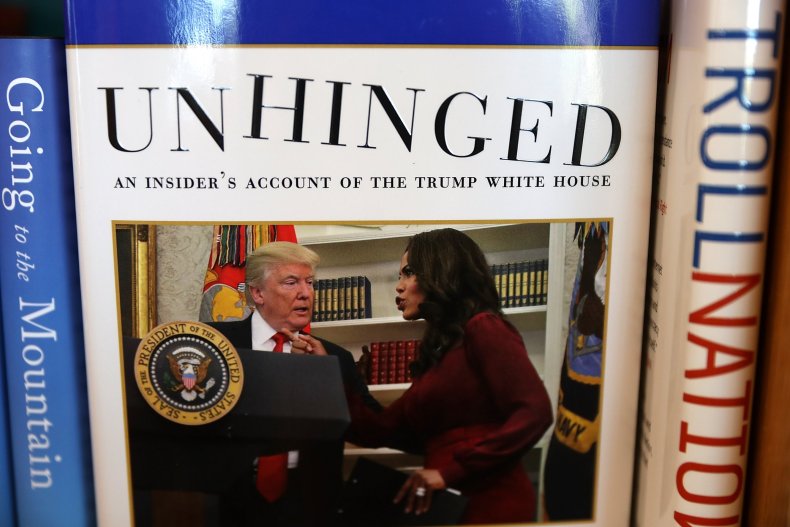 This story has been updated to include a statement from the U.S. Department of Education.