'Perfect Match': Four Clues Francesca Farago and Dom Gabriel Aren't Together
Too Hot to Handle's Francesca Farago and The Mole's Dom Gabriel appeared to be one of the strongest couples on Netflix's new dating show Perfect Match.
But, following the surprise arrival of Love Is Blind's Damian Powers, who Farago has a complicated history with, it looks like it could all be over for the reality television stars.
Farago, Gabriel and Powers all feature in Perfect Match, the show that has reunited some of the streaming platform's best-known faces from The Circle, Too Hot to Handle, Love Is Blind, The Ultimatum, The Mole, Selling Tampa and Sexy Beasts.
Gabriel and Farago made an instant connection when the show premiered on February 14 but, ahead of the second batch of episodes being released on February 21, fans think that their romance only lasts the first four installments.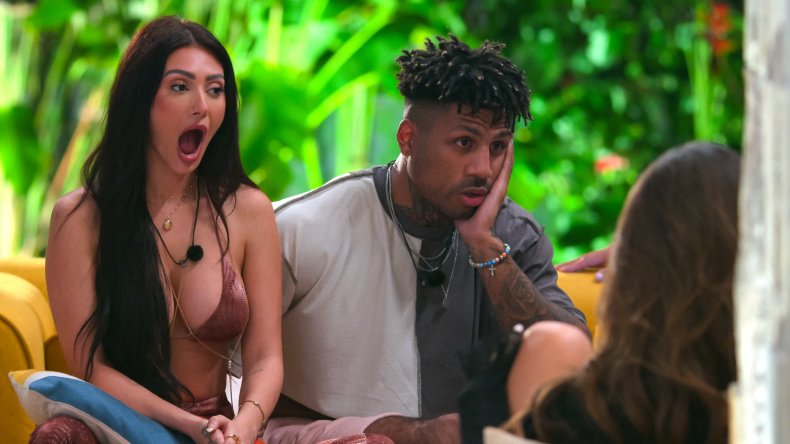 Powers appeared to have put a wedge between the pair when, at the end of episode four of Perfect Match, Farago opted to go on a date with him when she and Gabriel were supposed to be matching up their co-stars.
The episode ended on a cliffhanger and didn't reveal whether Farago and Powers' date did indeed spell the end for her and Gabriel. However, fans think that a series of clues and hints have "confirmed" they are over.
Newsweek has everything you need to know about the clues that suggest Farago and Gabriel's romance doesn't last to the end of the show.
Four Clues That Francesca and Dom Aren't Together on 'Perfect Match'
Dom and Georgia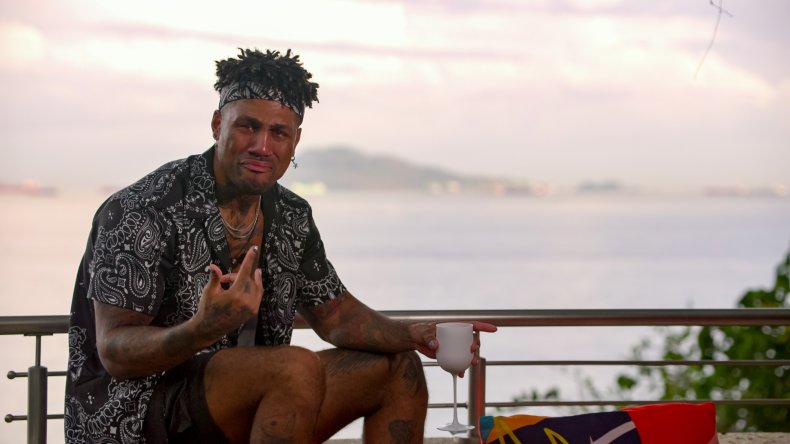 In the trailer for next batch of Perfect Match episodes, Gabriel can be seen paired with another contestant that is not Farago.
The brief clip shows Gabriel coupled up with Too Hot to Handle star Georgia Hassarati, who had been previously matched with Chase DeMoor.
The switch up did not go unnoticed by fans, who were quick to take to social media to point out that Gabriel appears to no longer be with Farago.
One fan tweeted: "Did yall notice in the coming up review Chase and Nick were not in the group when they did the toast...also Georgia is paired with Dom..i wanna see Chases's reaction when getting dropped for Dom by Georgia [laughing emoji] #perfectmatch."
As another wrote: "Based off the previews: Chloe will be with Shayne, Georgia with Dom, Francesca with Damian, Karisella with Joey, Ines with Bartise. #PerfectMatch #perfectmatchnetflix."
"I'm just happy cos I know there's a potential for Dom and Georgia to be a thing cos Francesca was very controlling. Broke my boys heart after he's clearly showed that much interest in her and completely binned every girl for her. #PerfectMatch," added a third.
Damian Stays on the Show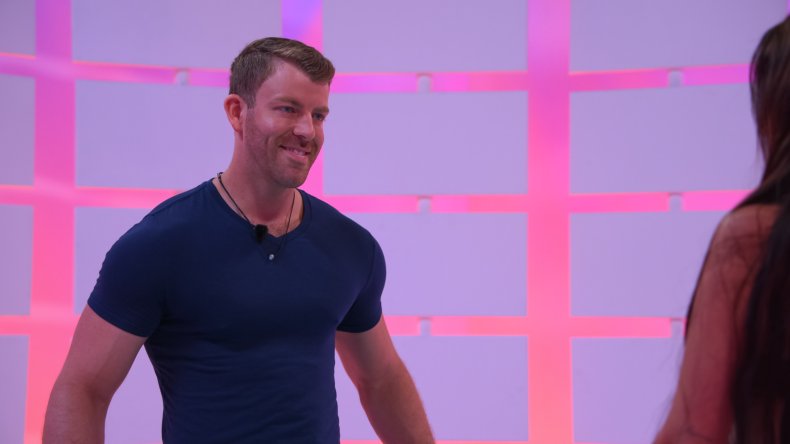 In the trailer for Perfect Match, which was released by Netflix at the start of February, Powers can be seen in several scenes.
In one, he looks like he's dressed up in a Baywatch-style outfit, presumably in one of the show's challenges.
In another he can be seen entering the show's boardroom, where the couples who win the compatibility challenges go to set their co-stars up on dates.
Neither of these scenes has aired on the show yet and, seeing as contestants have to be matched up with someone to stay in the house, these clips could be a major clue that Powers and Farago end up matching.
Dom's Reaction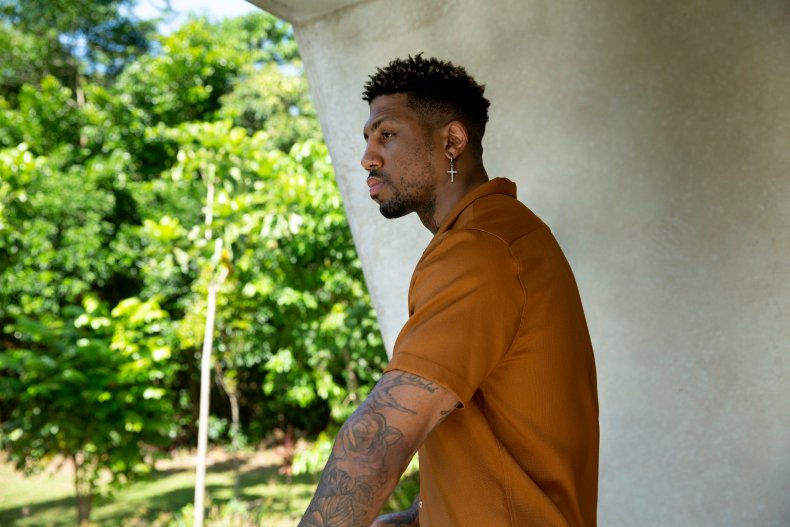 Judging by Gabriel's response to the scenes of Farago choosing to go on a date with Power, we don't get the impression that the incident left the pair in a good place.
Although he didn't give anything anyway about whether or not the pair get their romance back on track, Gabriel did tell Newsweek in a recent interview that he found Farago's sudden switch "humiliating."
"To be frank, it was a little humiliating to go in there confidently, and everyone was telling me, you know, 'Oh it's Damian, it's Damian,' and I was like, 'No, I trust her' and I had complete faith in it," he said.
"So, to go in there and hear her say, 'I'm putting myself on a date with Damian' I was like, 'Oh, so maybe I should have watched out!"
Gabriel added: "Then having to walk back and doing, like, the walk of shame. That walk back...I turned the corner and everyone could see I was by myself and was like, 'Oooh,' it was rough."
Francesca's Boyfriend
Unfortunately for Perfect Match fans, Farago hasn't ended up with Gabriel, Powers or any other cast members.
Farago has given away a pretty major spoiler for the show as she has spoken openly about her boyfriend, who was not a star on the series.
The star is in a relationship with TikToker Jesse Sullivan, and recently took to the social media site herself to set the record straight after some fans questioned if they were together when she filmed Perfect Match.
"Me explaining how I'm in a dating show that came out today and I was single during filming, and that some shows take over a year to be edited and air," she wrote over a sped up clip of her animatedly talking.
"Yes, I'm in a happy relationship now, but no we weren't together during filming, yes we've been together for a long time and are very happy and in love," the text continued.
In a February 2023 interview with Variety, Farago revealed that Sullivan has not been watching the series, which was filmed in early 2022.
"My boyfriend isn't watching. I wasn't planning on watching. I'm so in love with him. It's crazy how good we are all the time, 24/7, so I was like I don't want to watch it just because it doesn't interest me," she said.
The first four episodes of Perfect Match are available to stream on Netflix now. Episodes 5-8 will follow on Tuesday, February 21, and the final four episodes will be released on February 28.