Pervis Payne is 'Ecstatic' To Be Taken Off Death Row, His Sister Says
Pervis Payne was "ecstatic" when he heard he was not going to be executed, his sister has told Newsweek.
Payne, a 54-year-old Black man, was sentenced to death for the 1987 killing of a white woman and her 2-year-old daughter in Millington, Tennessee, but has always maintained his innocence.
His two death sentences were vacated by a Tennessee judge on Tuesday.
Shelby County Criminal Court Judge Paula Skahan had scheduled a December 13 hearing so Payne's attorneys could argue that he could not be executed due to a mental disability.
But last week, Shelby County District Attorney Amy Weirich said the state would no longer pursue its plans to execute Payne because an expert hired by the state "could not say that Payne's intellectual functioning is outside the range for intellectual disability."
Payne's sister Rolanda Holman said she and her brother "shared some tears" on the phone after that announcement.
"We were all in disbelief," Holman told Newsweek. "He even said to me, he said, 'Let me pinch myself to make sure this is real.' Because we were not expecting the news to come the way that it did. He was definitely ecstatic. He could not believe it, but he was so happy to know that it was true."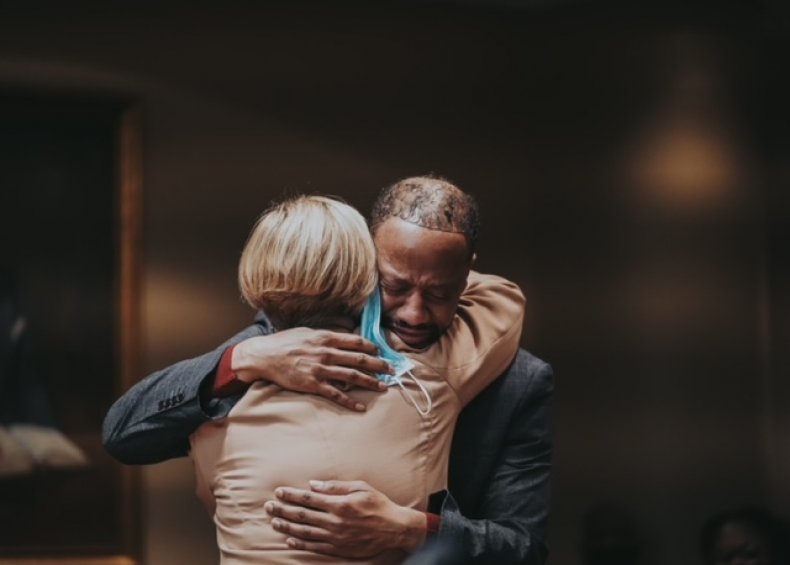 Shortly after he entered the courtroom on Tuesday, Payne was pictured tightly embracing his lawyer, Kelley Henry.
"He was just overwhelmed with emotion," Henry told Newsweek. "It was like 34 years of pain and fear and trauma just being released all at once. All I could do is hold him and say, 'I got you, it's gonna be OK.'"
Holman, who was 13 when her brother—who she calls "Bubba"—was sentenced to death, says the feeling of relief knowing her brother's execution will never be scheduled was overwhelming.
"Overwhelming in a good way, to know that we can wake up in the morning and not have to be concerned that there's going to be a date that's set for him," she said.
Prosecutors are pushing for Payne to be re-sentenced to two consecutive life sentences, which Henry said would mean he is not eligible for parole until he is 85.
Henry said she will argue that Payne's sentences should run concurrently. That would make him eligible for parole in about six years, after serving a total of 40 years. Skahan will decide how the sentences should run at a hearing next month.
But Henry also says she will also continue to seek evidence to exonerate Payne.
Payne was convicted on murder charges in the killing of Charisse Christopher and her 2-year-old daughter, Lacie Jo. Christopher's son, Nicholas, then aged 3, was also stabbed, but survived.
Payne told police that he had been at the apartment building to meet his girlfriend when he heard the victims and tried to help them. But he said he panicked and ran away when he saw a white police officer.
Payne's attorneys have argued that police focused exclusively on Payne as a suspect despite his lack of a prior criminal history. They have argued that the person responsible for the murders is Christopher's ex-husband, Kenneth Christopher.
"We have argued in our commutation petition that the victim's ex-husband is the responsible party, whether he did it himself or whether or not he got somebody to do it, that's something we're still investigating," Henry said. "But he had a background of serious domestic violence towards every woman he was ever married to."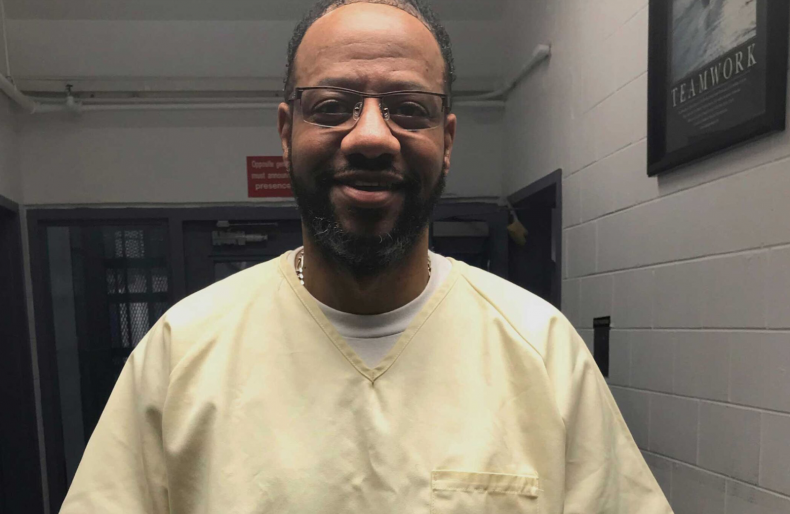 Holman is optimistic that her brother will be exonerated one day.
"People often ask us, what makes you hold on for so long? And I say number one is because we know that he's innocent and I say number two, it's our faith and our hope," she said. "It's our faith and hope that has brought us to this point. Our faith and hope has allowed us to keep searching for the truth and fighting for justice."
Holman said the campaign to get her brother off death row "took off like a rocket" after his case was taken up by the Innocence Project, which has argued that it bears all the hallmarks of a wrongful conviction rooted in racial bias and crucial missing evidence.
The Innocence Project has noted that the prosecution employed racial stereotypes to portray Payne as a "hypersexual and violent drug user who attacked a white woman" and the use of such stereotypes are known to contribute to wrongful conviction and sentencing.
"That's been something that has been put on Black men as it relates to white women for many years," Holman said.
And Payne had come very close to being executed. He was scheduled to be put to death last December, but Gov. Bill Lee granted him a reprieve due to the COVID-19 pandemic. The reprieve expired in April, but a new execution date had not been set.
And although the Supreme Court ruled that executions of the mentally disabled were unconstitutional in 2002, it wasn't until Lee signed a bill earlier this year making retroactive Tennessee's law prohibiting the execution of the intellectually disabled that the state had a mechanism for an inmate to reopen a case to press an intellectual disability claim.
"If we would not have worked to get this law passed, it's very possible that Pervis wouldn't be here today," Holman said.
Updated at 10:40 a.m. ET on 11/25/21: This article was updated to add a picture.