Pete Arredondo Defended by Uvalde Mayor Who Called Beto 'Son of a B****'
Uvalde Mayor Don McLaughlin has confirmed that Pete Arredondo, the embattled police chief of the Uvalde Consolidated Independent School District, has been sworn in as a city council member, despite criticism of his response to the Robb Elementary School shooting.
In a statement, McLaughlin said Arredondo was sworn in on Tuesday evening along with others who previously won their council elections.
McLaughlin said that no ceremony took place out of respect to the families of the 19 children who were killed along with two teachers in the May 24 massacre.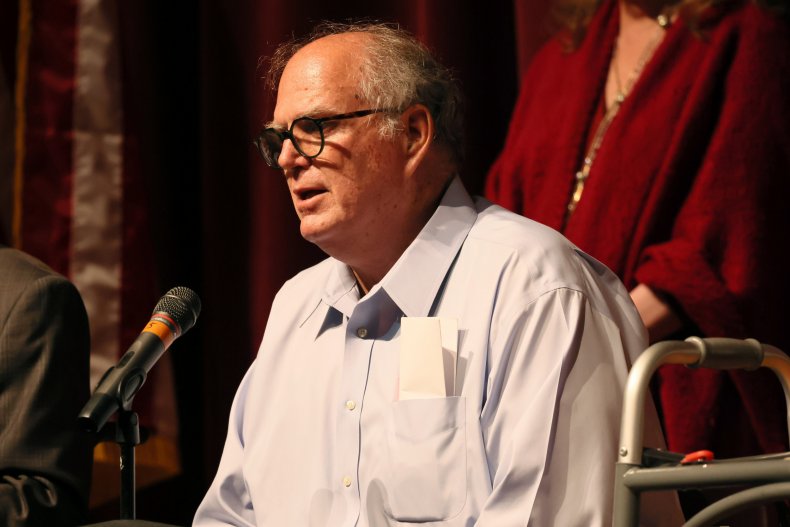 "Uvalde City Council members were sworn in today as per the City Charter. Out of respect for the families who buried their children today, and who are planning to bury their children in the next few days, no ceremony was held," McLaughlin said.
"Our parents deserve answers and I trust the Texas Department of Public Safety/Texas Rangers will leave no stone unturned."
In a previous statement, McLaughlin said Arredondo was "duly elected" to office and there is "nothing in the City Charter, Election Code, or Texas Constitution" that prohibits the police chief from taking the oath of office.
McLaughlin supporting the police chief arrives days after McLaughlin made headlines for calling called Texas gubernatorial candidate Beto O'Rourke a "sick son of a b****" for interrupting Greg Abbott's press conference on the mass shooting to criticize the Republican governor about his lack of action of gun control.
Arredondo has been heavily criticized for leading the initial response to the mass shooting at the Uvalde school—including waiting for back-up before engaging with the gunman, and initially treating the incident as a barricaded suspect and not an active shooter despite 911 from students stating this.
The Texas Department of Public Safety is now investigating the law enforcement response to the school shooting.
Steven McCraw, director and colonel of the Texas Department of Public Safety, previously described Arredondo delaying tactics as the "wrong decision."
The Justice Department said they also will conduct a review of the police response to the shooting in Uvalde, following a request from McLaughlin.
"The goal of the review is to provide an independent account of law enforcement actions and responses that day, and to identify lessons learned and best practices to help first responders prepare for and respond to active shooter events," said DoJ spokesman Anthony Coley.
"The review will be conducted with the Department's Office of Community Oriented Policing."