Black Lives Matter: Philadelphia Super Bowl Riots Reaction 'Glaring Example of White Privilege'
Updated | In the aftermath of the chaos that erupted in Philadelphia as Eagles fans tore through the streets celebrating their Super Bowl victory, many could not help but notice the difference in how the public and officials reacted to riots by fans compared to those prompted by civil unrest.
"Somehow, it seems there's a line drawn in the sand where destruction of property because of a sports victory is OK and acceptable in America. However, if you have people who are fighting for their most basic human right, the right to live, they will be condemned," Black Lives Matter New York President Hawk Newsome told Newsweek.
Emergency responders struggled to keep up with rioters as they marched through Philadelphia streets leaving destruction in their wake. Revelers reportedly ripped down light posts, caused entire structures to collapse, and damaged vehicles and store buildings as they celebrated the Eagles' 41-33 victory.
But officials appeared slow to condemn the destruction caused by rioters, offering seemingly gentle requests for everyone to "go home."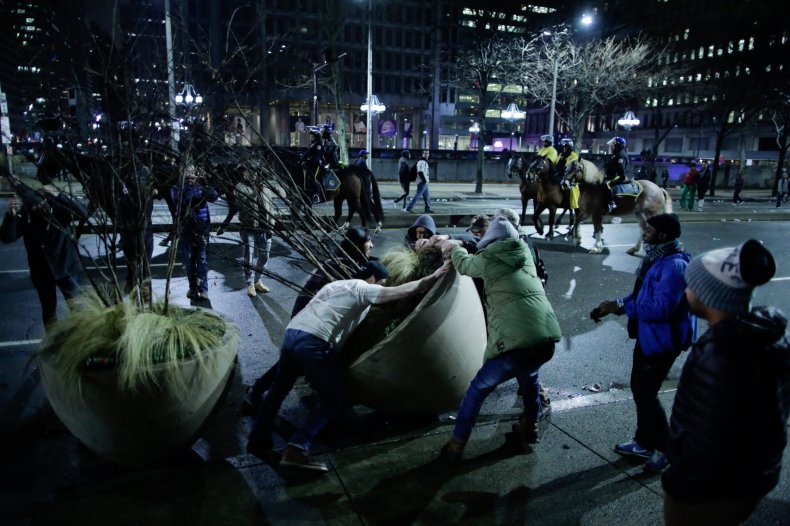 "Still going strong in the [Office of Emergency Management]. But, if everyone could go home that would be great," Philadelphia Police Sergeant Brian Geer wrote on Twitter at 9:30 p.m., adding: "We have to get some rest to start planning a parade in the morning."
Meanwhile, Philadelphia's City Council thanked emergency responders "for their hard work" amid the riots, stating: "This is the start of some long days and nights for them."
Newsome called the lack of condemnation from officials "a glaring example of white privilege."
"You can riot if you're white and your team wins, but if you're black and being killed, you can't speak out," he added.
Read more: Black Lives Matter Charleston leader mourned after fatal shooting in New Orleans
Black Lives Matter (BLM), which works to raise awareness around racial inequality and police brutality, first came under the public spotlight after organizing protests in response to the death of 17-year-old Trayvon Martin, who would have turned 23 on Monday had he not been fatally shot by George Zimmerman while walking home from a convenience store with a bag of Skittles and a drink.
Since then, the group has faced strong opposition from law enforcement and groups like Blue Lives Matter and All Lives Matter. A recent survey conducted last year also found that 57 percent of people in America had an "unfavorable view" of BLM, with the majority of those opposed to the group being white.
"It is nothing new to us that hordes of predominantly white fans setting fires, flipping over cars, and destroying property are viewed as 'rowdy' and engaged by police in a non-threatening manner, while crowds of predominantly black and brown people blocking traffic, or even holding candle light vigils to protest state violence against black and brown people are met with scores of hostile police and viewed as 'violent,'" BLM Philly said in a statement.
"It makes me think about Baltimore because I was there the day the riots started," Newsome said. "You could feel the tension in the air. "
Riots broke out in Baltimore in 2015, after the death of Freddie Gray, a black 25-year-old resident who died after sustaining injuries to his neck and spine while being transported in a police vehicle after officers arrested him.
Gray's death was ruled by a medical examiner to be a homicide, resulting in six officers being charged with multiple offenses, including second-degree murder.
During the protests, some rioters smashed storefronts and damaged a number of police vehicles. At least 34 people were reportedly arrested, and a number of police officers were injured.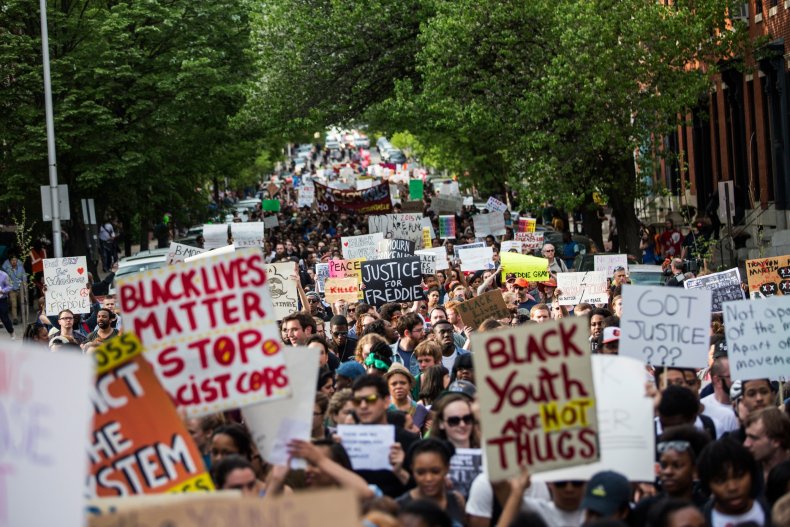 "They were just so angry they didn't know how to express themselves any other way. That's why they were rioting. It's not like they were doing it in the name of fun," Newsome said.
"I wish they wouldn't riot, but I can't condemn them and neither can anyone else, especially not the media, especially not politicians when they condone people who are just drunk and destroying property because their team won," he added.
Bernice King, the youngest child of civil rights leaders Martin Luther King Jr. and Coretta Scott King shared similar sentiments on Twitter, writing: "As football fans riot, I am reminded that, in response to the unjust deaths of young Black men like Trayvon Martin (who would have been 23 today), rioting is considered an affront to humanity. Not endorsing violence. Endorsing honest examination of WHY and eradication of racism," King wrote.
A number of Twitter users were also quick to point out the contrast between how officials responded to the riots compared to protests held over racial inequality or police brutality.
"The next time someone comes at you about black people "rioting" for justice, point them at this hashtag chronicling the aftermath of a sports team winning a big game," screenwriter Michael Starrbury wrote on Twitter, referring to the #phillypolicescanner hashtag.
Read more: Philly Police scanner reveals horrific scenes as fans riot after Super Bowl victory
Twitter users flooded the social media site with the hashtag sharing shocking reports allegedly made by officers over police scanners as rioters climbed buildings, tore down light poles and took over downtown streets.
"We laugh about white people doing things like this for a team, but look down on black and brown people upset over a killing," one commenter tweeted.
"I agree that there is a clear and consistent double standard about rioting. A riot with mostly white people often gets turned into jokes," another wrote. "Imagine the blowback if the majority of these people were black. I'm just saying, be consistent about it."
Watch: Mass riots erupt in Philadelphia as fans celebrate Eagles triumph
Another commenter drew comparisons between reactions to the destruction caused by rioters and widespread criticisms calling the "take a knee" movement "disrespectful" after a number of NFL players, led by Colin Kaepernick, began taking a knee during the U.S. national anthem to protest police brutality and racial inequality in America.
He quoted police reports allegedly made over the Philadelphia police scanner, including "a guy in a four-wheeler just ran over a cop" and "we need more shields and riot gear," before adding: "But football players kneeling is disrespectful."
President Donald Trump has been one of the most outspoken critics of the "take a knee" movement, repeatedly rebuking Kaepernick and fellow NFL players.
In September, the president called on NFL owners to fire players who kneel during the national anthem and encouraged fans to walk out on games where players protested.
This article was amended on February 5 to update a description of George Zimmerman and include quotes from Bernice King.