Photo of Pizzeria's List of Blacklisted Customers Delights Internet
A viral Reddit post of blacklisted customers at one pizzeria is drawing plenty of laughs, as well as some nostalgia.
A Reddit users post on the platform's "Mildly Interesting" forum and has been upvoted over 84,000 times. It features a photo of an unspecified pizzeria and its list of "order refusals."
While some cited reasons including "does not want to pay" and "threatened to burn down the pizzeria," others included general rudeness and threats, a list of apartments where drivers apparently have difficulty delivering food and "stiff at the door."
The poster, who goes by u/Andrewo25, said "stiff at the door" translates to a person who ordered food but did not pay for delivery. He said the photo he posted is from a pizzeria where his friend's mother works.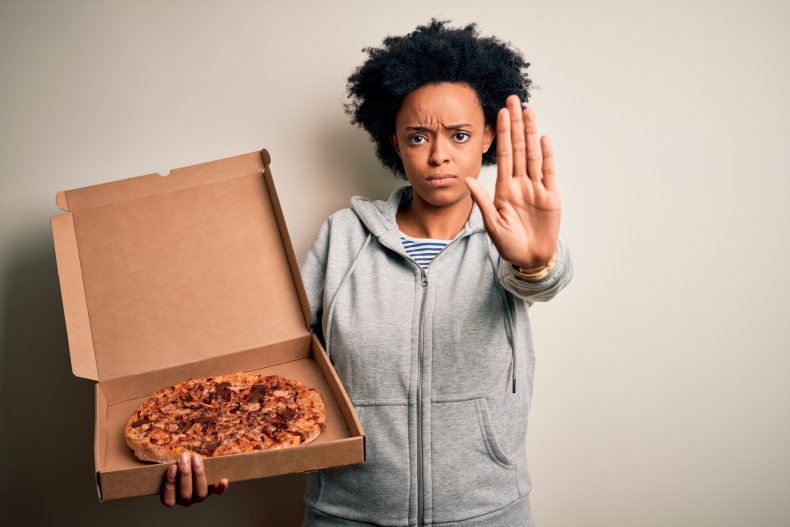 However, the most inquired about reason on the list had to do with a large steak hoagie pizza. As one user commented, "We need to hear more about the steak-hoagie-large-pizza-incident."
The poster chimed in and provided the backstory, which involved a regular customer ordering the same 12-inch steak hoagie with provolone—along with a large steak and chicken pizza—nearly every week and "always on Sunday for some reason."
He was described as somewhat of a nuisance but was never banned as a customer. That was, until one Super Bowl Sunday.
"He calls in asking for his usual order somehow unaware that it was even superbowl sunday," the poster said. "My friends mom was on the phone and told him there would be no way they could fulfill his order as they were slammed and the latest they could [arrive] was two hours later. He of course was upset about this and wouldn't take no for an answer."
The pizzeria reportedly hung up on the man, causing him to get "belligerent." He "stormed" into the location 30 minutes later, "causing a scene" in front of numerous customers. Nobody could calm the man.
"Eventually the store owner jumped in and started to threaten calling the cops," the poster said. "He shouted back and even tried jumping over the counter but failed and landed on the floor. He shouted some more, kicked the fridge holding the sodas then stormed out swearing to never order from there again. They then put him on the list as steak hogie and large pizza as everyone working there knows exactly who its talking about."
The poster told Newsweek that he didn't want to give the specific name and location of the pizzeria, saying it is "somewhere in western New York."
"[The pizzeria has] opted to stay anonymous," he said, adding a message from the owners that they are "glad the list made people smile but we prefer being out of that kind of light."
Many comments alluded to multiple pizzerias having similar kinds of customer blacklists.
"Most pizza places (and I imagine most delivery places) have a similar list," one user commented. "The last Domino's I delivered for wouldn't deliver to a specific hotel because we regularly had people refuse to pay for their order when it was delivered. I don't know what it was about that hotel, but it attracted people who didn't want to pay for pizza."
"We had a list of these at the 3 different pizza places I worked at," another user said. "Most were places that a driver had been robbed, assaulted, stiffed or threatened. There were a small few that were just people that sucked and complained about everything every time even if its exactly what they wanted."
One user said they moved to a new home where the address had been blacklisted, saying it "Took a while to convince the pizza place and debt collectors we are not the old tenants."
The Australian publication Broadsheet reported in 2017 that about 38,000 of the nation's diners were blacklisted for not following through on reservations—an increase of nearly 35,000 compared to the previous year.
The report was based on a blacklist executed by Australia's most dominant online restaurant-booking service, Dimmi, and cost Australia's restaurant industry about $75 million.
More recently, restaurants and pubs in Wales have reportedly blacklisted numerous patrons due to rampant no-shows and an increasing list of last-minute cancellations. One pub manager said she lost about 20,000 pounds worth of business last summer due to no-shows.
The BBC reports that costs have increased "significantly." Fish has doubled in price in the last year while potatoes cost 70 percent more. Additionally, energy bills are up a whopping 95 percent.
Update 5/2/22, 9:35 a.m. ET: The story was updated with comment from the Reddit poster.