Pick-up Artist Tom Torero Sold Sex Recordings, Targeted Teen Girls Using Major Tech Firms
Tom Ralis went by the name of Tom Torero in his pick-up artist career
Ralis sold footage of him "picking up virgins, late teen girls...as a 36-year-old guy"
Several of his Tom Torero accounts have now been deactivated
Leaked material from behind the paywall of a prominent British pick-up artist's website appears to show that he secretly recorded himself having sex with women, content he offered to men who paid for his coaching courses, a business that relied on major tech companies.
Tom Torero—whose real name is Tom Ralis, a former elementary school teacher from a Catholic family in Wales—made a career of using calculated tactics common in the pick-up industry to lure women into bed.
Ralis, who is in his early forties, surreptitiously recorded his interactions with multiple women. Sometimes, he has recorded the audio of sexual intercourse. He packaged these recordings with commentary for men who paid for access to his Black Sheep Bandit website's "vault."
Not once do the women in the footage viewed by Newsweek acknowledge that they are being recorded. Ralis, however, occasionally addresses the listener when his companions are not around.
Among his content is Ralis talking about targeting "teenage girls" for their sexual inexperience because they are "the most adventurous." In a video obtained by Newsweek, Ralis filmed his pursuit of a 17-year-old girl in Poland, whom he emphasized was a virgin before he slept with her.
In a podcast episode, Ralis also described one of his course products as: "Seventeen hours of me in 2016 picking up virgins, late teen girls, beautiful girls as a 36-year-old guy. So that sums up what's possible in your thirties."
As Tom Torero, Ralis was a globally renowned figure among London's "daygamers," pick-up artists (PUAs) who target women in the daytime. He virtually disappeared from the internet starting in late 2020, leaving his male fans pining after him ever since.
But throughout his absence, Ralis' Black Sheep Bandit website has continued to offer a trove of pick-up coaching content behind a paywall. Among the course packages available was Hustler Pro, valued at $299. It includes the Stealth Seduction program, which promises "27 videos of Tom infield around the globe, totaling over 12 hours of content."
The sexual content suggests Ralis has been in breach of the terms and conditions of the tech companies he has used to keep Black Sheep Bandit in business for years, including YouTube, Stripe, Amazon, PayPal, MailChimp, and Kajabi.
After Newsweek contacted them, some of these companies have deactivated Ralis' accounts. And following outreach by Newsweek on Tuesday, it appears Ralis has worked to purge his own online presence, deleting content and taking down accounts.
Newsweek recently uncovered the lucrative enterprise of Las Vegas pick-up artist Mike Ke, who, with his students, contrived situations to coax women out of nightclubs for sex. Ke filmed some of the sexual encounters—apparently without the women's knowledge—and used the footage to promote his coaching business. His accounts with various social platforms and tech service providers were subsequently terminated as a result of the investigation.
Pick-up artists are self-professed "dating coaches" who teach men how to get women to have sex with them. They promote coercive, deceptive and manipulative techniques, as well as pseudoscience of the female mind and behavior. As such, the pick-up community has drawn accusations of encouraging misogyny, harassment, emotional abuse, and sexual assault.
They formed an underground seduction community until journalist Neil Strauss' 2005 book The Game—widely regarded as a PUA Bible—popularized the practice. PUAs have since integrated into the manosphere, an online conglomerate of fringe masculinist groups that endorse misogyny and revile feminism.
Manosphere communities include incels (involuntary celibates) and MGTOW (Men Going Their Own Way.) As some more extreme adherents have perpetrated real-life deadly attacks, manosphere groups have faced widespread ire and online deplatforming.
In 2019, a BBC Panorama investigation into PUA methods rattled the pick-up community, and led YouTube to crack down on their channels.
Stealth Seduction
In Stealth Seduction audio footage obtained by Newsweek and dated as early as 2014, Tom Ralis could be heard interacting with eight different women. These encounters spanned across North America and Europe.
The women's backgrounds range from teenage college students to working professionals to a divorced mother of two. In a May 2016 YouTube video promoting Stealth Seduction—which was removed from the platform but viewed by Newsweek—Ralis himself refers to at least four of the women.
Newsweek also obtained recordings of Ralis' 2017 Daygame 3.0 seminar, during which the PUA can be heard boasting to his male audience about the breadth of his Stealth Seduction content.
"No excuses, please don't email me and say, 'Tom, what do you do on a date?'" Ralis said.
"Cause there's 17 hours of me with 17 girls in, whatever, 16 countries. Yes, British. Yes, American. Yes, Canadian. Yes, in London. Yes, 17 year olds, 18, 19, up to 30, 31, married. Yes, with boyfriends. Yes, Muslims, hardcore Christians. Yup, Asian."
For Stealth Seduction, Ralis recorded multiple women from the moment he approached them in public places until he has had sex with them. In between, he deploys a slew of premeditated techniques to take the women back to his place.
While the women's names tend to be muted, footage viewed by Newsweek suggests at least one woman's first name was not edited out. Ralis has also left in conversations during which his dates open up about their personal lives.
In a PDF handbook offered with Stealth Seduction—a leaked version of which was viewed by Newsweek—Ralis describes the product's format as "videos and audios of me daygaming and dating," along with subtitles and annotations.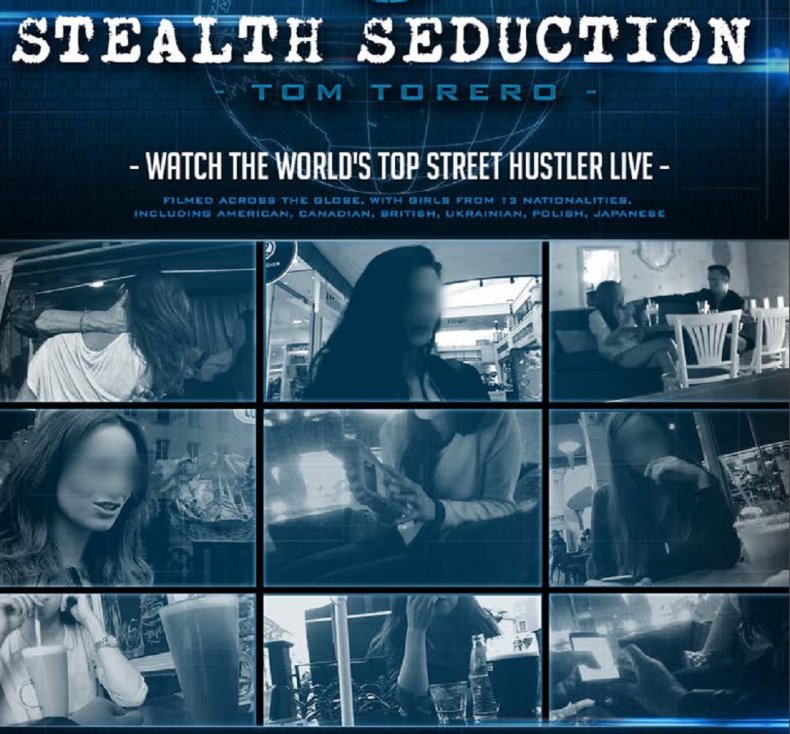 As he walked over to meet up with a 20-year-old French woman in London, he delivered introductory statements.
"The plan is to do my dating model, so a couple of venues, and then I'm gonna do the one-day model," Ralis said. "So I'm gonna take her back to the house for the plausibly deniable film, and run the train and then keep this recording so you can hear it all."
"Wish me luck, I'm about to go into the café now," he continued, before disclosing the woman's first name.
Newsweek located a now-removed YouTube video of Ralis' interaction with the French woman, which suggests he used to upload recorded sexual encounters to the video-sharing platform.
While the YouTube video was audio-only, Ralis added text commentary, from an apparent reference to a concealed microphone ("The squeekiness [sic] is the mike in my jacket, not my leather shorts") to descriptions of what was occurring as he could be heard having sex with the woman.
Throughout her time with Ralis, the young woman seemed enthusiastic. Yet at certain points in the video's commentary, Ralis spoke of pre-emptively thwarting LMR, or "last minute resistance," a PUA term referring to women changing their minds close to sex.
In a Stealth Seduction video obtained by Newsweek, Ralis, apparently outfitted with a body camera, stopped a teenage girl in her tracks outside a shopping mall in Poland.
The teenager told Ralis she was a 17-year-old high school student within minutes of meeting him. Her face was blurred out and her name was muted.
Ralis could be seen taking the girl on an "i-date" ("instant date") at a coffee shop. During the interaction, the PUA asked if she was a "party girl," spoke of noticing her legs, inquired about her love life, and pressed her on her alcohol preferences (the legal drinking age in Poland is 18 years old.)
In the video's annotations, he wrote about looking to "bounce home" and engaging in "verbal bamboozling to keep her calm" as he took the teenager to his apartment.
Ralis attempted to "escalate" that day, but was not successful. After chronicling follow-up dates in the video's commentary and displaying screenshots of his flirtatious texts with the teenager, the PUA reported eventually having had sex with her.
The Stealth Seduction handbook makes mention of this episode, specifying: "No lay audio is included as she is under 18 years old." However, the video featured text in which Ralis provided a play-by-play of their sexual encounter.
At the conclusion of the video, Ralis can be heard conversing with the girl about the intercourse they just had.
The Stealth Seduction handbook heavily emphasized the teenager's virginity. Ralis normally does not go on more than three dates with the same person, he stated, "but a virgin is different."
"Teenage girls are often shy and inexperienced but the most adventurous," he wrote.
In a Tom Torero Podcast episode announcing Stealth Seduction, Ralis stated he hoped his clients would "progress your game so that the girls are younger and the girls are hotter."
"No need to hide behind saying you're in it for self-actualization or deep personal development," he said. "No. That might happen as a byproduct, but you're in this to bang younger, hotter girls. And be proud of it. Own it."
In a separate podcast episode, Ralis stated the pinnacle of men's "sexual market value" is in their thirties, while that of women peaks between 16 and 21 years old.
"My peak year of daygame, let's say for beauty results, efficiency, all of that, was 2016, when I was roughly 36 years old," he said. "That's the year I was sleeping with 17 year olds in Poland—legal—many 18 year olds, 19 year olds, it was coming easier."
He went on to promote Stealth Seduction to "watch me during that magic year."
'Hamster Wheel Spinning'
On his podcast, Tom Ralis has advised secretly turning a woman's phone to silent while attempting to initiate sex, scarcely communicating to "give her the gift of chasing you," hinting at future plans to falsely lead women to believe "this is not a one-night stand," even leaving items such as stray hairs, earrings or wine glasses at home to "trigger her imagination."
"The male brain is linear and it's logical," Ralis once said. "Women, no, no, no, no, no, no, no, no.
"They like the blank spaces. They like filling in the gaps. They like these emotional rollercoasters. They love drama, because they love that hamster wheel spinning in their mind."
During his Daygame 3.0 seminar, Ralis similarly endorsed emotionally manipulative techniques.
While broaching LMR, he advised that when hitting a "brick wall" with a woman who won't have sex, the man should abruptly end things there, show her the door, and cut all communication. Some women, he said, will eventually return like a "boomerang."
At one point during the seminar, he spoke of wading into the "dark world" of "making girls fall in love with you and then running away."
"Golden question on the date: Say to her, 'Do your parents live together?' If she says no, you've got a very high statistical chance, it's a sad thing," Ralis said. "Girls that were raised by their mothers without a father. They do crazy shit."
He also discussed sparking conflict with women in order to render them dependent.
"It's a little bit dark, but if you create drama with a girl, you get amazing results," Ralis told his audience. "Drama gives them a dopamine hit and then removes the dopamine. They literally get drug cravings.
"Real dark triad guys and pimps that we'll talk about, they really use drama and basically getting the girl addicted. Addicted so she can't leave you.
"We gotta talk about it, cause these are techniques that I used."
On his podcast, Ralis delved into the dark triad, a term in psychology used to describe the combined personality traits of narcissism, Machiavellianism and psychopathy.
"So narcissism is extreme selfishness, you've got that crazy grandiose view of yourself," Ralis said. "You crave admiration. You're cocky, you're confident, you lead, you pull the trigger. This is all pure game, yeah?
"Machiavellianism is the definition of game. It means being manipulative, playing people, very, very calibrated to human psychology, so you can be deceitful, you can exploit certain social situations."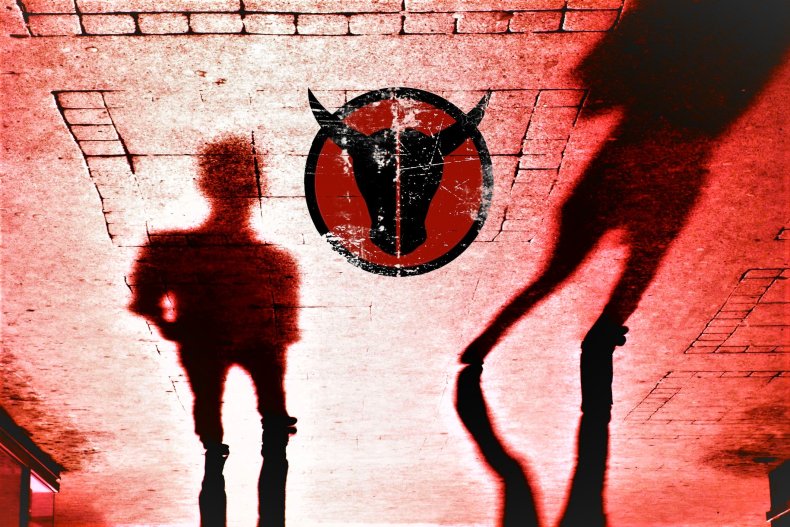 Ralis has long spoken of struggles with chronic acne, depression and anxiety throughout his youth. He studied biological sciences at Oxford University, where he said famed evolutionary biologist Richard Dawkins was one of his lecturers.
During his PUA career, Ralis has referred to himself as a "biologist" to substantiate his takes on women.
He first picked up a copy of The Game in 2005, as he pursued a vocation in teaching. While employed as a school teacher in London, he began moonlighting as a pick-up artist.
But Ralis did not keep his trades entirely separate: In his book Daygame, a leaked copy of which was viewed by Newsweek, he wrote about hooking up with female colleagues, a single mother, and a student's nanny.
He eventually quit his teaching job in 2012 to join Daygame.com, a London-based PUA company.
Ralis has not responded to Newsweek's request for comment.
'A Wolf in a Forest'
Speaking into his recording device on his way to a date in Wales with a divorcée he had previously approached, Ralis talked in layman's terms.
"Alright, first date, day two in Cardiff with the Iranian MILF, wish me luck," he told his listeners, mentioning a term used to sexualize mothers. "I've only got one night here, so we have to escalate fast and pull the trigger."
"Her kids are at home as well," he continued. "So I've sorted logistics, got a venue one, got a venue two."
Ralis comes prepared with two venues to take his dates to. The second must be conveniently located near his home or hotel.
In the Stealth Seduction handbook, he wrote about his successes in breaching his Iranian date's personal boundaries, as she was "hesitant" about kissing him or getting too close.
"In the first venue she opens up about cultural differences with her Muslim background and her inexperience with guys after getting divorced," he wrote. "She's hesitant about drinking, and tells me she's not into casual sex.
"With a bit more spiking, I get her to admit that she had a One Night Stand with a guy she met in Barcelona. This gives me the green light I need to escalate harder."
In his Daygame 3.0 seminar, Ralis spoke of taking it upon himself to start touching the women, using pretexts such as tall tales about the significance of each finger in ancient times or feigning curiosity about tattoos.
"If you get a green light like she pulls down her top to show you, [...] that's it," he said.
"Uber, yeah? Compliance. Why are you still in the f***ing bar, yeah?"
Ralis also reported using women's hair to his advantage: "I often say, 'Did you ever have your hair down to here?' And then I touch her ass."
The PUA went on to speak of his trademark "floppy test," which is conducted by pushing the woman around or pulling her in.
"At that moment, if she leans into you, if she goes floppy, if she's completely compliant—remember that magic thing we talked about, compliance?" Ralis could be heard saying. "Finish the date."
"You get a window, girls give you a window, it's like cooking a boiling water [sic], and you get about half an hour, you get about an hour's window, max," he continued. "You heat her up, you seal the deal."
Ralis told his audience he "used to lie" to women about looking for a next venue when he intended on leading them home. He has since opted to "seed" conversational cues about his advantageously close residence, such as speaking of his guitar or offering up leftover alcohol.
Several of the Stealth Seduction tapes reviewed by Newsweek do not simply end at intercourse with the women. Ralis could be heard discussing with some of them afterwards, prodding them about seeming "nervous" when he first approached them, or whether they prefer a "bad guy" to a "good guy."
In his Daygame 3.0 seminar, he referred to these conversations as "interviews."
"Girls on the feedback front of Stealth Seduction—and you can hear the interviews in the product after—a lot of them said, 'When you approached me, I was nervous. It was like a wolf in a forest,'" Ralis told his male audience.
"And that is the best thing any girl could ever say to you."
Disappearing Act
After winding down his online presence in 2019, Ralis reincarnated his Black Sheep Bandit YouTube channel in January 2020 and announced some of his content was rendered exclusive to paying members. On a separate channel, he archived episodes of his Tom Torero Podcast.
Ralis also launched a Black Sheep Bandit Podcast, delivering life updates and PUA sermons to his followers. He spoke candidly of his financial struggles in a July 2020 episode, in part due to unspecified "legal troubles" over his online content.
"I lost a lot of money, a very complicated story last year with the legal troubles over the YouTube content and other content, it cost me almost £10,000 in expenses, although I eventually won," Ralis said. "It's a long story about that debt, which is still ongoing."
Following outreach by Newsweek, Ralis took down his Black Sheep Bandit YouTube channel and rid the Tom Torero Podcast channel of all its content before the platform took any action.
A YouTube spokesperson told Newsweek: "YouTube has strong nudity & sexual content policies in place, which prohibits non-consensual sex acts or unwanted sexualization. In the first half of 2021, we removed over 316,000 videos in violation of these policies."
On his Black Sheep Bandit website, Ralis offered a variety of coaching materials. His "video vault"—which teases "access to hundreds of hours of juicy video content that was removed from public platforms"—featured membership levels starting at $99.
It is unclear which online services were used to host the Stealth Seduction package, which likely took the shape of video lessons. A disclaimer at the bottom of the Black Sheep Bandit "vault" stated the videos are "streamable."
The Black Sheep Bandit website used Kajabi, an online platform for "knowledge-based businesses" such as courses and coaching. Kajabi prohibits users from offering "pornographic" material, as well as services or content that are "obscene, indecent, offensive, abusive, or otherwise objectionable."
In a statement to Newsweek, Kajabi said it has terminated Ralis' account on its platform.
"While we are not at liberty to discuss specific information about this customer or their content hosted on our platform, we have concluded our investigation and have determined that certain content violates our Acceptable Use Policy," the statement read.
"Accordingly, we have terminated the customer's account. We do our best to ensure all customer content is in line with our Acceptable Use Policy and will continue to invest in optimizing our approach."
Ralis also sold books for up to £60 ($81) on Amazon and self-publishing online platform Lulu.com. Daygame—which Newsweek found to contain graphic depictions of Ralis' sexual exploits—was offered on both platforms.
Amazon states that it does not sell books that contain "pornography" or "other material we deem inappropriate or offensive." Lulu does not permit "X-rated text, photographs and movies, home porn, hard-core material that depict graphic sexual acts, and amateur porn."
Since Newsweek contacted Ralis, Amazon and Lulu, some of his books have been removed, though it is not clear by which party.
"As a bookseller, we believe that providing access to the written word is important, including books that some may find objectionable," an Amazon spokesperson told Newsweek.
"We have strict policies governing which books can be listed for sale and promptly investigate any book when a concern is raised. We invest significant time and resources to ensure our guidelines are followed, and remove those that do not adhere to our policies."
Lulu did not respond to Newsweek's request for comment.
Despite his inactivity online, Ralis still offered one-hour consultations over WhatsApp on his website. The messaging platform does not allow users to "instigate or encourage conduct that would be illegal or otherwise inappropriate, such as promoting violent crimes, endangering or exploiting children or others, or coordinating harm."
Newsweek has contacted Meta, which owns WhatsApp, for comment.
On his website, Ralis used Stripe to process payments and set up a PayPal donation fund. PayPal forbids "sexually oriented digital goods or content delivered through a digital medium" and "services whose purpose is to facilitate meetings for sexually oriented activities," while Stripe requires users offering "adult content and services" to obtain explicit permission to be eligible for its service.
PayPal has shut down Ralis' donation fund, which now displays the following disclaimer: "This organization is currently ineligible to receive donations."
"PayPal has a longstanding history of working to proactively prevent illicit activities from occurring on our platform," the company told Newsweek in a statement.
"We devote significant resources to these efforts and, when necessary, work closely with law enforcement officials to identify, investigate and stop improper or potentially illegal activity.
"The company remains resolute in our efforts to take swift and decisive action if we discover attempts to use our services for illegal purposes."
Stripe did not respond to Newsweek's request for comment.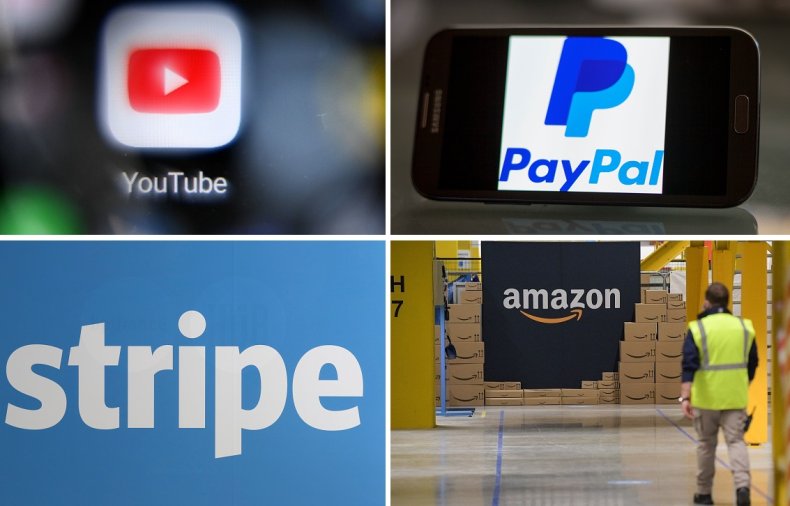 Ralis' current whereabouts are unknown, though his fanbase awaits Tom Torero's comeback. As of late 2020, he was travelling Europe by van. A subscription to his MailChimp mailing list revealed an address in Medellin, Colombia.
MailChimp told Newsweek it has taken down the account associated with Black Sheep Bandit.
"Our abuse prevention team initiated an investigation, determined there were violations of our Standard Terms of Use and Acceptable Use Policy, and immediately shut down the account," the company said.
"Our Standard Terms of Use and Acceptable Use Policy make it clear that we don't allow accounts that promote or incite harm toward others to use our platform, and we don't allow use of our platform to promote pornography/sexually explicit content.
"We take action when we become aware of abuse of our platform."
In an August 2020 episode of his Black Sheep Bandit podcast, Ralis said he was training to become a certified ski instructor. "Thank you to the people asking how my knee is and if I survived the ski instructor course, I did," he said.
"I managed to get through it, miraculously, thank you baby Jesus. [...] And it got me level two. So lock up your daughters."
Legal Loopholes
Due to cracks in existing legislation, U.K. legal experts told Newsweek recording audio of women during sex and offering it as PUA coaching material is unlikely to constitute grounds for criminal prosecution.
Section 33 of the 2015 Criminal Justice and Courts Act—known as the U.K.'s revenge porn law—makes it a criminal offense to disclose private sexual photos or videos without a depicted individual's consent and "with the intention of causing that individual distress."
The Voyeurism (Offences) Act of 2019 prohibits recording an image or operating equipment beneath an individual's clothing for the purpose of "obtaining sexual gratification" or "humiliating, alarming or distressing" the person.
These laws do not include audio recordings, and the precision of their stipulated mens rea presents a loophole for pick-up artists.
Unlike perpetrators of revenge porn or upskirting, for example, PUAs can state the purpose of their recordings as educational, not for sexual gratification or torment to the women involved.
Frances Ridout, barrister and director of the Legal Advice Centre at Queen Mary University in London, told Newsweek she does not think that audio-only recordings of sexual conduct would fall under the scope of the U.K.'s laws on image-based sexual abuse, nor would the intent to teach men how to approach women legally qualify as voyeurism.
"This area is developing faster than the law can keep up in many respects," Ridout said.
Honza Červenka, an associate with law firm McAllister Olivarius, said the legal framework on digital sex crimes in the U.K. is "patchwork-like."
"Is voyeurism illegal? Is upskirting illegal? Is sharing intimate images without a person's consent illegal? The answer to all three questions is yes, technically," Červenka, who specializes in non-consensual pornography cases, told Newsweek.
"Because each of these offenses has all sorts of criteria attached to them, that [...] makes the application a lot narrower than you might think.
"As to exactly what cause of action the victims might have, I think so much would turn on real specifics on what's in the audio, what happened when it happened, that's difficult to draw conclusions.
"But I have little doubt that if they went down the criminal route, the police would have a very hard time navigating the complex sets of elements for each offense.
"And even if they went down the civil route through civil lawyers, again, a very complicated legal analysis would have to be done because of the blind spots that the current laws have."
One avenue for victims, Červenka said, could be privacy torts. However, this could only bring about compensation, not criminal prosecution.
Červenka said another challenge to prosecuting non-consensual pornography that was produced across borders is the almost "squarely jurisdictional" nature of U.K. legislation.
"What we often see in intimate image abuse cases that we have is that the minute there are multiple countries involved—say the perpetrator is in America and the victim is here, it is so difficult to obtain justice across jurisdictions that it's almost impossible," he said.
"The laws that we have aren't really prepared fully to deal with the truly international phenomenon like the internet."
The Law Commission—an independent body established by the U.K. Parliament to routinely review legislation—is conducting a review of existing criminal laws surrounding producing and disseminating non-consensual pornography.
However, the review focuses on sexual images, not audio.
In a February consultation paper on its evaluation, the commission specified that it does not cover intimate audio recorded without consent.
"Our project is concerned with sharing, and threats to share, intimate images without consent, which means that sharing, and threats to share, audio recordings without consent is outside of the scope of our review," the paper read.
"However, we recognize the significant harm that sharing or threatening to share a sexual audio recording without consent can cause. We suggest that whether this behavior is covered adequately by other criminal offenses is reviewed."
As a firm that specializes in sexual violence and harassment, McAllister Olivarius was involved in the Law Commission's process.
"I don't think that the Law Commission got every single point right, but I do agree with their approach to try to unify the offenses and bring clear standards," Červenka told Newsweek.
"As the law stands right now, there are way too many avenues out of criminal liability."
Update 11/16/21, 5:45 a.m. ET: This article was updated to include a statement from an Amazon spokesperson.
Update 11/16/21, 11:40 a.m. ET: This article was updated to include the contents of a Stealth Seduction video obtained by Newsweek.