'Horizon Call of the Mountain' and Everything You Should Know About PlayStation VR2
PlayStation has officially unveiled its next generation of Virtual Reality (VR) technology, as well as one of the first exclusive games that fans can expect to see on the system.
The original PSVR headset debuted back in 2016 for the PlayStation 4 and had a number of tentpole releases that really pushed the boundaries in terms of what the hardware was capable of. Notable examples of this include Trover Saves the Universe, Astro Bot Rescue Mission, an Iron Man adaptation and a special mode for Resident Evil 7.
In the intervening years, VR has advanced even further, with Half-Life: Alyx providing unmatched levels of immersion for PC compatible headsets and Meta (the company formerly known as Facebook) showcasing the potential applications of the technology in the future.
As such, tech enthusiasts have been eager to learn how Sony will rise to the occasion and evolve its own VR offering with a follow-up system. After months of speculation on this matter (with many hoping to hear more at the PlayStation Showcase in September) the publisher has now finally revealed what it has got in store.
Everything You Need To Know About PlayStation VR2
During a presentation at the Consumer Electronics Show (CES), Jim Ryan, President and CEO of Sony Interactive Entertainment, announced the straightforwardly-named PlayStation VR2 headset, and its corresponding PlayStation VR2 Sense controllers.
This section of the keynote was only a few minutes long, so there wasn't much beyond a vague description of the product, and we did not get a visual demonstration of it either. What we do know is that PSVR2 will take advantage of PS5 hardware to evolve upon the kind of experiences that were delivered in the previous generation.
Speaking about this during the CES livestream, Ryan said: "It is our vision to provide the ultimate entertainment experiences to players [...] PlayStation VR2 will introduce a new generation of VR games that enable players to feel a greater sense of presence and become more immersed within their game worlds once they put on the headset and wield the controllers. "
In service of this goal, the PlayStation VR2 headset will make use of new sensory features, better tracking capabilities and improved presentation. On the subject of the latter, it has been described by Ryan as a "best in class experience".
The headset will utilize 4K HDR visuals, an expanded 110-degree field of view (for comparison's sake, the previous model was 100 degrees) and foveated rendering. If you don't know what the last part means, it's essentially a technique that can be used to lessen the rendering workload by tracking what you are actually looking at and what is just in your periphery. It was later revealed in a PlayStation blog that the new headset also had an OLED display with a 2000×2040 resolution per eye and frame rates of up to 120Hz.
While those technical specs are undeniably impressive, the more exciting news relates to the PSVR2's innovative features. For instance, Ryan revealed that it will utilize tracking software that detects the motion of your eyes, in a way that can be integrated into gameplay (so that events are triggered when you are looking at a certain place) and used for more realistic social interactions.
Meanwhile, a motor built into the headset will provide responsive feedback in the form of subtle vibrations. The aforementioned blog teases that this feature could be used to heighten in-game sensations, like the quickening of your character's pulse or the feeling of projectiles whizzing by close to your head in action sequences.
On a related note, the PlayStation VR2 Sense controllers will also be used to further immerse you in the experience, by making use of haptic feedback and adaptive triggers, much like the PS5's DualSense.
The last bit of good news is that the PlayStation VR2 will be much easier to set up than its predecessor, as there will only be a single cable that you need to connect to your console in order to get it running.
'Horizon Call of the Mountain' Announced
As if that wasn't enough, Sony has also given a sneak peak at one of the first exclusives that you will be able to enjoy on the PlayStation VR2.
Horizon Call of the Mountain is a spin-off of the mainline Horizon games, as opposed to a VR remake like the one Skyrim had. It is a collaborative effort developed by the franchise's original creators over at Guerrilla Games and the VR specialists at Firespirte (who made The Playroom).
Very little concrete information about the game was provided at CES (apart from that it aims to put the PSVR2 through its paces) but we were treated to a brief teaser clip. Here, we saw footage of a first-person boat ride that resembled the kind of theme park attraction that you might see at Universal Studios or a Disney World theme park.
After giving us enough time to gawk at the impressively rendered scenery, the video clip then culminated in the dramatic reveal of a Tallneck robot. Again, it was only a brief tease, but it was certainly enough to whet your appetite for the next generation of VR hardware.
There is no official release date for either the PlayStation VR2 or Horizon Call of the Mountain at the time of writing.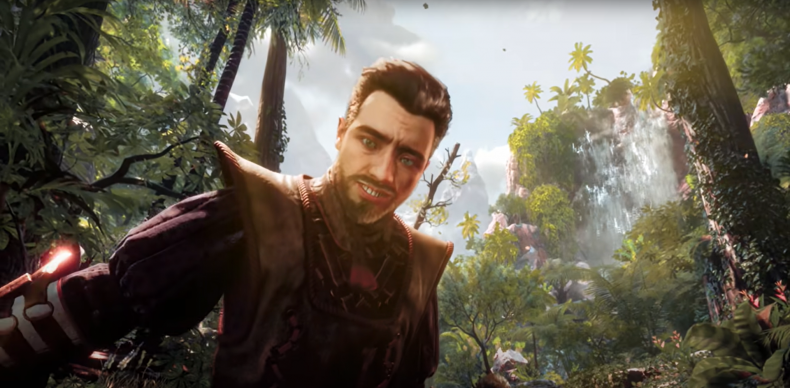 PlayStation VR2 Technical Specs
Here are the PSVR2 technical specs, according to the official PlayStation website.
Display method​
OLED
Panel resolution​
2000 x 2040 per eye
Panel refresh rate​
90Hz, 120Hz
Lens separation​
Adjustable
Field of View​
Approx. 110 degrees
Sensors​
Motion Sensor: Six-axis motion sensing system (three-axis gyroscope, three-axis accelerometer)​
Attachment Sensor: IR Proximity sensor
Cameras​
4 cameras for headset and controller tracking​IR camera for eye tracking per eye
Feedback​
Vibration on headset
Communication​ with PS5
USB Type-C
Audio​
Input: Built-in microphone​Output: Stereo headphone jack