Pokémon Day is an annual event dedicated to honoring one of the world's biggest media franchises and the indelible mark that it has left on pop culture.
The special occasion (which the Pokémon Company itself brands as a "holiday") always falls on February 27, to commemorate the anniversary of Pokémon Red and Pokémon Green — the twin games that kick-started it all — coming out in Japan.
It's always a jam-packed celebration. In previous years, special updates have been rolled out for existing titles, new anime movies have been released and even clothing lines were launched. Plus, there's the traditional popularity poll that aims to gauge which pocket monsters have endeared themselves most to the fan base lately.
For 2022, the Pokémon Company is spreading out these festivities over the course of a full week. Each day (between now and February 27) will be focused on a different aspect of the Pokémon brand and will deliver exciting announcements and updates.
For instance, February 24 is all about the Unite MOBA, while February 26 is geared towards Pokémon GO. Any news relating to these titles will be shared on their corresponding social media channels, as well as the overarching international account.
In addition, the Pokémon Center (which is the official merchandise vendor for fans in the U.S. and Canada) is also launching various products over the coming days.
Here is everything you need to know about the week-long Pokémon Day celebration in 2022.
Pokémon Day 2022 Schedule
We are already partway through the Pokémon Day 2022 schedule, which began in earnest on Monday, February 21.
As per a tweet from the official Japanese brand account, you can expect the following over the coming few days.
| | |
| --- | --- |
| Date | Event |
| February 21 | Pokémon Masters EX Mobile Game Update |
| February 22 | Pokémon Sword and Shield Update |
| February 23 | Pokémon Cafe ReMix Update |
| February 24 | Pokémon Unite Update |
| February 25 | Music Video release for 'Reconnect' by Yaffle |
| February 26 | Pokémon GO update |
| February 27 | Pokémon Day |
While we do not know any specifics about most of these, or what will happen on Pokémon Day itself, we do know that the Pokemon GO update is related to the "Tour Johto" event.
Starting at 9 a.m. local time on Saturday, February 26, this will bring the Johto region into the game, with hundreds of rare creatures to catch, rewards to earn, bonuses to enjoy and challenges to undertake.
It is a ticketed event, meaning that you have to pay $11.99 if you want to join in.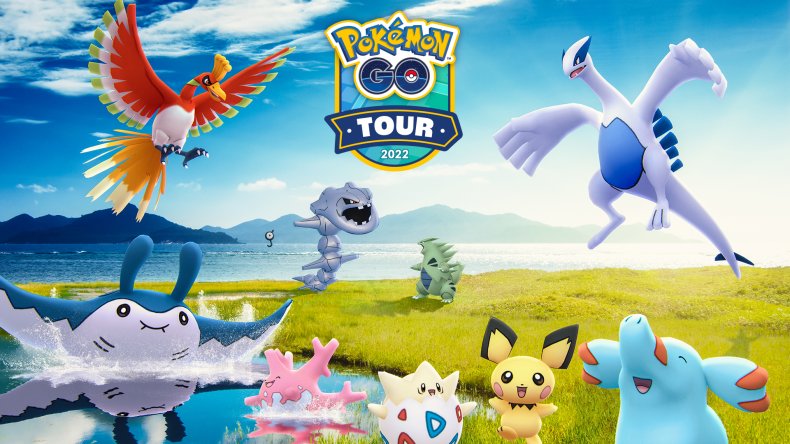 New Pokémon Center Merchandise
As mentioned, the Pokémon Center is also commemorating the anniversary of Red and Green by updating its inventory with brand new items. These are periodically being added to the digital storefront in the lead up to February 27.
At the time of writing, the highlight is a range of custom skateboards designed by industry craftsman Bear Walker. The graphic designs on offer depict the likes of Mew and Gyarados against striking backgrounds. The skateboards cost $249.99 each and are limited in terms of their availability.
If you browse elsewhere on the Pokémon Center website you will also be able to find rare trading cards, pins and plushies, but these are evergreen products that are always in stock (rather than Pokémon Day specific merchandise).
One final thing worthy of note is that fans can watch a curated selection of anime episodes and movies between now and February 27. These are all being hosted for free on the official Pokémon TV streaming service.