Police Association to Proceed with Rifle Raffle Following Mass Shootings
A police association is planning to proceed with a gun raffle giveaway, even after several shooting incidents across the nation.
According to KOMU 8 News in Columbia, Missouri, the Columbia MO Police Officer's Association recently deleted a post about a gun raffle for the association's 27th Annual Golf Tournament. KOMU 8 News reported that the association was raffling an AR-style rifle and a handgun. However, the local news station reported on Wednesday that the post was removed from Facebook following public outrage but in a recent statement, the police association indicated that they plan to proceed with the raffle.
"Some have expressed concerns about our fundraiser raffle; and some have been spreading false information. CPOA is not raffling an AK47 or an automatic pistol and is only raffling items that are 100% lawful to possess," the Columbia MO Police Officer's Association wrote in the Facebook post on Wednesday. "CPOA will continue to respect and honor all of the Constitutional rights of everyone—even if some people think that we shouldn't. If you want to buy a ticket please let us know."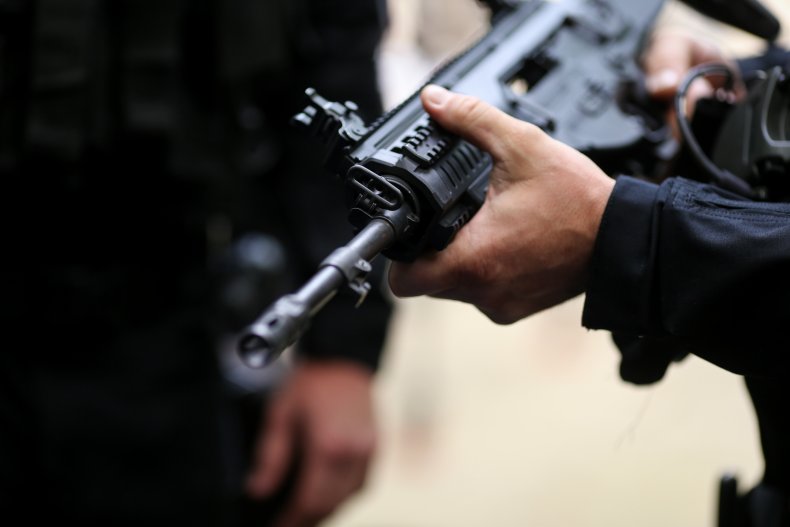 According to KOMU 8 news, the initial post was published on April 13. The public outrage the police association faced comes shortly after 21 victims were fatally shot at the Robb Elementary School in Uvalde, Texas, which was the second deadliest school shooting incident on record.
On May 24, Salvador Ramos, 18, traveled to the Robb Elementary School and killed 19 students and two teachers. According to authorities, all of the victims were located in one single classroom. Authorities also said that Ramos used a military-style assault rifle to carry out the mass shooting incident, which he purchased just a few days prior.
In addition to the school shooting in Uvalde, Texas, another mass shooting occurred several days earlier, when 18-year-old Payton Gendron fatally shot 10 people at a Tops Friendly Market in Buffalo, New York.
In fact, as of May 31, there had been 17 mass shootings since the Uvalde school shooting.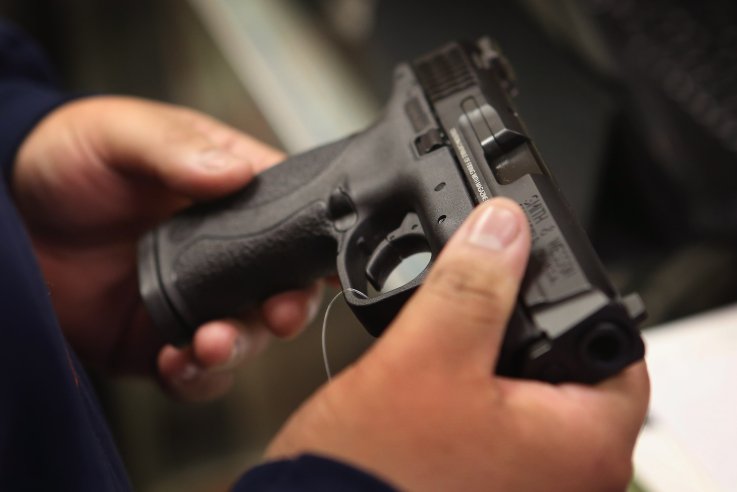 A police association in Missouri faced criticism from community members after posting about a gun raffle. Above, a customer shops for a pistol at Freddie Bear Sports sporting goods store on December 17, 2012, in Tinley Park, Illinois.
Scott Olson/Getty
KOMU 8 News reported that Matthew Nichols from the Columbia MO Police Officer's Association said that the post promoting the gun raffle was removed following criticism from community members.
"I saw people saying, you know, 'This is a terrible idea,' 'This is shameful.' You know, 'Why would the police want to promote weapons in the community?'" Rosemary Feraldi, a Columbia resident, told KOMU 8 news. "It just seems counterproductive and counterintuitive to me that a police officer's association would want to put more guns out into our community...On the other side, there were people who were saying, 'Hey, you have the right to free speech,' 'I have the right to have a gun,' which nobody is denying that. You know, we just felt like police associations should not be promoting weapons."
Newsweek reached out to the Columbia MO Police Officer's Association and Facebook for comment.