Poll Shows Americans Believe Trump Sympathizes with Russian Invasion
Former U.S. President Donald Trump has long been criticized for his refusal to publicly oppose Russian President Vladimir Putin. Now that Putin has invaded Ukraine, more Americans believe that Trump sympathizes more Russia rather than the country it's attacking.
In late February, Trump was criticized for praising Putin's justification for invading Ukraine. On March 10, Trump refused to call Putin "evil" on national TV. Trump's former national security advisor John Bolton even said on March 9 that during Trump's presidency, Trump was "doing a lot of [Putin's] work for him" by trying to remove the U.S. from the North American Treaty Organization (NATO), the Western alliance seeking to limit Russia's military expansion.
The poll's results, released Friday, found that 37 percent of respondents believe that Trump sympathizes with Russia, and only 22 percent believe that Trump sympathizes more with Ukraine.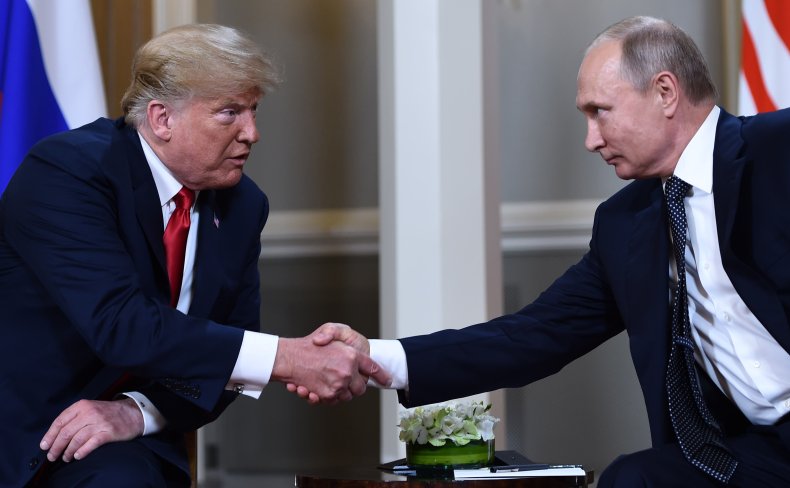 Numerous political analysts have noted Trump's repeated praise of Putin and his reluctance to publicly criticize him during Trump's 2016 election campaign and presidency.
Trump's actions may have led to 42 percent of respondents to say that, during his presidency, Trump was too friendly toward Russia. Roughly 37 percent said President Trump's approach was about right, and only five percent believed that President Trump was too hostile towards Russia.
Comparatively, 39 percent said that current President Joe Biden is too friendly towards Russia, and 11 percent said that he is too hostile towards the country.
Putin justified his invasion of Ukraine by claiming he needed to send in "peacekeepers" to Ukraine's eastern regions because the Ukrainian government was committing genocide against ethnic Russians there. And soon after, Trump celebrated Putin's justification for invading Ukraine as "genius" while speaking on a conservative radio show.
However, the poll shows that most Americans disagree with Trump's praise.
Only about 15 percent agreed with Trump's assertion of Putin's "genius." Over 67 percent disagreed with Trump's assertion. While 42 percent believed Putin wouldn't have invaded Ukraine if Trump was still in office, an equal amount felt that Russia would've invaded anyway, regardless of who was in office.
The poll was conducted by the internet-based market research firm YouGov. The pollsters interviewed a nationally representative sample of 1,000 U.S. adult citizens online between March 7 and 9. The poll's margin of error is approximately plus or minus 3 percentage points.
During his 2016 presidential campaign, Trump suggested that he was okay with Russia keeping the Ukrainian territory of Crimea, which it aggressively seized in 2014.
"You know, the people of Crimea, from what I've heard, would rather be with Russia than where they were. And you have to look at that," Trump said in a late July 2016 interview with ABC's George Stephanopoulos.
"Putin's not going into Ukraine, OK, just so you understand. He's not going to go into Ukraine, all right? You can mark it down. You can put it down. You can take it anywhere you want," Trump added.
In August 2019, Trump argued that Russia should be welcomed back into the Group of Seven (G7), an international group that collaborates on economic and security policies. The group suspended Russia's membership in 2014 after Putin annexed Crimea.
Trump also supported Putin's opposition to NATO, calling the organization "obsolete" and saying that the U.S. should withdraw from it because its European members didn't invest as much money into it as the United States did.
Trump repeatedly considered leaving the 30-nation alliance during his presidency. Doing so would have emboldened Russian President Vladimir Putin and left the U.S. in a weaker position to oppose him during Russia's recent invasion into Ukraine, Bolton said.
"I think one of the reasons that Putin did not move during Trump's term in office was [that] he saw the president's hostility with NATO," Bolton said in a March 10 interview. "And to Putin's mind, it's a binary proposition: A weaker NATO is stronger Russia."
"So I think Putin saw Trump doing a lot of his work for him and thought, maybe in a second term, Trump would make good on his desire to get out of NATO, and then it would just ease Putin's path just that much more," Bolton added.
The Biden administration believes that NATO's unity has deterred Russia from further aggression in Europe.
Newsweek contacted Trump's office for comment.