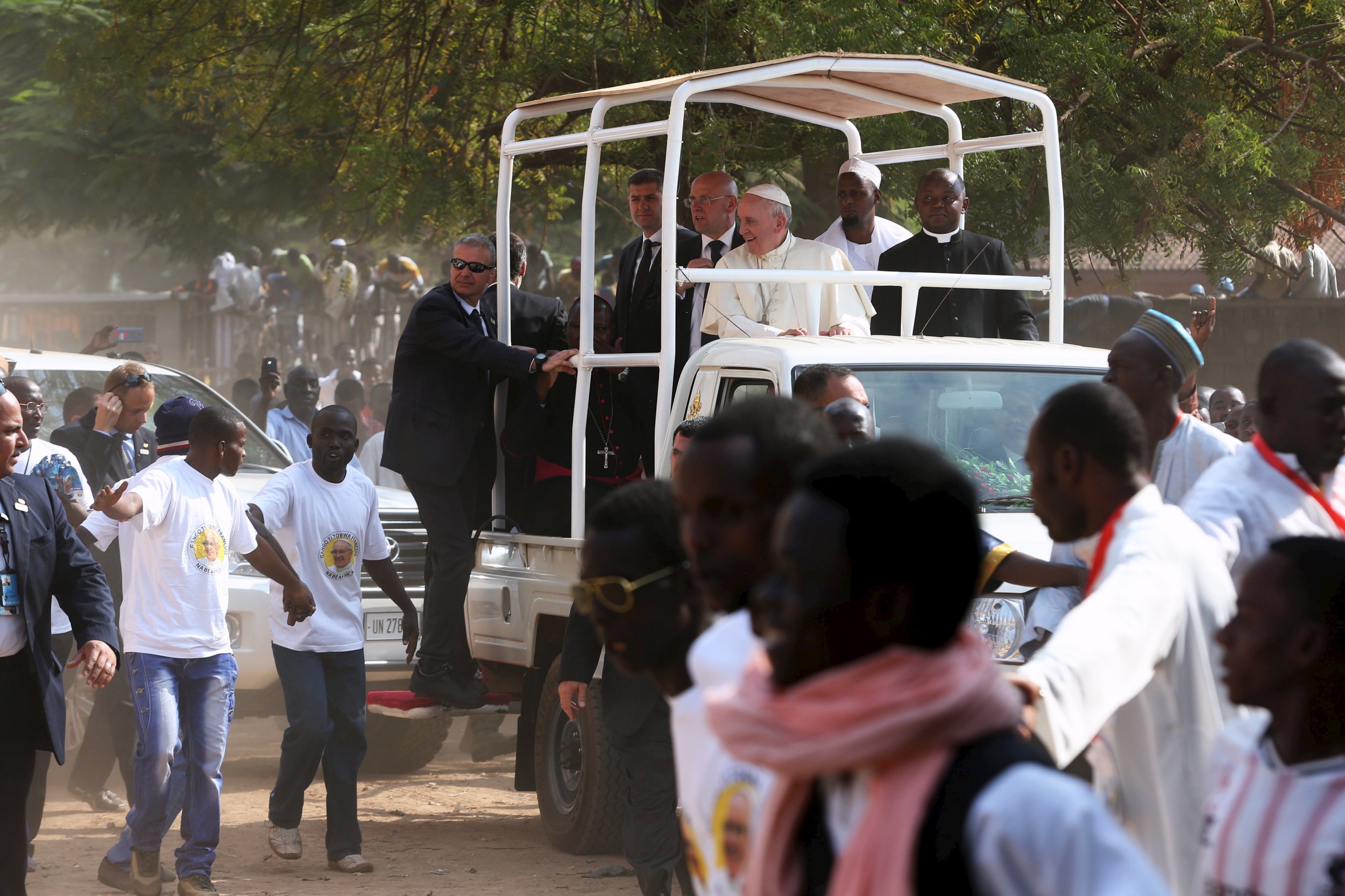 Pope Francis called for an end to interreligious violence as he visited a mosque in a Muslim neighborhood of the Central African Republic (CAR) capital, where thousands of beleaguered Muslims have been trapped by Christian militias.
The pontiff concluded his three-nation Africa visit with a two-day trip to CAR, which has been beset by fighting between mainly Christian anti-Balaka and largely Muslim Seleka militias, Reuters reported . On Monday, Francis visited the Koudoukou central mosque in a Muslim enclave of Bangui, known as PK5, where at least 100 people have been killed in sectarian violence since September 25, according to Human Rights Watch.
Despite security concerns surrounding the CAR leg of his trip, Francis, 78, traveled through the neighborhood in an open-air vehicle and was welcomed by local imam Tidiani Moussa Naibi, who thanked the pope for his visit and said it was "a symbol which we all understand." Some 15,000 Muslims live in PK5, down from 122,000 who lived in Bangui before the conflict arose in March 2013, according to Human Rights Watch. The neighborhood has been cut off in recent months by anti-Balaka fighters, who prevent supplies from entering and Muslims from leaving, Reuters reported.
In his message to crowds gathered at the mosque, Francis said that "Christians and Muslims are brothers and sisters" and that "those who claim to believe in God must also be men and women of peace." A similar message was shared from the pope's official Twitter account:
CAR has been gripped by violence since Seleka rebels launched a coup in March 2013 and ousted then-President Francois Bozize from power, sparking the formation of Christian militias in response to the perceived Seleka threat. Some 417,000 people have been internally displaced in the CAR since 2013, according to the U.N. refugee agency.
The pope addressed the tit-for-tat killings that have characterized the conflict between Seleka and anti-Balaka rebels. Francis said that Christians and Muslims must together "say no to hatred, to revenge, and to violence," particularly acts of violence committed in the name of religion. "God is peace, 'salaam,'" said the pope, using the Arabic word for peace.
The pope's visit to CAR was conducted under heavy security, which included 500 police and gendarmes, 3,000 United Nations (U.N.) peacekeepers, and troops from the French deployment in the country, which numbers around 900. Reuters reported that U.N. sharpshooters were positioned atop the central mosque and armored vehicles with mounted machine guns were deployed along the pope's route through PK5.
After arriving on Sunday, the pope visited a refugee camp for around 4,000 people displaced by the violence and then celebrated mass at Bangui's cathedral. Following his trip to PK5 on Monday, the pope said mass at CAR's national stadium before departing for Rome.
The pope's maiden Africa trip also took him to Kenya, where he denounced the "barbarous attacks" committed by militant groups claiming a religious justification, such as the Somali group Al-Shabab. Francis also visited Uganda, where a group of LGBT activists had petitioned the pope for a private audience. However, the Guardian reported that the pope failed to address the issue during his time in Uganda.