Today's popular Google Doodle game and the latest in the Stay and Play at Home series is a Doodle celebrating Wilbur Scoville, the inventor of the Scoville Scale which is used to measure a pepper's heat.
First appearing in January 2016 to mark Scoville's 151st birthday, today's interactive Google Doodle invites users to play as an ice cream cone as they go head-to-head with peppers of increasing heat.
The interactive Google Doodle sees an animation of Scoville trying various peppers before cooling down with ice cream. The user's goal is to defeat the pepper by throwing ice cream at it, hopefully freezing the pepper in an ice cube.
The first duel is against a bell pepper, which has zero Scoville heat units. But as the user defeats each pepper, they are faced with an even hotter contender. They will go up against a jalapeño pepper, a Cayenne pepper, a Bhut jolokia or a ghost pepper—which was the first pepper to score over a million Scoville heat units— and a Trinidad Moruga Scorpion Pepper, which scores over two million heat units.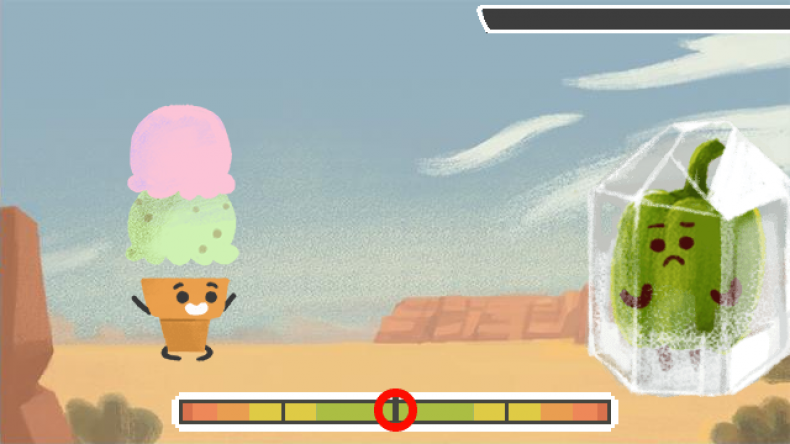 Who was Wilbur Scoville?
Wilbur Scoville was a chemist, an award-winning researcher, a professor of pharmacology, the second vice-chairman of the American Pharmaceutical Association, and creator of the Scoville Organoleptic Test, or Scoville Scale.
Scoville is most remembered for his organoleptic test, which used human testers to measure the heat of peppers, but one of the earliest mentions of milk as an antidote to pepper heat can be found in his book, The Art of Compounding.
The artist behind the Doodle, Olivia When, told Google: "Spiciness is somewhat of a universal, comical experience, which I think opened the door for us to do something we usually might not be able to, like a fighting game."
The Google Doodle on the homepage today sees the first O of the word Google sitting back, eating a chili pepper, before breathing out fire.
Today, the Google Doodle is captioned: "As COVID-19 continues to impact communities around the world, people and families everywhere are spending more time at home. In light of this, we're launching a throwback Doodle series looking back at some of our popular interactive Google Doodle games!
"Stay and play at home with today's featured throwback: Our 2016 Doodle game celebrating Wilbur Scoville!"
Google launched its Stay and Play at Home series on April 27, and last week, Google users played a game celebrating the first coding language designed for children, and a cricket game inspired by the ICC Champions Trophy.
They composed visual music inspired by Oskar Fischinger, and created visual music from thin air, in a Doodle celebrating Clara Rockmore. Finally, on Friday, they learned about the history of garden gnomes in a catapult launching game.