A pregnant couple has gone viral after getting seriously creative by staging a wrestling match to reveal the gender of their unborn baby.
Gender-reveal parties—social gatherings in which expectant parents discover whether they are having a girl or a boy—have become a big part of life for those experiencing the joy of pregnancy.
The concept is simple enough, with parents finding out the sex based on a color system where a reveal of blue indicates a boy while pink represents a girl.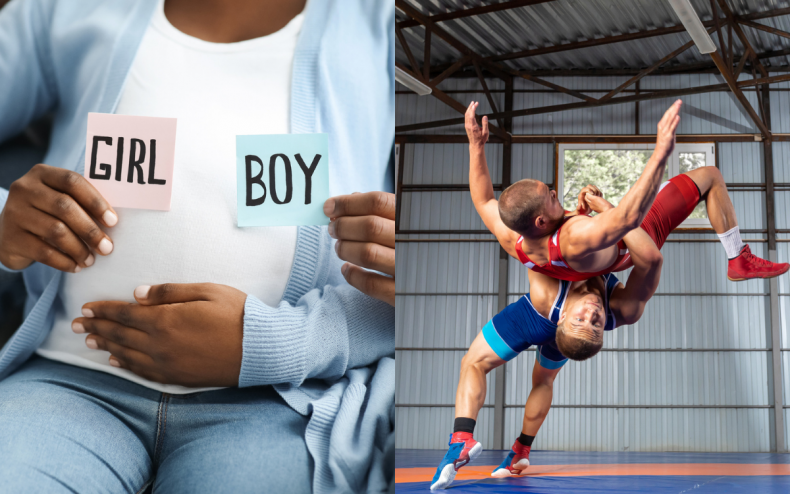 It's thought to have originated from a woman called Jenna Karvunidis who, in 2008, shared pictures on social media of a cake she made that featured pink frosting in the middle. The post was designed to announce she was expecting a girl and not only went viral but spawned a glut of copycats as well as an industry of sorts.
While increasingly commonplace in the U.S. the phenomenon has since spread to the U.K. According to the BBC, in 2019 alone online retailer Party Delights reported an 87 percent increase in the purchase of gender-reveal-related products.
Party Delights managing director Claire Grasby told the BBC that much like parents in the U.S., couples across the pond are "looking for ever more creative ways to celebrate a pregnancy."
One U.K. couple earning top marks for creativity recently went viral on TikTok earlier this month after a video of their unique approach to the gender reveal was captured on camera. It can be watched here.
While pregnant couples in the U.S. have previously gone viral with unique football-themed announcements and efforts involving misfiring confetti cannons, these two expectant parents decided to push the envelope even further with a WWE-style bout.
The result was a wrestling match pitting two friends decked out in giant pink and sky blue baby outfits respectively against each other. Footage of their fight was shared to TikTok by chibzno10 who captioned the clip "f*** a balloon gender reveal." At the time of writing, it has been viewed 3.6 million times.
In the clip, the two men can be seen going toe to toe while friends and family excitedly watch on. Faux-punches are traded as the two men jokingly grapple.
It's dramatic from the start to finish, with the two entertainers trading kicks and slams, all in the name of fun, of course. At one point, it looks like the man in pink is about to win, pinning his blue opponent to the floor.
But the blue grappler eventually kicks out on the two count and eventually fights back to win, with a cannon of confetti exploding upon confirmation of his victory and the news that they will be having a boy.
The video ends with friends and family hugging in delight at the announcement.
Inventive, hilarious and perfectly executed, an onscreen caption accompanying the video describes it as "the best gender reveal ever" and it would appear fans on social media are inclined to agree.
Encise praised their "next level creativity" with gxnaobi agreeing: "This is lit."
Zinhlenhele_ admitted she started "cheering" while watching the video adding she thought it was a "good idea."
EDadz said: "This had me at the edge of my seat." rntaro commented: "this seems so fun." Megan Madderra went further, declaring: "This is the best thing I've ever seen." Arianna Little admitted: "This made me cry."
For others it was a source of inspiration with divaaa_o3x among those to write: "i'm deffo gonna do this."
Writing in the comments, a TikToker called Cherisey thanked chibzno10 for his efforts. "Y'all made our day special," she writes. According to her profile, she is the expectant mother in the video and is based in London.
Another account, belonging to a man posting as montz187 who claims to be based in London also thanked chibzno10 describing the wrestling match as "defo the highlight of our day."
Newsweek has contacted Cherisey and chibzno10 for comment.