Who Is Joe Arpaio, 'America's Toughest Sheriff' and the Man President Trump Wants to Pardon?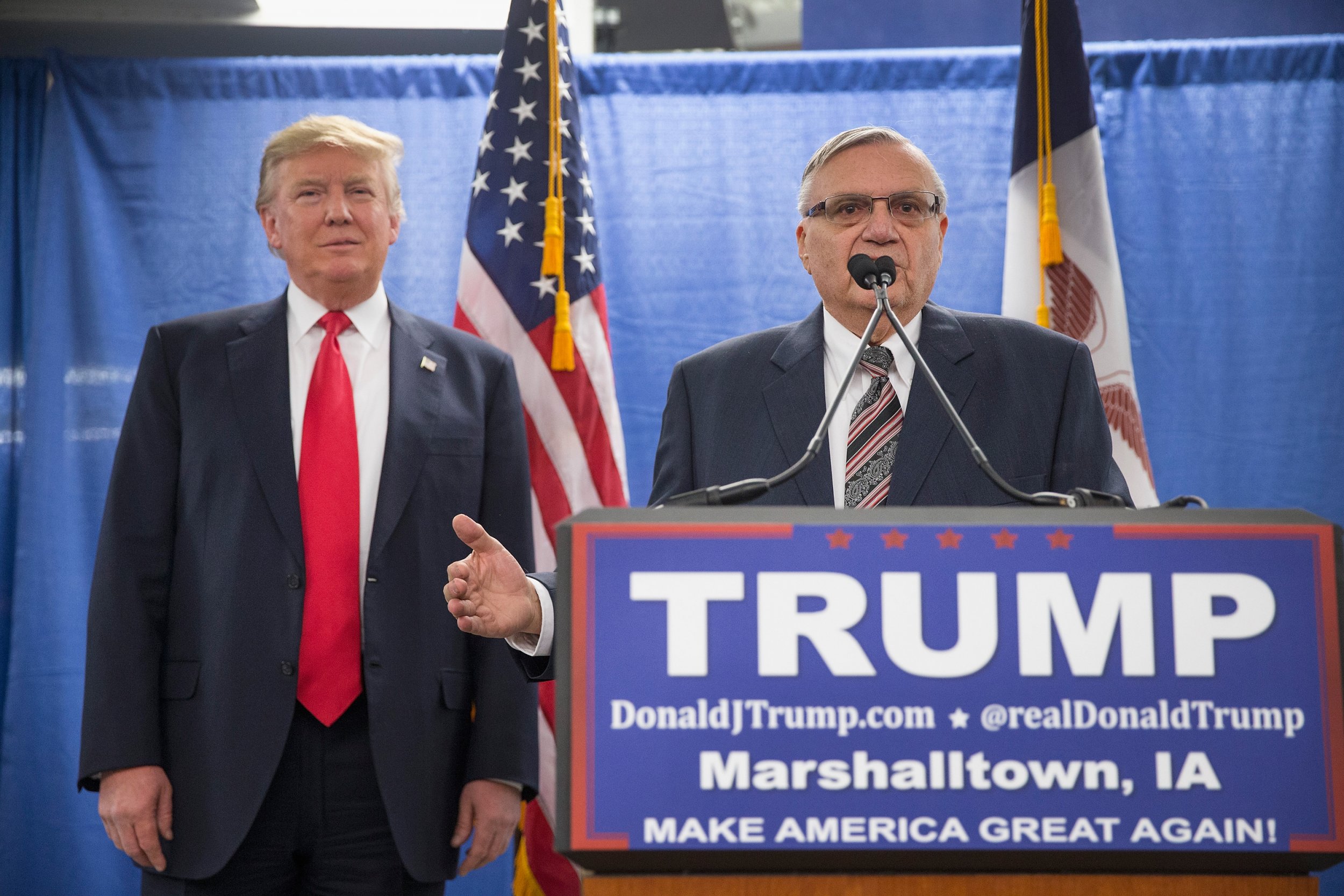 Given his reputation as a hard-liner on illegal immigration and his history of calling former President Barack Obama's birth certificate into question, it's unsurprising that President Donald Trump has an affinity with Joe Arpaio, the former sheriff of Maricopa County, Arizona.
The 85-year-old Arpaio has styled himself as "America's Toughest Sheriff"—a sobriquet that forms part of the title of his autobiographical books published in 1996 and 2008—and has garnered a reputation for a tough stance on crime, but he has also faced accusations of racial profiling.
Trump, who repeatedly positioned himself as the law-and-order candidate in the 2016 presidential campaign, appears to have a lot of respect for Arpaio. So much so, in fact, that the president is considering pardoning Arpaio's recent conviction for criminal contempt in what would be the first presidential pardon of Trump's tenure.
"I am seriously considering a pardon for Sheriff Arpaio," Trump told Fox News Sunday. "He has done a lot in the fight against illegal immigration. He's a great American patriot, and I hate to see what has happened to him."
Read more: Inside the fall of Joe Arpaio, America's most controversial sheriff
Arpaio's legal struggles relate to his 24-year tenure as Maricopa County sheriff between 1993 and 2016. Born in Springfield, Massachusetts, to Italian immigrant parents, Arpaio had a short career in the U.S. military before becoming a police officer. He was first elected as sheriff in 1992 and was re-elected a further five times before finally losing out to Democrat Paul Penzone in November 2016.
Arpaio was famous for using controversial tactics on criminals during his time as sheriff, including issuing all prisoners with pink underwear to stop released inmates from stealing the clothes. He also set up the so-called Tent City, an outdoor facility consisting of surplus military tents from the Korean War that were used to house hundreds of inmates to cope with overcrowding in the Arizona prison system. Temperatures in the tents during summer would often reach triple digits, and the facility has prompted condemnation and protests from human rights activists. (Penzone said in April that he would shut down Tent City.)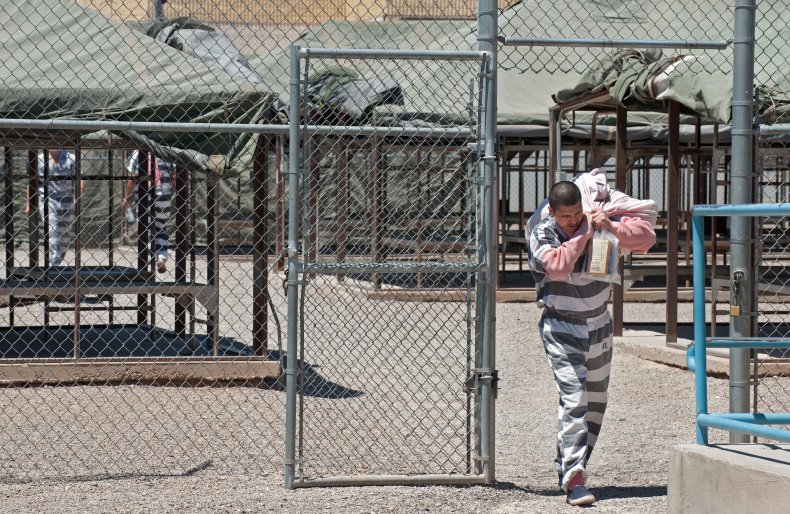 Arpaio also led a probe by a volunteer group named the Cold Case Posse into the authenticity of Obama's birth certificate. Arpaio concluded in 2012 that, despite the White House releasing Obama's long-form birth certificate in 2011—which led some so-called birthers, including Trump, to tone down their rhetoric—the certificate may have been made by "forgery and fraud."
During his time as sheriff, Arpaio also faced a wealth of legal controversies and battles. These included his office's failure to investigate hundreds of sex crimes allegedly committed between 2005 and 2007. In one particularly controversial case, Arpaio's office botched an investigation into the 2007 rape of then-13-year-old Sabrina Morrison by her uncle Patrick Morrison; it wasn't until 2012 that Patrick Morrison was convicted and sentenced to 24 years in prison after multiple failings by the sheriff's office. Maricopa County agreed to a $3.5 million settlement with Sabrina Morrison in 2015 after she sued for $30 million.
But Arpaio's downfall ultimately came as a result of his actions on immigration. The Justice Department announced in 2012 that it was suing Arpaio, his office and Maricopa County for the long-term racial profiling of Latinos.
Arpaio was well-known for conducting sweeps of Latino neighborhoods and detaining Spanish speakers on suspicion of being undocumented migrants. In 2011, a court ordered him to stop traffic patrols that targeted immigrants. But Arpaio continued with the patrols for a further year and a half, and he was convicted of criminal contempt in July. Arpaio maintains that he had misunderstood the 2011 order, but prosecutors argued that he used the patrols to boost his bid for re-election as sheriff in 2012.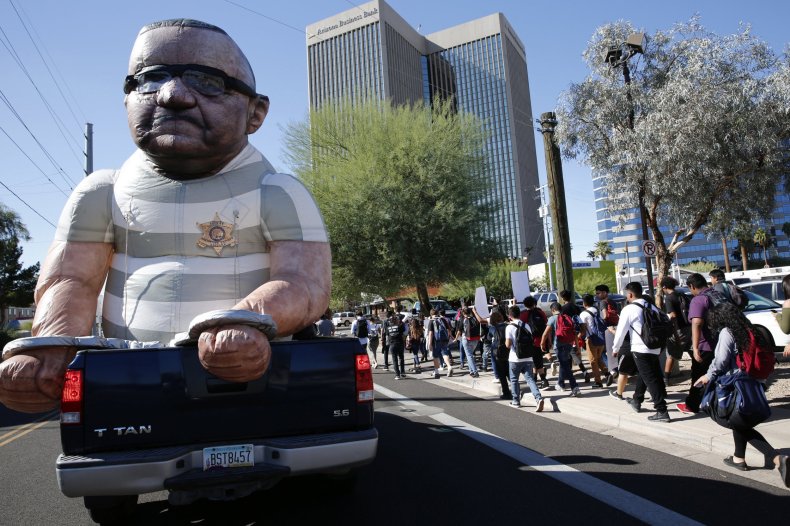 Arpaio is due to be sentenced in October and could face up to six months in prison, but Trump's comments indicate that he may be set to get a reprieve. "Is there anyone in local law enforcement who has done more to crack down on illegal immigration than Sheriff Joe?" Trump asked Fox News. "He has protected people from crimes and saved lives. He doesn't deserve to be treated this way."
Civil rights and Latino groups have criticized the possibility of a pardon for Arpaio. Cecilia Wang, deputy legal director at the American Civil Liberties Union, told NBC News that if Trump pardoned Arpaio, it would constitute an "official presidential endorsement of racism."
But given the close relationship between the two men—Arpaio endorsed Trump on the campaign trail, and Trump reportedly spoke to Arpaio's wife by telephone after learning she had cancer—it looks like Trump could be about to step into controversy once more if he exercises the presidential pardon.