'Presidents Aren't Kings': Trump Faces Jan. 6 Foe in Ketanji Brown Jackson
Supreme Court nominee Ketanji Brown Jackson's confirmation hearings before the Senate Judiciary Committee are set to begin Monday, and should she proceed to the high court, former President Donald Trump might find her to be an unsympathetic justice if she hears any cases related to his role in the Capitol riots of January 6, 2021.
President Joe Biden vowed during his candidacy for the White House to put a Black woman on the Supreme Court should he be given the opportunity, and he did just that when he announced on February 25 that Jackson was his choice to replace retiring Justice Stephen Breyer. Biden was also responsible for appointing Jackson to her current position on the federal district court in D.C., but it was her previous 8 1/2 year-stint as a district court judge in D.C. that found her presiding over an especially high-profile political case related to Trump.
That case involved Donald F. McGahn II. In 2019, Jackson ruled that McGahn, the former White House counsel to Trump, was compelled to obey a congressional subpoena to testify about Trump's alleged attempt to obstruct the Russia investigation by special counsel Robert Mueller.
In her 120-page decision, Judge Jackson wrote: "Presidents are not kings. This means that they do not have subjects, bound by loyalty or blood, whose destiny they are entitled to control. Rather, in this land of liberty, it is indisputable that current and former employees of the White House work for the People of the United States, and that they take an oath to protect and defend the Constitution of the United States."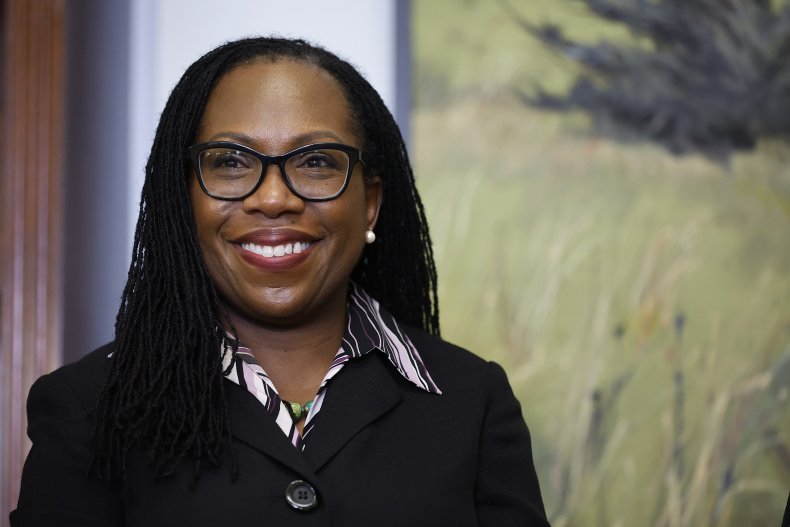 The ruling was appealed by Trump's Justice Department, but McGahn later testified after a deal was made with House Democrats and the Biden administration to end the lawsuit.
Jackson was also part of a three-judge panel charged with hearing Trump's challenge to a congressional subpoena for White House records related to the riot at the U.S. Capitol on January 6, 2021.
The panel ruled in December that Congress is entitled to see White House records from related to the events of January 6 and rejected Trump's claim that he retained the power to keep the materials secret. The ruling stated any residual secrecy powers held by Trump did not outweigh Congress' oversight force or President Biden's decision not to invoke executive privilege over the records.
In January, the Supreme Court affirmed that decision by refusing a request from Trump to block the release of those records.
Since Democrats hold 50 seats in the Senate—with Vice President Kamala Harris as a potential tie-breaker—Jackson does not require Republican support to be confirmed. However, there is a feeling she could find backing from both parties, as she has won GOP votes before. When she passed the Senate confirmation last year for her current position, three Republicans—Susan Collins of Maine, Lindsey Graham of South Carolina and Lisa Murkowski of Alaska—voted for her.
Jackson has also received a public endorsement for her personal attributes from Paul Ryan, the former House speaker and vice-presidential candidate running mate to Mitt Romney in 2012. Jackson's husband is the twin brother of Ryan's brother-in-law. Jackson was introduced by Ryan during her 2012 confirmation to the district court.
After Biden announced Jackson as his Supreme Court nominee, Ryan wrote on Twitter that he and his wife were happy about the news. He also repeated a phrase he used during his 2012 introduction of Jackson.
"Our politics may differ, but my praise for Ketanji's intellect, for her character, and for her integrity, is unequivocal," he wrote.
Newsweek reached out to Trump for comment but did not hear back in time for publication.