Prince Andrew's Attempts at Public Return 'Reflects Terribly' on Royals
Prince Andrew's attempts at making a return to public appearances "reflects terribly" on the royal family according to a royal biographer.
Omid Scobie, co-author of the Prince Harry and Meghan Markle biography Finding Freedom, has written in a column for Yahoo! News that Andrew's "constantly being given room to inch his way back into the public eye not only makes a mockery of his supposed retirement but also reflects terribly on the family that palace aides just recently revealed want to help him rebuild his life."
Scobie's comments come as Andrew's planned appearance at public aspects of the annual Garter Day ceremony at Windsor Castle was reportedly thwarted by Prince Charles and Prince William.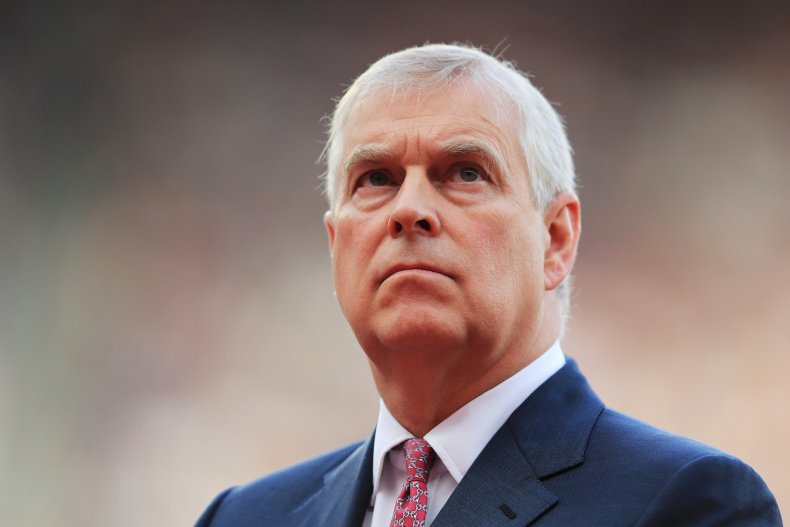 A source close to Andrew had previously told Newsweek that the prince was "still planning to attend Garter Day" after recovering from the bout of COVID which prevented him from being present at Queen Elizabeth II's Platinum Jubilee celebrations in early June.
Despite this, Andrew was not present at the public aspects of the Garter Day event, with a source close to the prince saying it was a "personal decision made by The Duke." This seems to have been contradicted by a subsequent message relayed to Newsweek by a Buckingham Palace spokesperson who said that it was a "family decision."
The prince's popularity with the public is overwhelmingly negative, with 83 percent responding to a recent poll question by YouGov asking if Andrew "can or cannot ever return to public life?" with the answer "he probably cannot" or "definitely cannot."
Andrew's results in YouGov's royal favorability tracker do not fare much better, with just six percent of respondents saying they view the royal positively against 88 percent who responded negatively.
For Scobie, the prince's decision to settle the sexual assault lawsuit brought against him in the U.S by Virginia Giuffre has left many unanswered questions which continue to impact the royal's chances at a royal return to public life.
"Andrew's choice to avoid trial and answer serious questions thanks to loans from the Queen and Prince Charles is very much fresh in the minds of the public," he wrote.
"As is his continued lack of accountability for questionable friendships with a billionaire pedophile and monstrous sex trafficker. Or his many money-related scandals."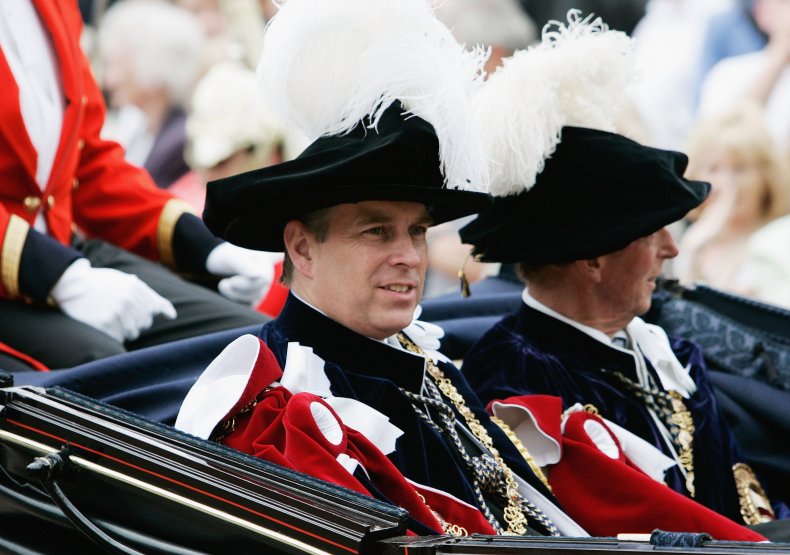 Scobie also highlights the immense privilege still enjoyed by Andrew despite being stripped of his royal patronages and ceasing of using his HRH (His Royal Highness) title and how this compares to the situation of Prince Harry who stepped down from working royal life in 2020.
"Though stripped of his titles, and under strict instructions not to use his HRH, the Duke of York still enjoys a greater wealth of royal privileges than other former working family members ever have," he said.
"Case in point: Prince Harry, who only left his role after a proposal for a part-time position was rejected, remains in a legal battle with the British Home Office to use his own money to pay for relevant security when in the U.K. Andrew, on the other hand, continues to receive round-the-clock protection for the princely sum of zero, thanks to tax-payers picking up the seven-figure tab."
Harry's ongoing legal dispute with the U.K. Home Office centers around claims that the security allocated to him when he is in Britain is inadequate to properly protect his family in public. The prince has also reportedly offered to pay for increased police protection so as not to create an additional cost to the U.K. taxpayer.
Andrew has made one major public appearance since settling the Virginia Giuffre sexual assault lawsuit in February for an estimated $14 million, and that was for the service of thanksgiving for the life of his father, Prince Philip, at Westminster Abbey in March.
Though the royal's attendance was expected, the prominent position he enjoyed, entering on the arm of the queen, was widely criticized and deemed "gobsmacking" by royal commentators.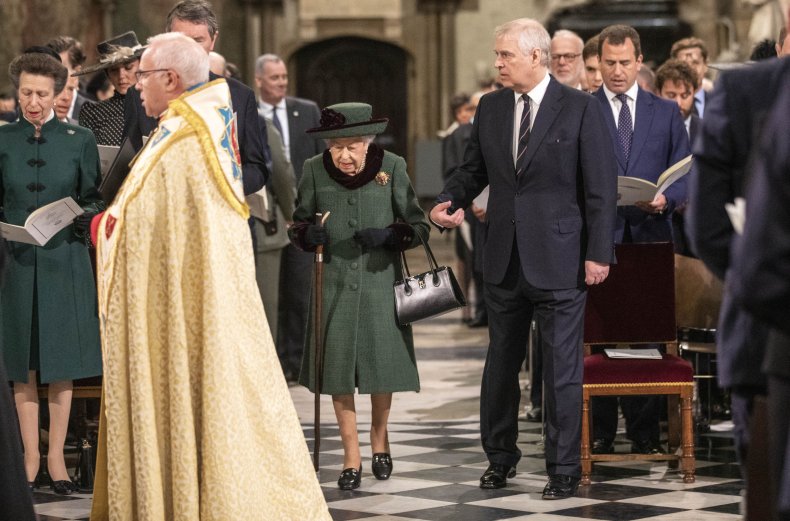 On Andrew's prominent position on the day, Scobie told chief royal correspondent Jack Royston on Newsweek's The Royal Report podcast that: "I at that moment just felt angry because I knew where this was all going to head. The focus would move over to Andrew, the service itself would be completely overshadowed and that's exactly what happened."
Looking to the future, Scobie writes that any attempt by Andrew to rehabilitate his image will have negative implications for the monarchy, saying: "As ninth-in-line to the throne, the Sovereign's third child, and son of the head of the Church of England, every chance Prince Andrew is given to try and rehabilitate his image is a step closer to further damage and shame for the institution of the monarchy. It's a disaster waiting to happen. I'm just not sure how many at the palace see it that way."