Prince Harry Should Be Cut Off Financially From Royal Family: Poll
Almost two thirds of Brits backed Prince Charles' decision to cut off Prince Harry and Meghan Markle financially, in an exclusive poll for Newsweek.
The Duke of Sussex told Oprah Winfrey how the royals "literally cut me off financially" leaving him having to pay for his own security.
Newsweek learned the comment relates to money he received from Prince Charles' private funds and that it was terminated at the end of March 2020.
Redfield & Wilton asked 1,500 adults on Newsweek's behalf whether the move was the correct one and 64 percent said cutting off his funds was the right thing to do.
The research, conducted on Thursday online, showed 36 percent of people said the money should not have been stopped.
Prince Harry told Oprah: "My family literally cut me off financially. I've got what my mum left me and without that, we would not have been able to do this.
"I think she saw it coming. I certainly felt her presence throughout this whole process."
Discussing the couple's Netflix and Spotify deals, he added: "From my perspective all I needed was enough money to be able to pay for security, to keep my family safe."
The duke and duchess expressed anger at the decision to remove their taxpayer-funded Metropolitan Police detail after they stepped down as senior working royals.
Newsweek's research found 64 percent of Brits said their security should not be funded by the royal family compared to 28 percent who said it should.
Once they were no longer senior working royals, Harry and Meghan also lost their status as "Internationally Protected People."
The Metropolitan Police had been protecting them while they were in Canada, starting in November 2019.
However, after the end of March last year the new post-royal regime kicked in and the publicly funded U.K. team were withdrawn.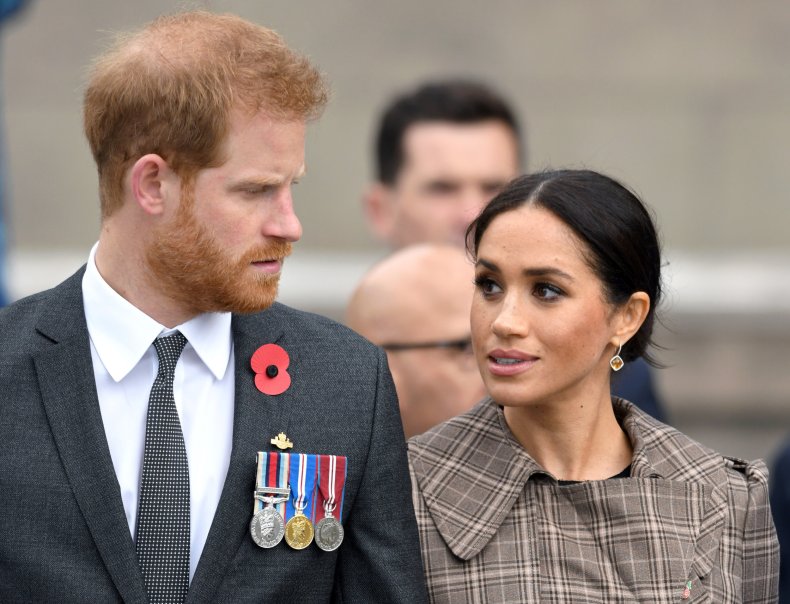 The Canadian government also announced that the Royal Canadian Mounted Police (RCMP) would not provide taxpayer funded protection.
Ultimately, the couple went to live at Tyler Perry's Los Angeles mansion where they were protected by his private security team.
While there, they faced run ins with the paparazzi, including their car being chased and drones being flown low over the property.
Pictures were taken of Archie and Meghan's mother Doria Ragland playing in a private part of the grounds and published in German magazine Bunte, Newsweek revealed.
In response to the Oprah interview, Buckingham Palace said on behalf of Queen Elizabeth II: "The whole family is saddened to learn the full extent of how challenging the last few years have been for Harry and Meghan.
"The issues raised, particularly that of race, are concerning. While some recollections may vary, they are taken very seriously and will be addressed by the family privately.
"Harry, Meghan and Archie will always be much loved family members."