Prince Harry and Meghan Markle Interview Loses Out at Emmys as 'The Crown' Scoops Up
Prince Harry and Meghan Markle's Oprah Winfrey interview missed out on an Emmy Award, but The Crown dominated the drama category.
Royal fiction won out over royal fact when the Netflix series and its stars won 11 awards during last night's ceremony.
Meanwhile, Oprah With Meghan And Harry: A CBS Primetime Special was nominated for "Outstanding Hosted Nonfiction Series Or Special."
The awards were a potential opportunity for the television industry, which Meghan previously worked in as an actress on Suits, to hand her a symbolic victory over the monarchy she left behind.
However, the special missed out to food travel show Stanley Tucci: Searching For Italy.
The Crown won in the outstanding drama category alongside awards for its directing, casting and single-camera picture editing.
Josh O'Connor (Prince Charles) and Olivia Colman (Queen Elizabeth II) won outstanding actor and actress in a drama series awards.
Tobias Menzies (Prince Philip) and Gillian Anderson (Margaret Thatcher) won outstanding supporting actor and actress in a drama series awards.
Claire Foy (Queen Elizabeth II) also picked up the outstanding guest actress in a drama series award for her portrayal in earlier seasons.
It comes after Harry and Meghan were included in the Time100 influential people list for 2021 and did their first joint magazine cover shoot.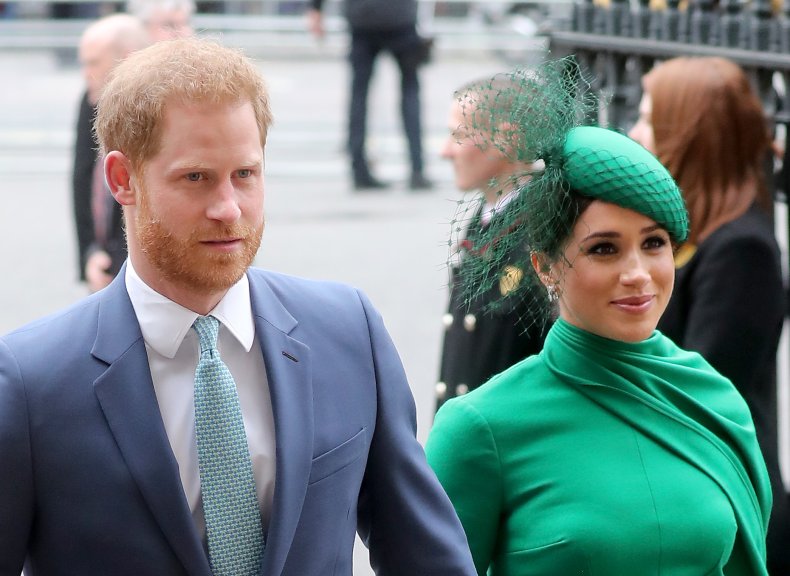 The Crown showed Princess Diana (Emma Corrin) battle bulimia during a lonely existence at Kensington Palace while Prince Charles conducted an affair with Camilla, now the Duchess of Cornwall.
Among its extraordinary recreations was the depiction of a real-life dance routine the princess did to Uptown Girl by Billy Joel for Prince Charles' birthday.
Other famous sequences showed Corrin's Diana roller-skating through Kensington Palace, Charles in a fit of rage and the princess discovering a secret bracelet her husband was planning to give to his mistress.
The jewelry carried "G" and "F" pendants, standing for the secret nicknames they used for each other—Fred and Gladys.
The show's sweeping success at the awards may make uncomfortable reading for the next-in-line to the throne, who suffered in the opinion polls after season 4 dropped on Netflix in November.
YouGov polling showed a drop in the number of U.K. adults who felt he would make a good king from 38 percent in June 2020 to 32 percent in December, a month after broadcast.
At the same time, the number who felt he would not make a good king rose from 30 percent to 33 percent, according to the tracker survey.