Prince Harry and Prince Charles' relationship is showing signs of fresh tension, a year after the Oprah Winfrey interview.
Harry, the Duke of Sussex, was dragged into a scandal engulfing his father's charity and has maintained his silence over plans to give his step mother the title Queen.
The new issues come on the back of several years of tension and despite Charles, the Prince of Wales and heir to the throne, offering his son an olive branch in an article for Newsweek published in January.
Queen Camilla
Charles won a longstanding internal battle within the royal family with an announcement from Queen Elizabeth II on February 5.
The monarch, 95, said she wants Camilla, the Duchess of Cornwall, to be given the title "queen consort" when Charles becomes king.
Original palace policy, dating back to 2005 when the couple married, was that Camilla should instead be known as "princess consort" out of respect for Princess Diana.
Harry has not publicly reacted to the news, but days later he praised his mother's work helping challenge stigma around HIV and Aids, during an appearance for campaign Tackle HIV.
In a February 10 video, Harry said: "What my mum started all those years ago was creating empathy and understanding but also curiosity and I think that was really powerful to be able to create that curiosity."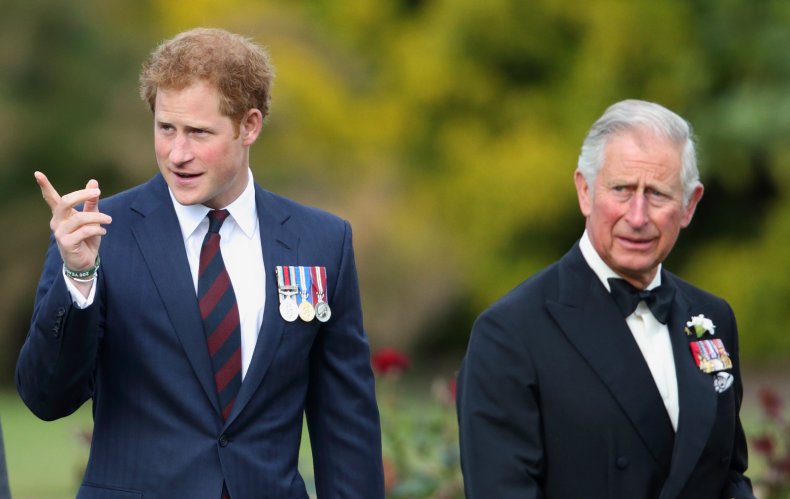 Prince Charles' Charity Engulfed by Cash-for-Honors Police Probe
Charles' charity The Prince's Foundation is at the center of a police investigation which could even see the future king himself interviewed.
The organization's chief executive, Michael Fawcett, resigned amid accusations he offered help securing a knighthood and British citizenship for a Saudi tycoon in exchange for charity donations.
Harry was at one stage also dragged into the scandal after it emerged his charity Sentebale received £50,000 from the same businessman.
The 37-year-old, who is sixth in line for the thrown, came out swinging in response to the story, but ultimately Charles has been dealt a further reputational blow from his son's involvement in the saga.
Harry's spokesperson said the duke expressed concerns about the donor, Mahfouz Marei Mubarak bin Mahfouz, back in 2015.
More detail came to light after two letters sent by Mark Dyer, a former aide to Harry, were leaked to The Sunday Times, and they are unlikely to make happy reading for Charles.
They show Dyer expressing concerns over "cash-for-access" after the tycoon requested Harry make a trip to see him in Saudi Arabia.
The Sunday Times said it was Charles who suggested his son make the visit, appearing to directly implicate him in improper conduct, while a palace source said Charles did not encourage his son to visit the Middle Eastern country.
Prince Harry's Unanswered Phone Calls
Harry and Meghan Markle's Oprah Winfrey interview sent several hand grenades in Charles' direction when it was broadcast by CBS on March 7.
The duke described how his father stopped taking his calls while he was trying to negotiate his way out for the royal family over Christmas 2019.
He also described how his family cut him off financial in the second quarter of 2020, while a Clarence House spokesperson told the BBC a substantial sum was paid to Harry that summer.
It was taken from a £4.4 million ($6.1 million) pot of cash set aside from Charles' accounts to fund Harry and his brother, Prince William.
Total Silence or Total Neglect
Bombshells did not stop after Oprah, however, as Harry laid further blame at the royal family's door for not helping him and Meghan deal with the media in May 2021.
During his Apple TV docuseries on mental health, The Me You Can't See, the duke said: "I thought my family would help but every single ask, request, warning, whatever it is, got met with total silence or total neglect."
It is not clear whether he considered Charles to fit into the "total silence" or the "total neglect" category, but tensions between father and son over the media flared in November 2016, almost immediately after the announcement of Harry and Meghan's relationship.
Harry and Meghan biography Finding Freedom described how Harry wanted to release a statement from his communications secretary, Jason Knauf, denouncing media coverage of his new relationship.
However, Charles was on a tour of Bahrain at the time, which stood to be wiped off the pages of Britain's newspapers in the aftermath of his son taking a stand on behalf of his new girlfriend. The statement went ahead.
Finding Freedom authors Omid Scobie and Carolyn Durand wrote: "The team at Clarence House, which had spent months putting together Charles's tour in the hopes that it would be covered significantly, was crushed"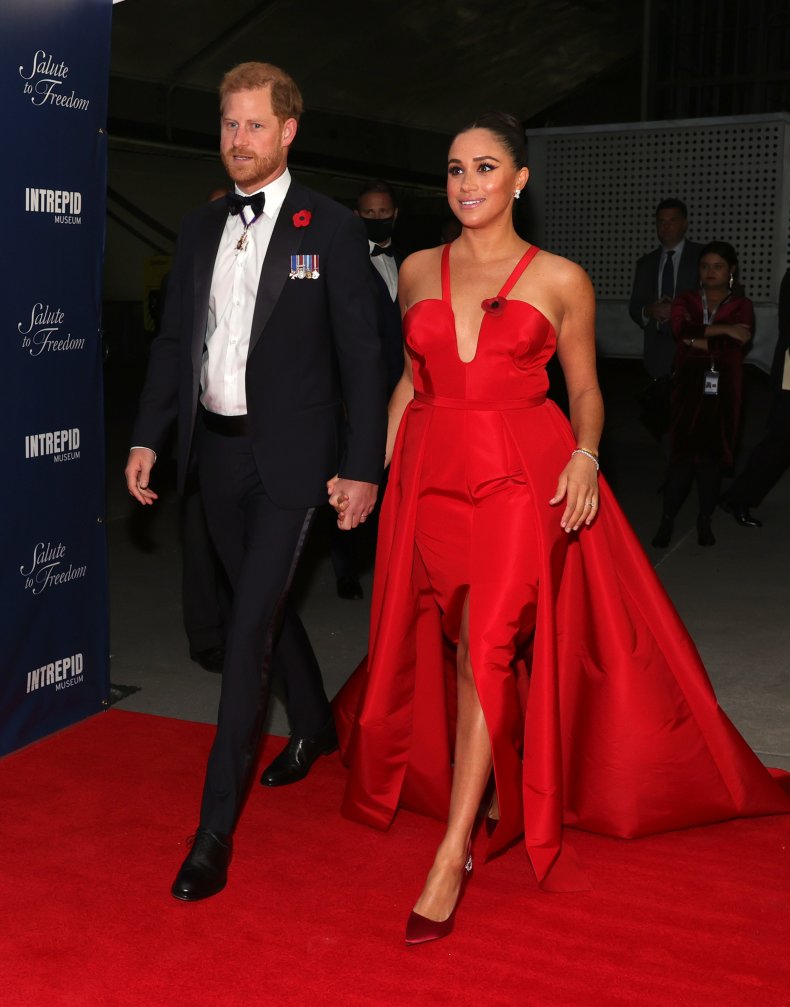 Prince Harry's Genetic Pain
Harry told Dax Shepard's the Armchair Expert podcast he was experiencing "genetic pain" passed onto him by his father from Charles' own upbringing.
The duke said: "There is no blame. I don't think we should be pointing the finger or blaming anybody, but certainly when it comes to parenting, if I've experienced some form of pain or suffering because of the pain or suffering that perhaps my father or my parents had suffered, I'm going to make sure I break that cycle so that I don't pass it on, basically.
"It's a lot of genetic pain and suffering that gets passed on anyway, so we as parents should be doing the most we can to try and say 'you know what, that happened to me, I'm going to make sure that doesn't happen to you.'"
This is a subject Harry may well get into more deeply in his memoir, due for release towards the end of 2022.
Prince Harry Constantly Berated by His Family
Meghan has at points been at the center of friction between Harry and his family, including in August 2018, a few months after their May wedding.
Thomas Markle Sr. had been caught staging pictures with the paparazzi days before the wedding and pulled out of the ceremony.
He then began giving interviews to the media, creating tensions behind the scenes in the palace which became public after Meghan's private messages were passed to her privacy and copyright lawsuit against the Mail on Sunday in 2021.
Meghan told Kensington Palace press secretary Knauf she would write her father a letter to try to persuade him to stop his public attacks.
A text disclosed to the court in November read: "Even after a week with his dad and endlessly explaining the situation, his family seem to forget the context - and revert to 'can't she just go and see him and make this stop?'
"They fundamentally don't understand so at least by writing H will be able to say to his family...'she wrote him a letter and he's still doing it.'
"By taking this form of action I protect my husband from this constant berating, and while unlikely perhaps it will give my father a moment to pause."