Prince Philip is out of hospital after heart surgery and an infection left him needing a month of treatment and recovery.
Queen Elizabeth II's husband can be seen in pictures walking from King Edward VII's Hospital, London, into a waiting car behind a white screen put up by staff.
He was then driven away from the private hospital where he has been recovering following a heart procedure earlier this month.
Buckingham Palace said the 99-year-old "returned to Windsor Castle" on Tuesday "following treatment for an infection and a successful procedure for a pre-existing condition."
Philip was first admitted on February 16 after he reported feeling unwell. He was later moved to St. Bartholomew's Hospital, also in London, for minor surgery by cardiac specialists, before returning to King Edward VII's to recover.
He "wishes to thank all the medical staff who looked after him at both King Edward VII's Hospital and St Bartholomew's Hospital, and everyone who has sent their good wishes," a palace statement added.
The queen, aged 94, is currently at Windsor meaning this will likely be the first time they have seen each other face to face since he was first taken to hospital by private car.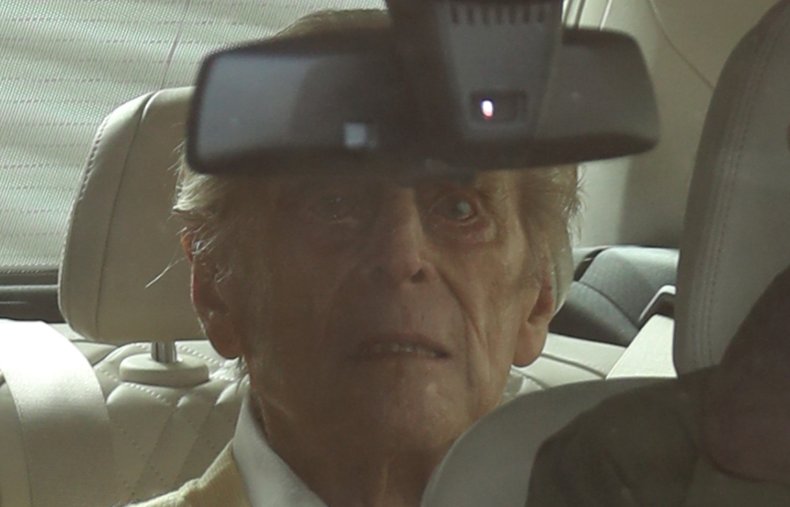 He was first admitted on the advice of his doctor in what was described "as a precautionary measure" by the palace, before he was taken for surgery on March 3.
The following day, the palace said Philip had undergone a "successful procedure for a pre-existing heart condition." A day later, the palace said Philip was "expected to remain in hospital for continuing treatment for a number of days."
Prince Philip has been admitted to hospital numerous times, eight in ten years, but this has been by far his longest and also been accompanied by isolation due to the coronavirus pandemic.
Prince Charles visited him at one stage but it is not believed he saw the queen in person during his four-week stay.
While he was in hospital, events surrounding the royal family erupted with allegations of racism targeting the royals from across the Atlantic.
Meghan Markle and his grandson Prince Harry described how an unnamed family member made comments about how dark their unborn child would be.
The couple ruled out the queen and Philip as suspects but left the allegation hanging over the rest of the family.
During the CBS prime time special, Meghan told Oprah Winfrey: "All around this same time, we have in tandem the conversation of he won't be given security, he's not going to be given a title and also concerns and conversations as to how dark his skin might be when he's born."
The day after the March 7 broadcast, Oprah told CBS This Morning: "He did not share the identity with me but he wanted to make sure that I knew and, if I had the opportunity to share it, that it was not his grandmother [Queen Elizabeth II] nor his grandfather [Prince Philip] that was a part of those conversations."