The View guest host Lindsey Granger said, in a discussion regarding the royal tour of the Caribbean, that Prince William and Kate Middleton have never "stepped out in the way that we've seen Harry and Meghan step out on a line and take a stand" regarding racism. Granger's remarks came just hours before William made a speech at a reception in Jamaica calling slavery "abhorrent."
In the talk show episode which aired on Wednesday, Granger and fellow co-hosts Whoopi Goldberg, Joy Behar, Sunny Hostin and Sara Haines had an open discussion regarding the protests in Jamaica over the royal visit of William and Kate.
Protests outside the British High Commission demanding that the British royals apologize for the role they played in the enslavement of their ancestors and formally discuss reparations were staged on the first day of the royal tour.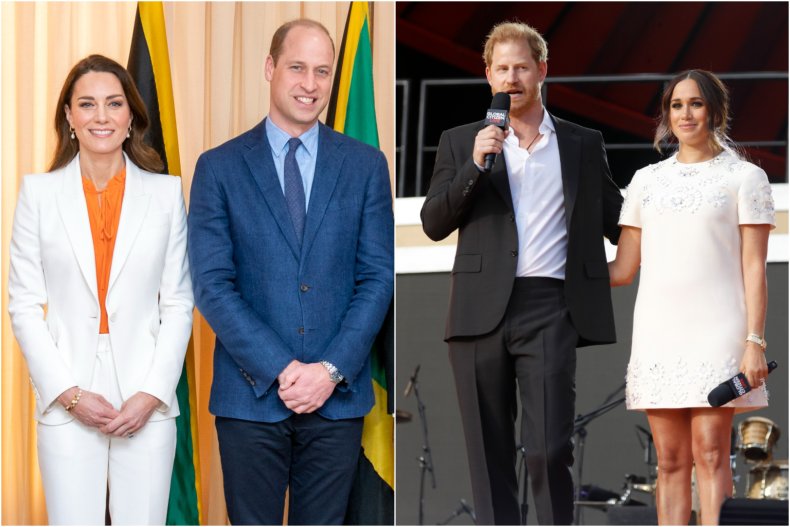 On the royals being aware of the need for action in this matter, Goldberg, who was suspended from her job on The View following insensitive statements made about the Holocaust in February, told her co-hosts: "I suspect Charles, when he was in Barbados had some idea because he went on and apologized... so perhaps somebody's listening and it's the new group of folks—I don't know if it's Charles or William, but one of them."
Granger responded by saying that she didn't think William could be relied upon to act on these issues because of the treatment Meghan Markle said she received as a member of the royal family in a 2021 interview with Oprah Winfrey.
Markle claimed to have suffered great mental distress during her time in Britain and was unsupported by members of the royal family. The duchess also made accusations of racism against an unnamed member of the royal family who commented on the color of her unborn baby's skin.
Granger said: "I don't think it would be William to do anything just because we saw that bombshell interview with Oprah, Harry and Meghan. William was the first one to jump out and say 'it wasn't me—it wasn't racism.'
"To me that's just disturbing because I read a Newsweek article and people in different Caribbean countries they want to be acknowledged—like seen and heard, that's the minimum. The royal family paying them back probably isn't going to happen, so I'm trying to say start by seeing and hearing them is probably at least legitimate."
William and Kate are currently in Jamaica as part of the second leg of a three stage Caribbean tour taking in Belize, Jamaica and the Bahamas. Prominent Jamaicans have been vocal regarding their desire to remove Queen Elizabeth II as the country's head of state, making it an independent republic.
At a meeting with Jamaican Prime Minister Andrew Holness on Wednesday, William was told: "There are issues here which as you would know are unresolved... but Jamaica is as you would see a country that is very proud... and we're moving on. And we intend... to fulfill our true ambition of being an independent, fully developed and prosperous country."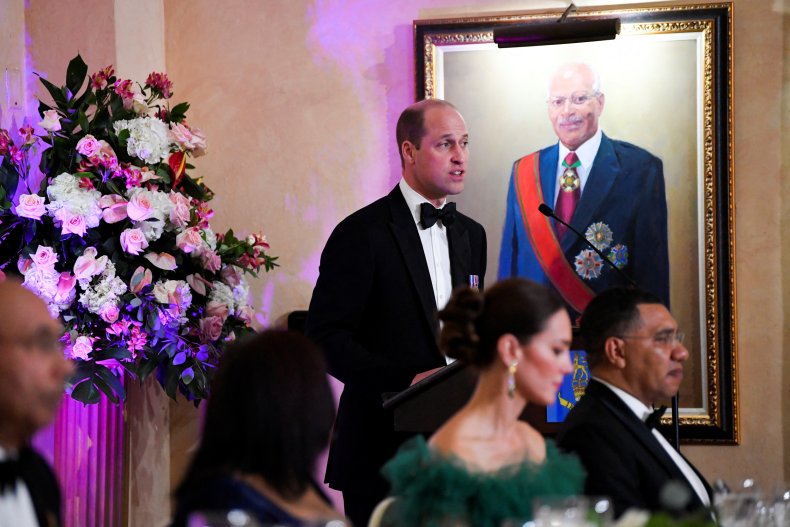 The unresolved issues alluded to by Holness include the politically-charged questions surrounding reparations and the treatment of Jamaica's "Windrush Generation" who were subjected to deportation from Britain after being asked to help rebuild the country in the wake of World War II.
Granger said that William and Kate have not proven themselves competent advocates for these issues in the way that Harry and Meghan have.
"I don't think that William and Kate have ever stepped out in the way that we've seen Harry and Meghan step out on a line and take a stand. That's problematic that they towed the line, so I don't think that we're going to get very far with these two," she said.
Her comments were made just hours before William gave a speech at a reception held by Jamaica's governor general at Kings House in Kingston, in which he denounced slavery as "abhorrent."
Speaking to the assembled crowd, William said: "I strongly agree with my father, The Prince of Wales, who said in Barbados last year that the appalling atrocity of slavery forever stains our history. I want to express my profound sorrow. Slavery was abhorrent, and it should never have happened. While the pain runs deep, Jamaica continues to forge its future with determination, courage and fortitude."
William's speech follows intense scrutiny of the royal tour in the wake of Barbados' 2021 removal of the queen as head of state. Including Britain, the queen is currently head of state in 15 countries, eight of which are in the Caribbean. Whether these numbers will be maintained into the reigns of King Charles III and King William V relies on the outcomes of discussions and concerns currently being raised.