The Prince and Princess of Wales have become the subject of a new viral video as fans have compared footage in their latest interview to that given at the time of their engagement in 2010.
William and Kate took part in a group discussion with Princess Anne and hosts of The Good The Bad and The Rugby podcast to mark the start of the Rugby World Cup in France earlier this month.
The candid discussion is one of the only occasions where William and Kate have sat down in front of cameras together since their marriage in 2011.
The couple participated in the rugby podcast, which was released on September 9, in their capacities as patrons of the English and Welsh Rugby Unions, together with Princess Anne who is patron of the Scottish Rugby Union.
Uploaded to TikTok by user teamwalesfamily, on September 10, footage of William appearing to wink while listening to Kate talk to the host, distant royal relation by marriage, Mike Tindall, has been viewed over 250,000 times so far.
Captioned "How he smiles at her," the footage of William watching his wife speak has been edited together with footage of a similar moment captured in their engagement interview, filmed at Clarence House on November 16, 2010.
The interview was filmed on the day the couple announced their engagement, having been dating for nine years. During their sit down with British broadcaster Tom Bradby, William and Kate discussed the roots of their relationship and also their plans for the future.
One topic discussed was William's reason for waiting such a long time before asking Kate to marry him.
"I wanted to give her a chance to see in and to back out if she needed to before it all got too much," he explained. "Because I'm trying to learn from lessons done in the past and I just wanted to give her the best chance to settle in and to see what happens on the other side."
The viral TikTok video has received over 15,000 likes and 150 comments, many of which have praised the royal couple and their interactions which appear to have remained unchanged over the course of their 12-year marriage.
"That's how we know they're for real," wrote one user, with the video's poster responding: "Yes! They are 100 percent spontaneous, that naturalness is deeply felt!"
"Perfect chemistry!" said another user, with a further comment reading: "Look at the wink they really do love each other."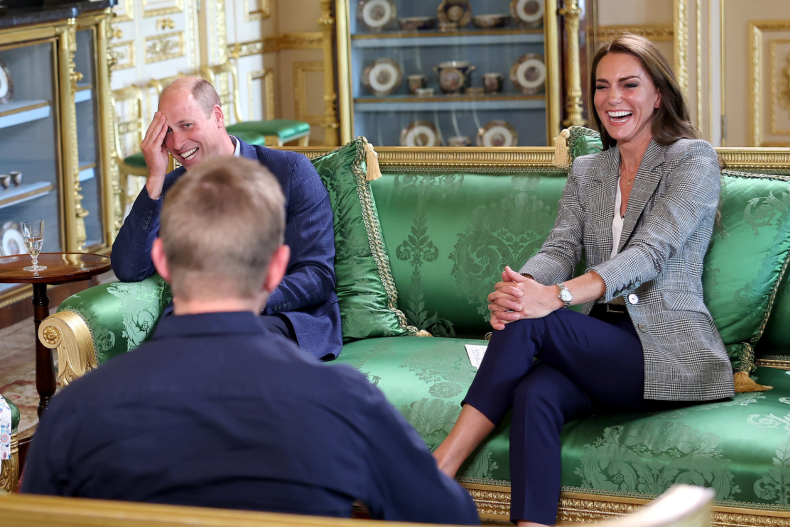 William and Kate have not been shy of being publicly demonstrative with their affection in recent years, with royal fans eagerly spotting examples of "PDA" (public displays of affection) during official engagements.
Most recently, Kate's congratulatory kiss for her husband after his win at a charity polo match sparked a number of viral social media posts as it coincided with International Kissing Day.
Kate's playful pat on the prince's butt during the BAFTA awards in London in February also became a hit with fans online.
James Crawford-Smith is Newsweek's royal reporter, based in London. You can find him on Twitter at @jrcrawfordsmith and read his stories on Newsweek's The Royals Facebook page.
Do you have a question about King Charles III, William and Kate, Meghan and Harry, or their family that you would like our experienced royal correspondents to answer? Email royals@newsweek.com. We'd love to hear from you.