Princess Charlotte Mimics Prince William in 'Lovely' Viral TikTok Video
A video of Princess Charlotte mimicking the body language of Prince William during her first solo engagement with her parents has gone viral after being shared to social media platform TikTok.
The video which was uploaded to the video sharing app by user 'princesacharlotte_fans' has been viewed over 1.1 million times and received in excess of 25,000 likes.
Recorded during the Cambridges' visit to Commonwealth Games events on August 2, the video shows Charlotte, 7, sitting between her parents with her hands clasped in her lap mirroring the pose adopted by William.
Commenters on the video have called it "lovely" with one user writing: "like father, like daughter."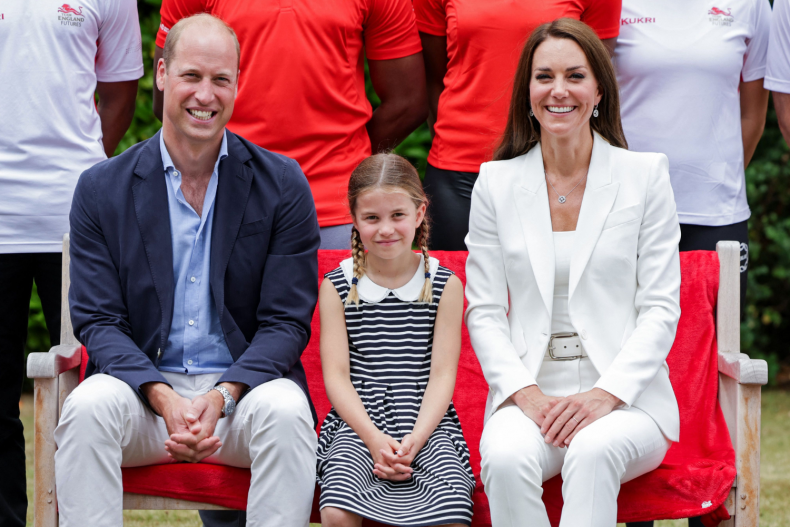 "So cute. She's like mini dad here beautiful Princess," posted another.
Charlotte is the middle child and only daughter of William and Kate Middleton, and has seen her number of public appearances increase substantially this year owing to the celebrations for Queen Elizabeth II's Platinum Jubilee in June.
Her attendance at the Commonwealth Games events on August 2 marked her first appearance at an official public event where she was not accompanied by either of her brothers Prince George, 9, and Prince Louis, 4.
The royal arrived in Birmingham (where the games were held) in a special flight via helicopter piloted by her father. William is a trained helicopter pilot, having spent two years flying with the East Anglia Air Ambulance Service between 2015 and 2017.
Kate Middleton traveled separately to the event by train where she surprised a passenger who found her chatting to his young son after returning from a trip to the bathroom.
The Cambridges reunited at the Sandwell Aquatics Centre where they watched the swimming heats alongside royal relations Prince Edward, Sophie, Countess of Wessex and their two children.
Following the event and a visit to watch a hockey match, William, Kate and Charlotte met young athletes and members of support staff at a SportsAid house where the viral video was recorded. The Duchess of Cambridge has been patron of SportsAid, a charity that nurtures young athletes and helps them to achieve their full potential, since 2013.
This is not the first time Charlotte has been recorded diligently following her parents' lead in terms of body language when out in public.
In 2019, during the royal family's annual Christmas Day church service on the queen's Sandringham estate, Charlotte touchingly attempted to copy her mother as she curtseyed to the monarch as her car drove past.
The princess was also seen following her great-grandmother's lead on the balcony of Buckingham Palace in 2018 after the Trooping the Colour ceremony where she could be seen copying the queen by waving to the crowds gathered along The Mall.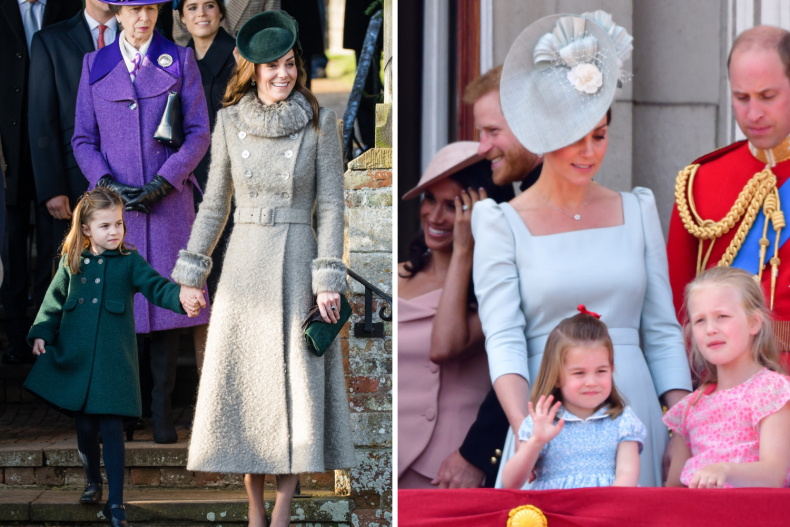 The increased visibility of the Cambridge children at public events comes as the family is reported to be considering a move into a country home on the queen's Windsor estate this summer.
Though the move has not yet been confirmed by either Kensington or Buckingham Palace, the potential new residence for the Cambridges has been identified as Adelaide Cottage in the shadow of Windsor Castle. This would bring the family in closer contact with the queen who has been living at Windsor as her main residence since the COVID pandemic began in 2020.
The 96-year-old monarch continues to experience what Buckingham Palace has officially called "episodic mobility problems," which have caused her to scale back the number of public appearances she makes.
With this reduction in her public engagements, William, his father Prince Charles and their spouses Kate and Camilla, Duchess of Cornwall, find themselves taking on a larger share of royal work.