Princess Diana was one of the world's most stylish women, consistently fashion forward throughout her life on the world's stage.
From her wedding dress to that of her last public engagement before her tragic and untimely death—Diana was, and always will be, one of the most enduring style icons of her generation.
One of the keys to Diana's successful sartorial endeavors was the personal relationships she formed with many of her designers. Over many years, sometimes decades, of working relationships, these key fashion figures became her devoted friends.
Here, Newsweek gives you just a few of the people that helped the princess look so stunning, and begin so many close a friendships.
David Sassoon
David Sassoon was chief designer at the London fashion house of Bellville Sassoon, founded in 1953 by business partner Belinda Bellville. The house was known for its comfortable couture looks for aristocratic women.
When Lady Diana Spencer (later Princess Diana) got engaged she went into Bellville Sassoon's salon and asked to see some outfits. Sassoon said later the saleswoman he hired at the time didn't think much of the naive 19-year-old and told her she might be better off "going to Harrods."
In fact, Diana did go to Harrods and bought the blue suit she wore for her engagement interview at Buckingham Palace from there.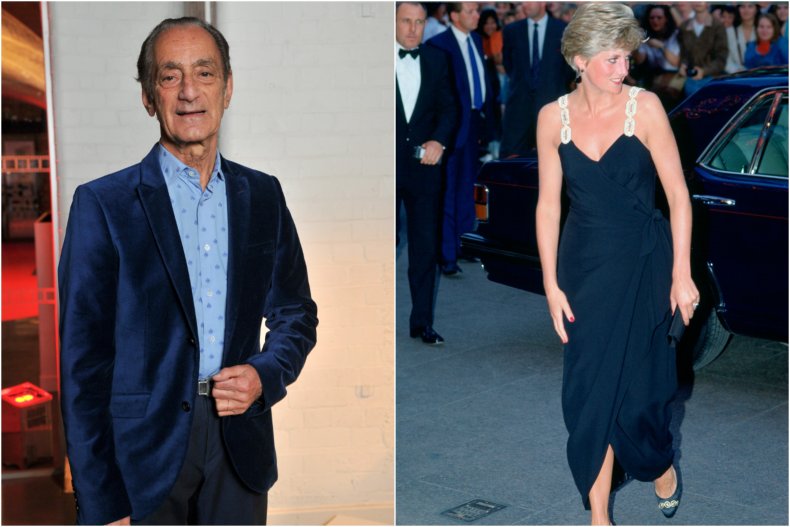 Diana would come back to Bellville Sassoon a few months later and ask Sassoon to design her a going-away outfit, which she would wear in the carriage leaving Buckingham Palace for her honeymoon on her wedding day. Sassoon supplied a typical 1980s peach chiffon suit with a "Robin Hood" style hat.
Diana was a lifetime client of Sassoon's and the pair struck up a working relationship which blended into a warm friendship.
Notes would be exchanged between the pair with Diana always thanking him for helping her dress for an event or a tour. Many of his sketches for Diana are now housed in museums and available for view by the public.
The Emanuels
When it came to her wedding dress, Diana asked the young and dynamic design duo David and Elizabeth Emanuel to help her with the enormous task.
The then-husband-and-wife team were both only in their 20s and after dressing Diana in a plunging black taffeta evening dress that raised more than a few court eyebrows they were surprised to receive the wedding dress commission itself.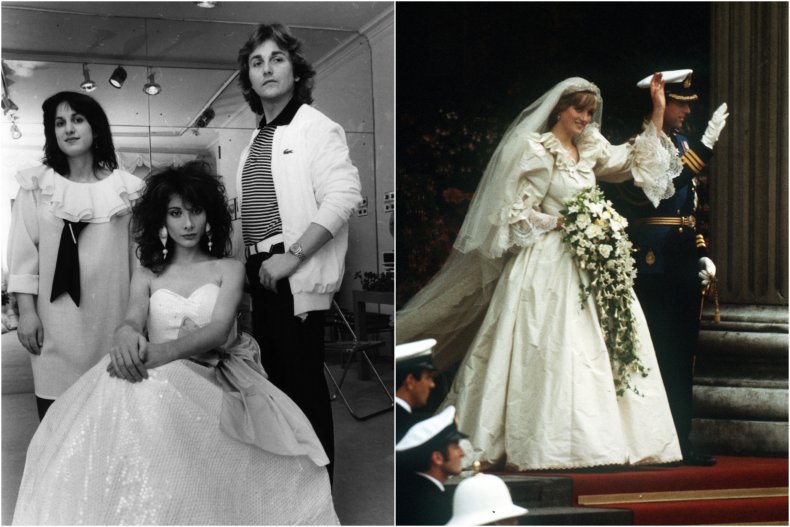 The dress was a herculean task which involved top secret seamstresses working on sections at home and smuggling them into the workrooms on the tube.
The dress as it appeared on the wedding day in 1981 was a fashion triumph—though it was at first met with concern owing to the creasing that occurred during the long carriage ride from Clarence House to St Paul's Cathedral.
Luckily, the Emanuels were on hand to smooth each of the paper taffeta and silk layers into submission.
Though aesthetics changed into the 1990s and the royal marriage ended in divorce, Diana never lost affection for her wedding dress. According to the princess's butler Paul Burrell, Diana wanted the dress to be donated to the Victoria & Albert Museum. It is currently in the possession of her two sons, Prince William and Prince Harry.
The Emanuels continued to design for Diana throughout the 1980s and they remained on friendly terms for the rest of her life.
Catherine Walker
Perhaps the closest designer to Diana was Catherine Walker. The pair were introduced after Diana requested a collection of maternity wear from Walker while she was pregnant with Prince William in 1982.
The pair didn't meet until after William's birth but when they did, they struck up a close friendship that was to last until Diana's death in 1997.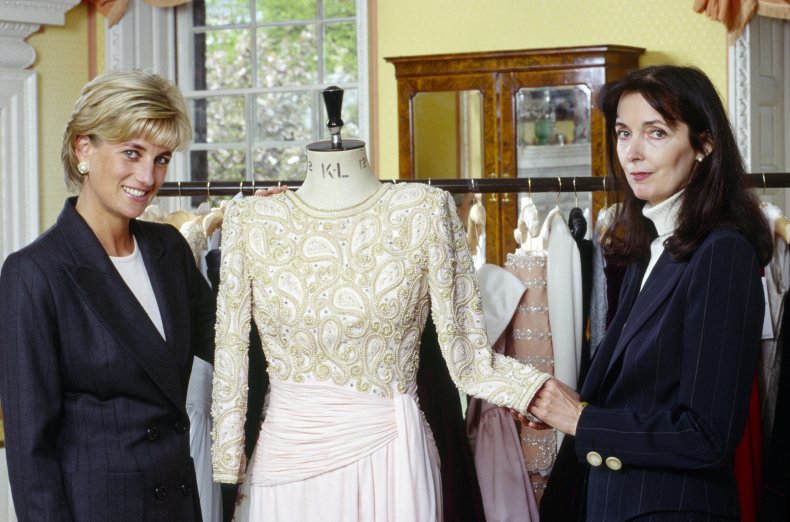 Walker was known throughout London as the tailor of fashion designers, meaning that not only were her designs aesthetically pleasing but they were also impeccably made.
Many of her designs were based on traditional menswear and Diana adopted many of these as her working wardrobe throughout the 1980s and 1990s.
Walker's greatest invention (instantly adopted by Diana) was the coat dress. This elegantly tailored coat with long skirt allowed Diana to go from outside receptions to inside without having to keep removing and replacing her coat.
The style is still popular today with Kate Middleton possessing multiple variations of the Catherine Walker & Co. coat dress.
Walker provided Diana with more dresses than any other designer, and towards the end of her life (she died in 2010) would loan Diana dresses from each collection, thanks to the sheer number she would need to go about her public appearances.
Walker died just one year before Kate Middleton's mother Carole would honor Diana and Walker by wearing a suit from the house now run by Walker's husband, Said Cyrus.
Gianni Versace
Gianni Versace and Diana enjoyed only a short friendship before the designer's tragic murder in July 1997, just a few short weeks before Diana herself would be killed in a Paris car crash.
The pair were very close to a mutual friend, Elton John and would enjoy dinners in London together throughout the 1990s.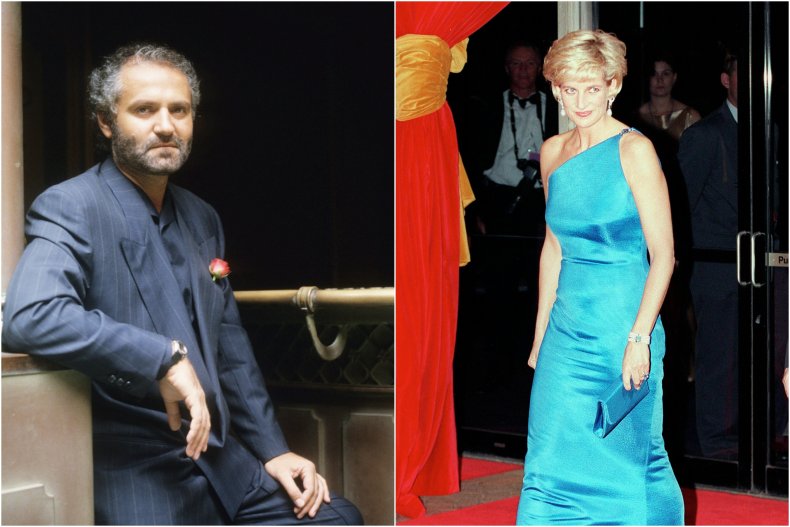 Diana, during the years of her marriage, abided by the royal edict set out by Queen Victoria which saw royal women wearing British made fashions in a bid to promote the British textile industry.
When her marriage broke down in the 1990s and a formal separation came in 1992, Diana branched away from this and began to patronize foreign design houses such as Christian Dior and Chanel in Paris and also, Gianni Versace.
Some of Diana's most beautiful dresses from the late 1990s were made by Versace for his friend, the princess. Diana was famously photographed consoling Elton John at Versace's funeral held in Milan in 1997.
Jacques Azagury
Jacques Azagury is a Moroccan born fashion designer who opened his own house in Knightsbridge during the 1980s. In the late 1990s, Azagury was introduced to Diana and the pair began a working relationship.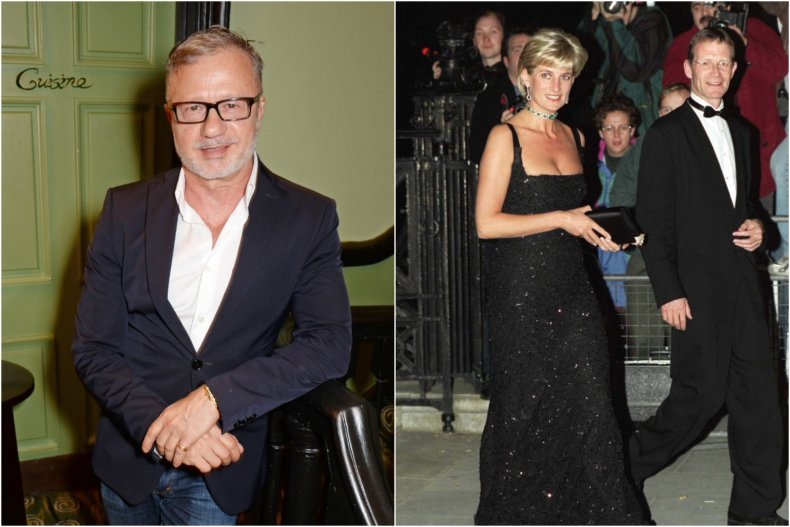 Azagury's work typified the streamlined chic aesthetic which was born out of the excessive frivolity of 1980s fashion. Diana took instantly to the clean lines of Azagury's work and he created a series of dresses with his signature subtle bow detailing on the bodice straps of the dresses he made her.
Diana most famously wore an Azagury design to the Tate Gallery Gala which was given on the evening of her 36th birthday, in July 1997.
The dress was black with sequin and bead appliques. The princess paired the dress with her famous emeralds given to her by the Queen as a wedding present and drop earrings given to her as a 22nd birthday present by Prince Charles.
Azagury was in the process of creating dresses for the princess when he learned of her death in August 1997, the designs he would never deliver.