Diana Would Be 'Heartbroken' To See Harry and William's Royal Rift Continue
Princess Diana would be "heartbroken" to see her sons', Prince William and Prince Harry, royal rift continue and it "wouldn't have gotten as bad as this if she was still here," according to her former butler.
Paul Burrell, who worked for Diana from 1987 to her death 10 years later in a Paris car crash, has spoken to OK! about members of the royal family including the queen, William and Harry, Meghan Markle and Kate Middleton ahead of the monarch's Platinum Jubilee.
Before joining the household of Diana and Prince Charles, Burrell trained at Buckingham Palace becoming a footman to the queen. In the years following the princess' death he worked raising money for the Diana, Princess of Wales Memorial Fund, but he was the focus of intense scrutiny in 2002 when he was accused of having stolen items from Diana's estate.
The case against him, which was brought in connection with hundreds of items found in Burrell's home belonging to Diana, Charles and William, went to trial but later collapsed after evidence was given that Burrell had previously informed the queen he had the items in his possession for safekeeping.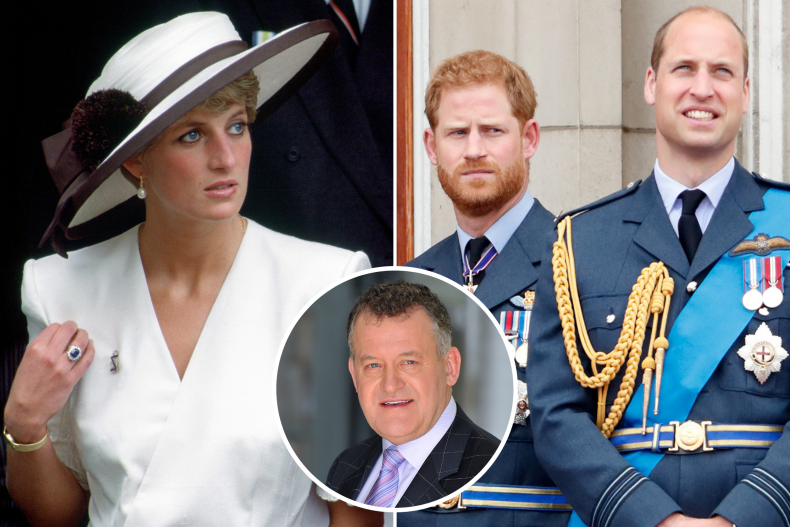 In 2003, the former butler published a tell-all memoir A Royal Duty about his life and his time serving Diana in which a deeply personal account of the princess' private life was given. This move was publicly denounced by William and Harry who said it was a "betrayal." In a joint statement they said:
"We cannot believe that Paul, who was entrusted with so much, could abuse his position in such a cold and overt betrayal.
"It is not only deeply painful for the two of us, but also for everyone else affected and it would mortify our mother if she were alive today.
"And if we might say so, we feel we are more able to speak for our mother than Paul. We ask Paul please to bring these revelations to an end."
To many however, Burrell painted an endearing and popular portrait of his former employers and has since gone on to become a regular royal commentator.
Speaking to OK! about William and Harry, the two princes he saw grow up while working with Diana, Burrell said: "It is incomprehensible to think about the boys being so distanced. I cannot get my head around it."
"I saw those boys grow up," he continued. "And they were tighter than you can possibly believe. They referred to each other about everything. When Diana died I thought they would be inseparable."
The rift between the two brothers which is reported to have widened in the years since Harry's marriage to Meghan Markle in 2018. Burrell said: "She'd be heartbroken. It wouldn't have got as bad as this if she was still here. She'd have banged their heads together. She's probably the only person that could have done that. If Diana had been here [the rift] would never have happened."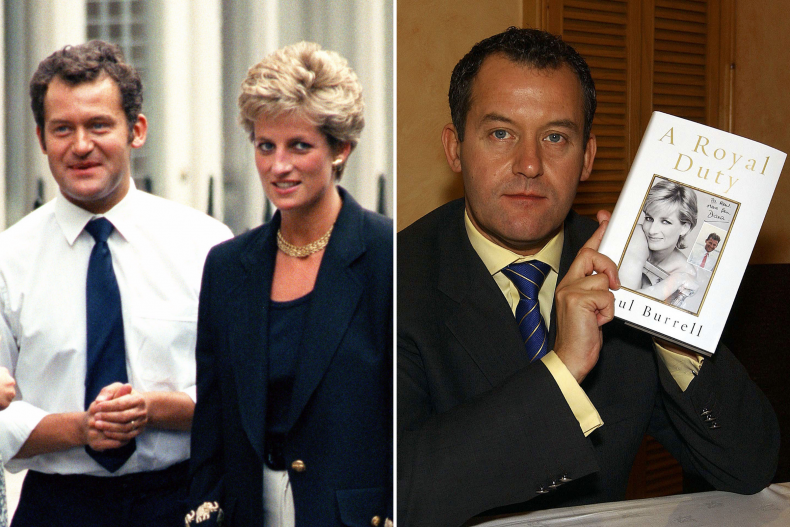 On this theme Burrell assigns partial blame for the falling out to Meghan who he says Harry is clearly "besotted by" but comes across as "smothering."
"I thought that Meghan was a breath of fresh air, who would modernize the royal family and bring all the vital elements that were missing, but what kind of love is this?" he told OK!
"I think Meghan's producing, directing and starring in her own version of her life, her own biopic—which is playing out on the American stage," he added.
With this in mind Burrell has expressed concerns over whether Harry and Meghan's attendance at the queen's jubilee celebrations would overshadow the monarch.
"They have the potential of stealing the show," he said.
"We're all fascinated to know how Harry's going to fit back into his family."
Harry and Meghan confirmed in May that the couple would make their first public visit to Britain together with their two children, Archie, 3, and Lilibet, 11 months, since stepping down as full-time working royals in 2020.
The visit will also mark Meghan's first British public appearance since the broadcast of her landmark 2021 interview with Oprah Winfrey in which she expressed feelings of being unsupported by the royals during her time in Britain, as well as claiming Kate made her cry before her wedding.
A spokesperson for the couple told Newsweek: "Prince Harry and Meghan, the Duke and Duchess of Sussex are excited and honored to attend The Queen's Platinum Jubilee celebrations this June with their children."
On how his former employer, the queen, will receive the public celebrations of her jubilee, Burrell said: "I think the queen's heart will melt when she sees the adoration from her people.
"She's worked all her life to be accepted and loved by her people. She has a very soft heart, I've seen that kindness first-hand."