Republican congressional candidate Mark Burns, an evangelical Christian pastor, vowed that God would "raise up armies" to help conservatives "shut down" Democratic-led America.
Burns, a staunch supporter of former President Donald Trump, is running for Congress as a Republican in South Carolina's 4th District. The conservative pastor spoke Friday at the ReAwaken America event in Canton, Ohio, with Eric Trump, MyPillow founder Mike Lindell and Trump's former national security adviser retired Lt. General Michael Flynn also in attendance.
Analysts have described the ReAwaken events as "QAnon rallies" or "QAnon friendly"—with many speakers and attendees regularly promoting the bizarre conspiracy theory. QAnon adherents believe a Satanic cabal of Democratic elites work to control the world through molesting and sacrificing children.
"God is raising up armies that we are going to start having civil disobedience in America," Burns told the crowd at the Trinity Gospel Temple church, where the event is taking place this weekend. He compared the conservative movement to the actions taken by Civil Rights activists to stand up against segregation in the South.
"We are going to shut down this America led by racist, liberal, race-baiting Democrats," he continued. Burns then dropped the mic as he raised his fist and walked around the stage while the crowd cheered.
"Are you ready to fight with me? Shout yeah!" the pastor yelled. The audience cheered raucously in response. "Are you ready to stand with me? Shout yeah!"
Last October, Burns suggested that fellow pro-Trump Pastor Greg Locke should run for political office. "We gotta recruit Greg Locke to run for federal office, I don't know, we need him in office."
Burns argued that the country needs "demon-killing machines" to run for office. Locke last August said that the only people who believe Biden actually won in 2020 "are crack-smoking, demon-possessed leftists."
Flynn, who is an organizer of the ReAwaken events, previously endorsed Burns for Congress in December. The former Trump administration official—who received a pardon from the former president—has been a prominent promoter of false claims that the 2020 election was "rigged" or "stolen." Flynn has repeatedly suggested support for QAnon, but a recording was leaked last November that appeared to feature him calling the conspiracy theory "disinformation" and "total nonsense."
Burns tweeted about his Friday remarks, tweeting, "The Glory of God came down so good today at Clay Clark & Gen. Michael Flynn's ReAwaken America Tour that I had to take my jacket off in the middle of my speech." The pro-Trump pastor shared photos of him standing in front of the audience.
Janis Fodor told Canton's The Repository that she and a friend had driven two hours to attend the event. "They have a positive outlook and offer encouragement," Fodor said. "They talk about unity and for us not to be afraid. One of the concerns I have is I see so much evil today," she said.
ReAwaken has held similar events around the U.S. over the past year. Previous rallies were held in Oklahoma, Florida, Michigan, California, Colorado, Texas and Arizona. Several more upcoming events are slated to take place in Oklahoma, California, Oregon and South Carolina between now and mid-May, according to organization's website.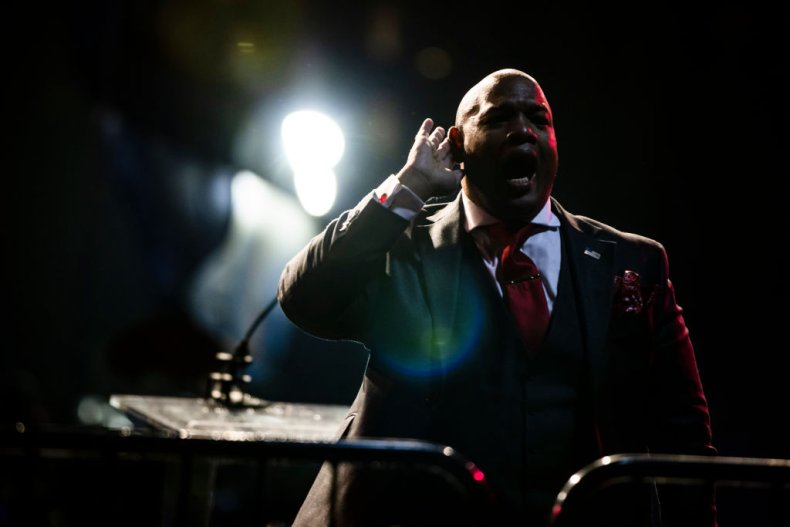 Eric Trump also spoke on Friday, calling his father at one point during his remarks.
"You know what dad, there is so much love in this room for this country and for you and everything you accomplished," he said. "I speak on behalf of every person here. They love you. I love you. We're proud of you."
He then held the phone to the microphone so the former president could address the crowd.
"Well thank you very much and everybody enjoy yourselves and have a good weekend," Trump said through the phone. "And I'll be in Ohio soon! I'll see you all and thank you."