Pro-Trump Lawyer Lin Wood Rips 'Not Very Smart' Mike Flynn, Claims They're at 'War'
Attorney Lin Wood continues to have tensions with other prominent individuals in the Trump world—saying on Saturday that he's at "war" with lawyer Sidney Powell and retired Lt. General Michael Flynn.
Wood, Powell and Flynn have been key promoters of former President Donald Trump's groundless claims of widespread voter fraud in the 2020 election. Wood and Powell filed multiple election challenge lawsuits together on behalf of Trump following that contest.
Powell also previously represented Flynn after the latter initially pleaded guilty to lying to the FBI in 2017.
Wood on Friday claimed that he believed Flynn, Powell, and others involved with the pro-Trump "Stop the Steal" movement are grifters.
"After doing the research and connecting the dots, I have reached the conclusion that the Stop the Steal organization is a Deep State organization to raise money for purposes other than to FIX 2020," he wrote on Telegram.
Then in a series of additional posts to his Telegram channel on Saturday, Wood began to question Flynn's loyalty to Trump. He also asserted that there was a "war" involving him, Flynn and Powell.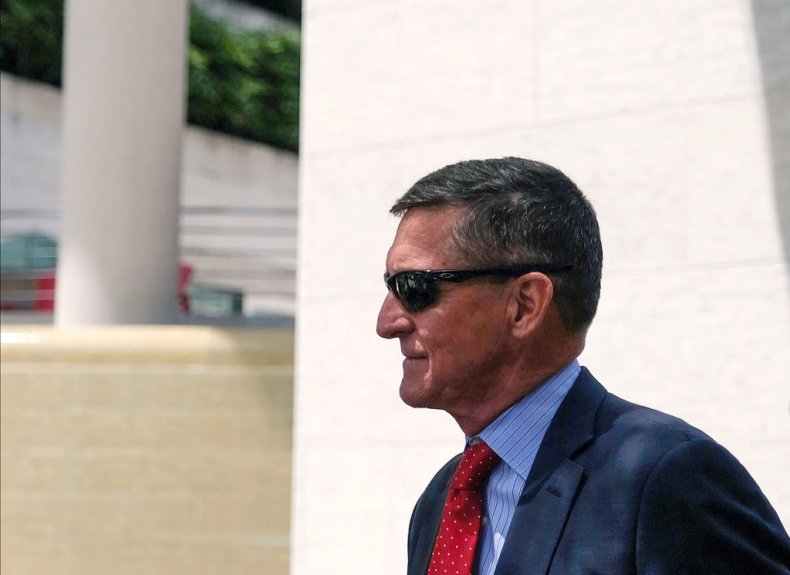 "What does Mike Flynn think of President Trump? Is he fighting for Trump or has he given up on Trump? Does Mike Flynn have aspirations to run for President himself in 2024? Does Mike Flynn really want to FIX 2020 or does he want us to remain captives to a rigged election system that might benefit him in the future?" Wood wrote.
He later suggested that Flynn was working to "tank" GOP-backed audits of the 2020 election results in battleground states—such as Arizona.
"I now think they were plotting on how to tank the audits of the 2020 election as part of a Deep State plan for the audits to discourage Trump supporters from trying to FIX 2020," Wood wrote to his Telegram followers.
He warned: "Flynn is not very smart. He does not know my experience as a cross-examiner."
In a follow-up post, the pro-Trump attorney claimed he wanted to resolve his tensions with Powell and Flynn. "Without question, the division presents a challenging situation at a critical time period in our nation's history," he wrote.
The pro-Trump attorney then publicly extended an invitation to "a face-to-face meeting so that we can amicably discuss the 'war' between us and search for a peaceful resolution."
Wood, Powell and Flynn have all participated in pro-Trump and pro-QAnon events over the past several months—promoting the conspiracy theory that the 2020 election was "rigged" or "stolen" in favor of President Joe Biden. QAnon adherents additionally believe that Trump is fighting against a Satanic cabal of Democratic elites who molest and sacrifice children in their bid to control the world.
Previously, Wood has clashed with pro-Trump Representative Marjorie Taylor Greene, a Georgia Republican, as well. Wood bizarrely claimed in early October that the far-right GOP congresswoman is actually "a communist." Greene responded, describing Wood as a "monster."
Despite the claims of Wood, Powell and Flynn—no evidence has emerged to substantiate their extraordinary allegations about the 2020 election. On the contrary, dozens of election challenge lawsuits have failed in state and federal courts. Even judges appointed by Trump and other Republicans have rejected the allegations. Furthermore, audits and recounts in key battleground states have consistently reaffirmed Biden's victory.
Former U.S. Attorney General William Barr, who was widely viewed as one of Trump's most loyal Cabinet members, asserted in December that there was "no evidence" of voter fraud that would change the election results. Additionally, the Cybersecurity and Infrastructure Security Agency at the Department of Homeland Security last year described the presidential election as the "most secure in American history."
Newsweek attempted to contact Powell and Flynn for comment but was not immediately successful.