Protesters Call for a Black Workers' Strike on Juneteenth
A number of strikes are expected to occur on June 19, also known as Juneteenth, a holiday celebrating the end of U.S. slavery.
Organizers of the Atlanta protests against the death of George Floyd and Rayshard Brooks, told the Washington Post that they are calling for a general strike of black workers on that day. Brooks was killed by a police officer late Friday night outside a Wendy's restaurant. Floyd died in Minneapolis police custody after former police officer Derek Chauvin kneeled on his neck for nearly nine minutes.
Black Lives Matter (BLM) has also called for general strikes and marches on Juneteenth. Using the hashtag #StrikeForBlackLives, BLM is urging all workers to strike that day in solidarity against police brutality and racism. Everyone, regardless of race, is encouraged to strike.
One of the biggest Juneteenth strikes is being sponsored by the International Longshore and Warehouse Union (ILWU), which will stop work for eight hours at all 29 ports along the West Coast of the United States. The protest begins at 10 a.m. local time, and is in solidarity with the ongoing protests over the death of Floyd. Like the BLM strikes, the ILWU strike is not limited to black workers.
Get your unlimited Newsweek trial >
"The people of this country demand an end to the racist violence that claimed the lives of Brother George Floyd and so many others! The Fight against Racist Terror has been going on for centuries," reads the official ILWU strike website. "It is time for organized labor to join the struggle!"
The ILWU was founded in 1937, and has a long history of antiracist actions. It was among the first unions in the U.S. to desegregate during the 1930s, and inducted Martin Luther King Jr. as an honorary member in 1967.
In a statement obtained by Newsweek, strike organizers said the Juneteenth strike continues from the ILWU action on June 9, when workers stopped work at 9:00 a.m. for nine minutes in honor of George Floyd.
"For many years now ILWU, and Local 10 in particular, has been protesting the racist policing of African Americans. And we understand that the way these murders can be stopped is when there are economic consequences," Clarence Thomas, past Secretary-Treasurer, ILWU Local 10 said in a statement obtained by Newsweek.
Get your unlimited Newsweek trial >
"We think that the most effective way to stop police terror is by the working class taking action at the point of production: if the working class is to be heard, labor must shut it down," he added.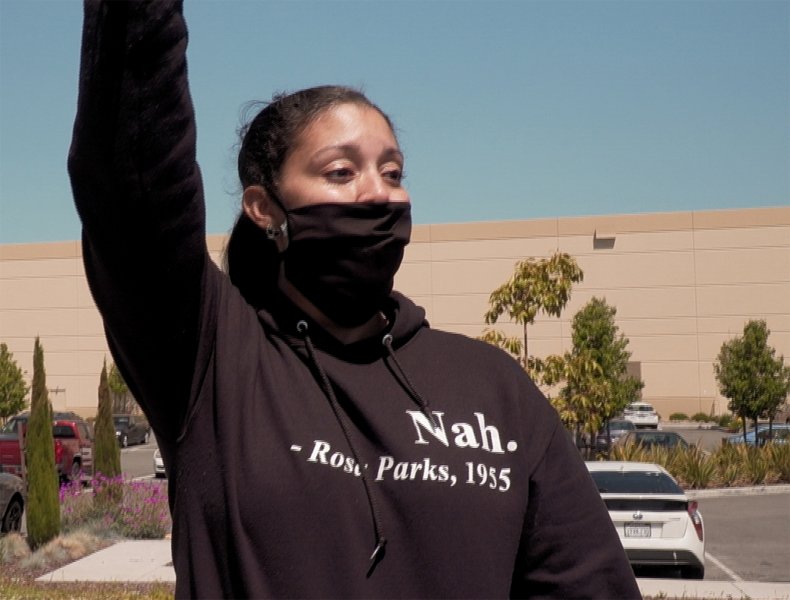 Juneteenth marks the date when Major General Gordon Granger read the General Orders, No. 3 in Galveston, Texas which declared freedom for all slaves in the U.S. on June 19, 1865. Granger's reading came two years after President Abraham Lincoln issued the Emancipation Proclamation declaring the end to slavery. However, the Emancipation Proclamation was impossible to enforce in areas without Union troops. In the time between the Emancipation Proclamation in 1863 and 1865, many slave owners moved to Texas, as the area was isolated from Union forces.
"The people of Texas are informed that, in accordance with a proclamation from the Executive of the United States, all slaves are free," the General Orders No. 3 read. "This involves an absolute equality of personal rights and rights of property between former masters and slaves, and the connection heretofore existing between them becomes that between employer and hired labor."
"The freedmen are advised to remain quietly at their present homes and work for wages," it continues. "They are informed that they will not be allowed to collect at military posts and that they will not be supported in idleness either there or elsewhere."
Though Juneteenth is not a federal holiday, there are movements to make the holiday officially recognized by the U.S. government. This year, a number of companies, including Nike, Postmates, Twitter and the NFL, have made Juneteenth a paid holiday for their workers.
This year's Juneteenth was also initially going to be the date of the first rally held by President Donald Trump after coronavirus restrictions were enacted. But, after outcry from the black community and Democrats, Trump moved the rally to the following day.
Update (6/13/2020, 11:15 p.m.): This article has been updated to include a statement from ILWU.
Protesters Call for a Black Workers' Strike on Juneteenth | News