Protesters Chant 'Nazi' Outside Lebanese Consulate in New York, Calling On Consul Abir Taha Audi to Resign
A group of about 200 demonstrators gathered outside the Lebanese consulate in the Upper East Side of Manhattan, New York on Monday evening, calling on Consul General Abir Taha Audi to resign in the wake of the port blast in Lebanon's capital Beirut last Tuesday.
Protesters, most of whom were Lebanese and Lebanese-Americans, chanted "Nazi" and "racist," referring to the diplomat as a "fascist." Beyond demonstrators' anger over the Beirut explosion that left some 200 dead, thousands injured and hundreds of thousands homeless, protesters criticized Taha Audi over her previous writings and comments about Aryanism.
A few protesters carried a large white banner that read: "Abir Taha Audi is a fascist who promotes Aryan supremacy."
The consul general told Newsweek through an assistant that the criticism was based on a "fabricated" interview that "never happened" and that there were "many other fake news circulating about" her.
"Many times I've been hacked," she said. "And I informed the ministry about that several times, saying I reported this hijacking of my identity to Facebook and hotmail and restored my true accounts."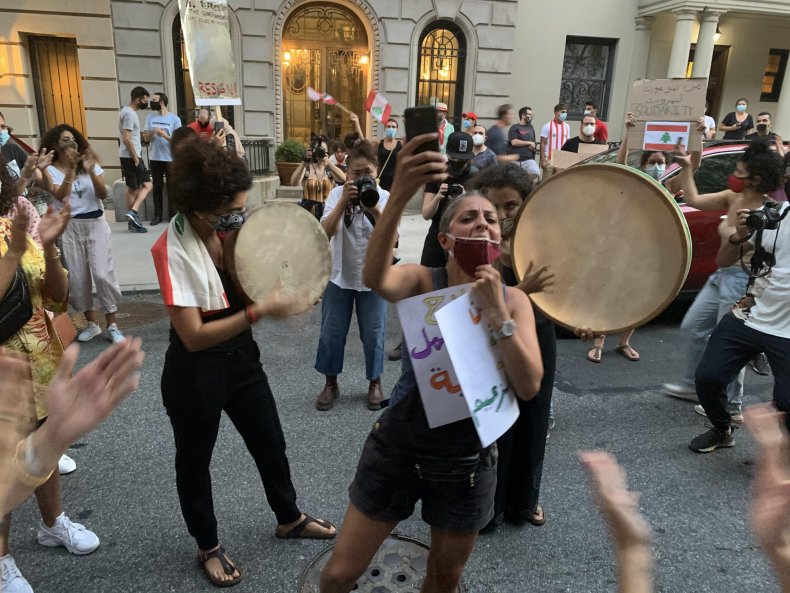 In an interview cited by demonstrators, Taha Audi purportedly spoke favorably of the Nazis, while identifying as an "Aryanist." She also purportedly described New York City as "a soulless urban hell ... ruled by Zionism and its backward, dark spirit."
Demonstrators called out a laundry list of entrenched Lebanese politicians, cursing after each name was chanted. These names included President Michel Aoun, Hezbollah leader Hassan Nasrallah, Speaker of Parliament Nabih Berri and Prime Minister Hassan Diab, whose government resigned on Monday but will remain in power in a caretaker capacity for the time being.
The Beirut port explosion, which could be heard more than 160 miles away across the Mediterranean in Cyprus, left massive devastation in its wake. Glass windows across the city blew out, as old buildings crumbled. Government officials have said the blast was caused by more than 2,700 tons of highly explosive ammonium nitrate, which had been improperly stored since 2014. A fire, possibly from welding, is believed to have set off fireworks stored nearby—causing the entire stockpile of explosive material to explode.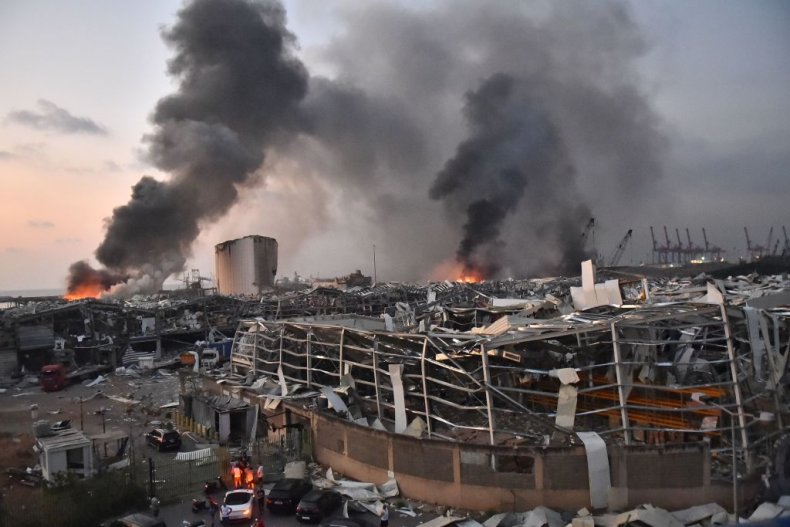 Lebanon's capital was rocked by mass demonstrations over the weekend, as the protesters there called on the government to resign. Groups of protesters stormed and took control of multiple government buildings, declaring that they would be returned to the people. Security forces responded to the protests with large amounts of tear gas, while shooting numerous protesters with rubber bullets, leaving some 700 protesters wounded on Saturday alone.
In comparison, the protest in Manhattan was peaceful, with just a few New York police officers positioned nearby. Demonstrators played drums in the street, as people chanted against the government and some started to dance.
Protester Sanan Panossian, 27, told Newsweek that her aunt in Beirut happened to have her windows and doors open when the blast occurred last week, saving them from breaking. However, her uncle's music shop was "blasted out." She said she felt "blessed" that all her family had survived, but also felt "heartbroken" for those who had lost loved ones.
"I don't live far away from here, and I just wanted to show support for my Lebanese brothers and sisters," Panossian said.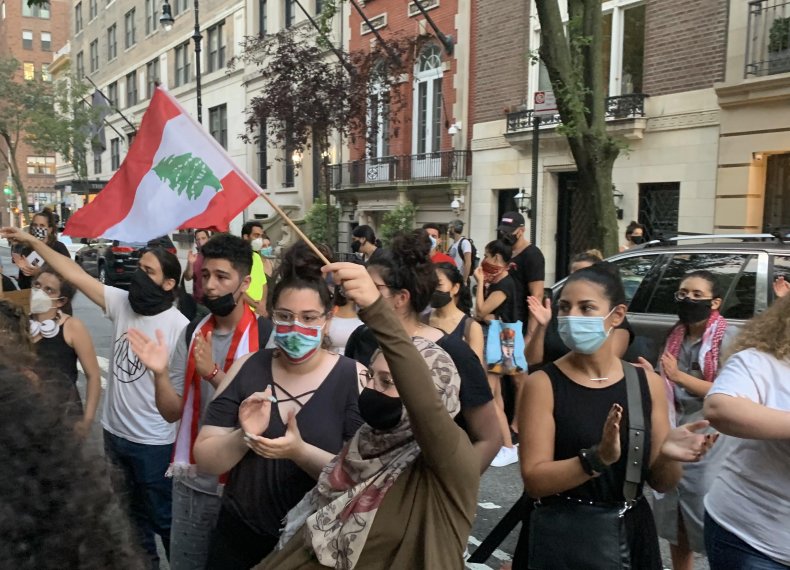 Prior to the explosion, Lebanon's economy was already collapsing due to endemic corruption and a severe dollar shortage. The blast only exacerbated the situation, which had already seen most of the country's residents sink into poverty. Adding to the problem, the explosion destroyed a wheat granary, significantly raising concerns about growing food insecurity.
"It's very important for us to stand up to this corrupt government that's caused this failed state to happen," a Lebanese man who attended the protest with his wife, but asked to remain anonymous, told Newsweek. "It's so devastating," he said.
The blast has been estimated to have caused some $15 billion in damage, while the country teeters on bankruptcy. An international donors conference led by French President Emmanual Macron managed to raise about $300 million on Sunday, totaling about 2 percent of the estimated cost needed to repair the damage.