Police-Involved Shooting in Minneapolis as Police Pursue Murder Suspect
An officer-involved shooting occurred in the Uptown area of Minneapolis on Thursday afternoon. The shooting resulted in the death of a murder suspect. In response, protesters began appearing at the shooting site to demonstrate against police violence.
A deputy from the Hennepin County Sheriff's Office shot and killed a murder suspect on the top of a parking building, MPR News reported. The sheriff's office is expected to release more information about the incident on Thursday evening.
Area witnesses heard 10 to 15 gunshots possibly connected to the shooting, KARE reported. Police reportedly apprehended a woman at the scene after the shooting, but it's unclear who she is, according to local crime site MN Crime. It's also not yet known whether the shooting injured any police or other people.
As police gathered at the scene of the shooting, so did protesters. The protesters began chanting anti-police slogans to demonstrate against police violence, according to Star Tribune reporter Alex Chhith.
The parking structure where the shooting occurred is located near West Lake Street and South Girard Avenue, approximately 3.5 miles southwest of City Hall. The St. Paul division of the Bureau of Alcohol, Tobacco, Firearms and Explosives also arrived on the scene to assist investigating legal agencies, KARE reported.
The shooting transpired as workers in a different part of the city cleared away parts of the George Floyd memorial site to allow traffic to return to the area. The city said it intends on building a permanent memorial to commemorate Floyd, the Black man murdered last year by a white police officer named Derek Chauvin.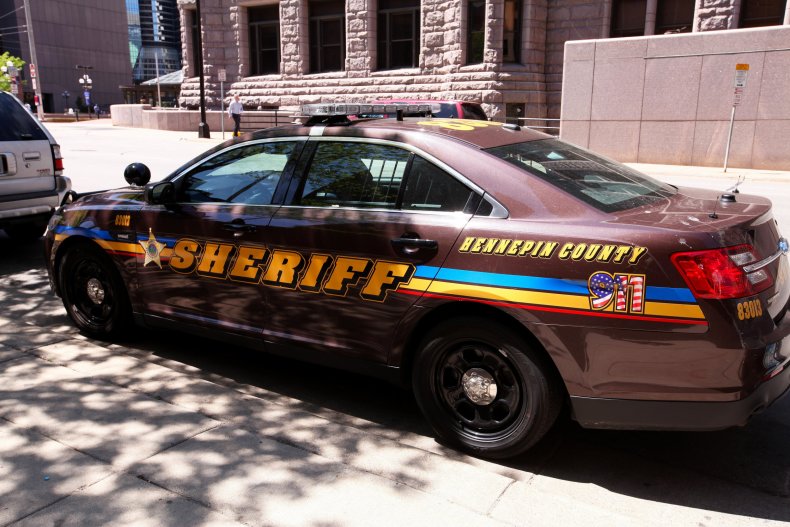 Floyd's murder sparked worldwide protests and demonstrations against police brutality and systemic racism. Two days after Floyd's May 25, 2020 murder, a civil uprising occurred in Minneapolis. The uprising caused an estimated $550 million in damages to 1,500 businesses, according to the Star Tribune.
The city paid a $27 million settlement to Floyd's family in March. City leaders also reallocated $8 million of the police department's budget towards social services meant to reduce reliance on the police for aiding homeless and mentally ill people. The city's 2021 police budget is $176 million.
Chauvin was convicted of second-degree unintentional murder, third-degree murder, and second-degree manslaughter for killing Floyd. Chauvin's sentencing hearing is scheduled for June 16. The prosecution has requested a prison sentence of 30 years. However, Chauvin's attorneys have asked for a reduced sentence and a new trial.
Newsweek contacted the Hennepin County Sheriff's Office and the Minnesota Bureau of Criminal Apprehension for comment.