Putin 'Angry Man' Focused on 'Revenge' After Ukraine War Failures: Gardiner
Russian President Vladimir Putin is a "very angry man" thinking about revenge after a series of military failures in Ukraine, said Nile Gardiner, a foreign policy expert and ex-aide to former U.K. Prime Minister Margaret Thatcher, in an interview published Saturday.
Gardiner made the comments in an article published in Express.co.uk about Russia's ongoing war with its Eastern European neighbor. However, the foreign policy expert said he doesn't believe Putin would go as far as using nuclear weapons, a prospect that the Kremlin has repeatedly warned about.
"The Russian rhetoric about the use of nuclear weapons is overwhelmingly intended to intimidate," he told the news outlet. "This is just classic Russian propaganda we are seeing here, where they are making all kinds of threats and are trying to divide the Western alliance."
Nonetheless, Gardiner added that the Russian leader should not be "underestimated," stating that "Putin is a very angry man these days, always thinking about revenge and all sorts of things."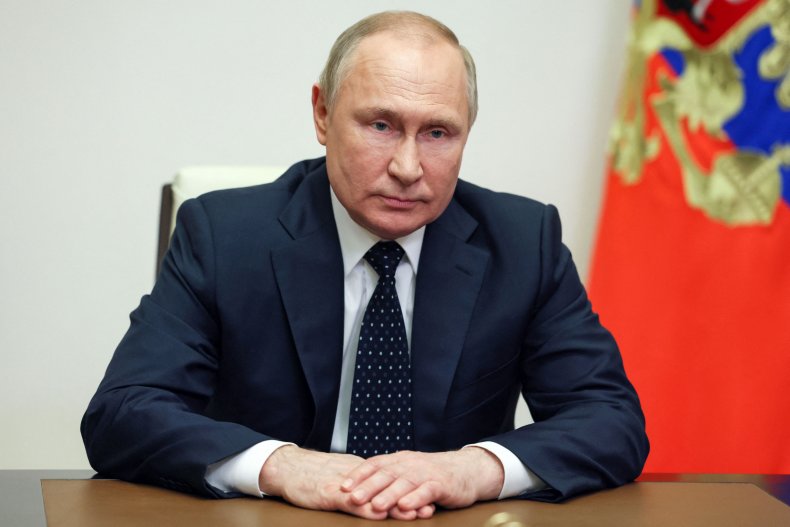 His comments come more than three months after Putin sent over 100,000 troops to invade Ukraine for a so-called "special military operation." Since then, Ukrainian officials have said the bloody war has resulted in the deaths of thousands of Ukrainian civilians and troops, and has displaced more than 8 million people from their homes.
However, Russian troops have been met with fierce opposition and have so far recorded few successes. At the beginning of the invasion, the Russian military failed to capture the capital city of Kyiv and was quickly forced to retreat. Russian troops have since refocused their efforts around the country's southern and eastern regions, but have faced significant losses.
Ukrainian officials have estimated that some 20,000 Russian troops have died, while at least a dozen of the nation's top military generals have been killed, Newsweek previously reported.
Earlier this month, Russia's military was met with a disastrous attempt to cross the Seversky Donets River in eastern Ukraine, resulting in the deaths of hundreds of soldiers, and highlighting how yet another key mission has gone wrong. Meanwhile, a recent Newsweek report showed how Russia's air-warfare has failed to pay off, despite the fact that it has fired more missiles in Ukraine than any other country has since World War II.
The military struggles have also resulted in a shortage of Russian troops and low morale among those on the frontlines. In some cases, Russian soldiers have reportedly stopped taking orders and have even sabotaged their own vehicles to avoid fighting.
"There are good reasons for low morale on the Russian side. The war isn't going well. Its purpose is unclear, and fighting a war against a neighbor—with whom it's easy to communicate—is psychologically burdensome to soldiers," Michael Kimmage, a Catholic University history professor and former member of the secretary's policy planning staff at the State Department, told Newsweek earlier this month.

Amid such losses, Russian politicians and media figures have ramped up threatening messages about the potential use of nuclear weapons. Earlier this week, Aleksey Zhuravlyov, leader of the nationalist party Rodina (Motherland), appeared to suggest that Europe would sooner be "reduced to ashes" before Russia loses its war. Putin has not explicitly said that the country plans to launch a nuclear attack, but several Western officials have warned that it may be necessary to prepare for such actions.
The war has repeatedly been condemned by the U.S. and other Western nations, who have imposed significant sanctions against Russia and provided weaponry and humanitarian assistance to Ukraine.