The Year Putin Didn't Die
A year since Russia's invasion of Ukraine the world, has waited to see whether any cracks might interfere with Russian President Vladimir Putin's leadership. And one recurring subject of fevered discussion was the supposedly terminal state of his health.
But here he still is at the helm of Russia, alive and seemingly well, as it continues to wage its war on Ukraine.
"I'm deeply skeptical that Putin has some health problems likely to lead to his imminent death or incapacitation," Professor Mark Galeotti, director of Mayak Intelligence, a consultancy firm based in London concentrating on Russia, told Newsweek. "There is a great deal of rumor, propaganda and wishful thinking in play."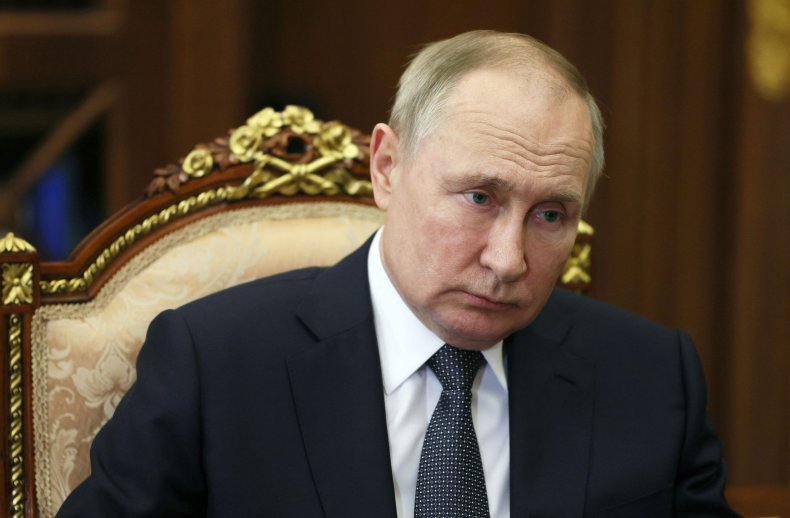 Putin delivered his State of the Nation address this week, painting Western countries as the aggressors who drew Russia and Ukraine into conflict. And he appears to be in a relatively firm position to continue his war, at least in the immediate future.
Polling in Russia suggests that there is domestic support for the war and Moscow's diplomatic ties to China potentially offer longer backing for its campaign.
Since Russia's full-scale invasion, however, numerous stories emerged about apparently grave health problems that threaten to abruptly end his premiership, largely based on analysis of footage from news conferences, public events, and hearsay.
One report from March 2022 in the British tabloid The Daily Star, citing an anonymous intelligence source at the Pentagon, claimed that Putin was dying in "agony" of terminal cancer.
At the one-year anniversary of Russia's invasion, Newsweek looks back at some of the most pervasive claims about Putin's health.
Putin Cancer Claims
The rumors that Putin has cancer have been echoed by Western intelligence. Speaking to Newsweek, in June 2022 three U.S. intelligence leaders read reports that said Russia's president had undergone treatment for cancer in April 2022.
In May 2022, former U.K. intelligence officer Christopher Steele claimed the Russian leader broke up meetings of his security council to receive "some kind of medical treatment between those sections.
And the former head of the British Secret Intelligence Service Sir Richard Dearlove predicted that Putin would be "gone by 2023, but probably into the sanatorium."
In April 2022, The Moscow Times reported claims that journalist Alexei Venediktov had asked Kremlin spokesman Dmitry Peskov if it was correct that Putin did not have cancer. According to the newspaper, Peskov replied: "Correct".
New Lines magazine reported in May 2022, citing a secret recording, that an unnamed oligarch close to the Kremlin had described Putin as "very ill with blood cancer."
The claims of surgery and poor health around this time were echoed on social media, particularly the anonymously run but widely-watched Telegram account General SVR.
The account, purporting to be run by a former Russian Foreign Intelligence Service official, was quoted by economist and author Anders Åslund on May 23, 2022.
Åslund, who wrote the book Russia's Crony Capitalism, tweeted that Putin had undergone surgery between May 16 and 17, 2022, and was out of contact from May 17 to 19, 2022, with the exception of Russia Security Council security Nikolai Patrushev.
While General SVR's claims have been attention-grabbing, it too has faced scrutiny, with fact-checking journalists at Snopes rating some of its reports about Putin's health as unproven.
Nonetheless, the reliability of some of the sources around the cancer rumor—primarily that Western intelligence services appear to be taking them seriously—may provide credence to it, or at least that Putin had received preventative treatment in the past year.
Among the various health claims, while unproven, cancer appears the most plausible.
At 70, Putin is now among the age group which accounts for half of all cancers, according to the charity Cancer Research UK. However, whether the illness—if Putin even has it—is life-threatening is another question.
Putin and Parkinson's
Another repeated suggestion is that Putin has developed Parkinson's disease, a progressive neurological condition that causes unintended or uncontrollable movement, among other symptoms.
Viral videos of Putin appearing to grip a table tightly with one of his hands, and of him seemingly struggling to walk, have catalyzed the possibility in some observers' minds.
Public figures such as former U.K politician Louise Mensch, now a prominent social media personality, propagated this further, sharing the video of him gripping the table as proof.
However, scientists have said what scant indication there is that he may be exhibiting symptoms of Parkinson's aren't sufficient proof that he has the disease.
U.K. neurogeneticist John Hardy told German news outlet DW that Putin displayed "no sign of Parkinsonism in my view" but acknowledged he "did not look well."
K. Ray Chaudhuri, a neurologist at the University of London, also told the outlet that they "can find no evidence" of Parkinsonism in that clip.
A recent video shared online of Putin fidgeting during a meeting with Belarusian counterpart Alexander Lukashenko has led to a repeat of the Parkinson's claims although, again, there does not appear to be any substantive proof.
Other illnesses
Although related to the cancer claims, another unverified rumor that picked up attention in December 2022, was Putin had fallen down a flight of stairs and soiled himself.
This story was also shared by General SVR, which alleged that Putin fell down five steps on a staircase and landed on his coccyx or tailbone. The jarring fall caused the Russian leader to then "defecate involuntarily," according to the Telegram channel.
Putin's press office told Newsweek that none of General SVR's claims were true.
"Nothing but ducks"
A reason one might doubt the veracity of these various health claims is that the war in Ukraine has not been their lodestar. Putin has been subject to multiple rumors and articles suggesting he has been unwell for years.
In 2022, The Moscow Times cited an investigative report by Proekt Media that stated Putin was accompanied by doctors including a thyroid cancer surgeon on trips to his residence in Sochi from 2016 to 2019 and that doctors "may have performed surgery" on him in November 2016.
However, Proekt's report did not directly state whether Putin was diagnosed with cancer or any other illness.
A retrospective by Insider reported health concerns as far back as October 2012, such as Putin walking with a limp, rumors that he had at least five doctors with him wherever he goes, and a number of disappearances that were thought to be related to cancer care.
Russia has denied these stories, dismissing them as little more than hearsay.
Peskov told Russia's online newspaper Gazeta in July 2022 that: "Ukrainian information specialists, in quotation marks, both American and British, have been throwing various ducks about the state of the president's health in recent months.
"It's nothing but ducks."
This was preceded by comments from Russian foreign minister Sergey Lavrov in May 2022, dispelling the speculation.
"President Vladimir Putin appears in public every day," he said in an interview with French television. "You can watch him on screens, read and listen to his performances. I don't think that sane people can see signs of some kind of illness or poor health."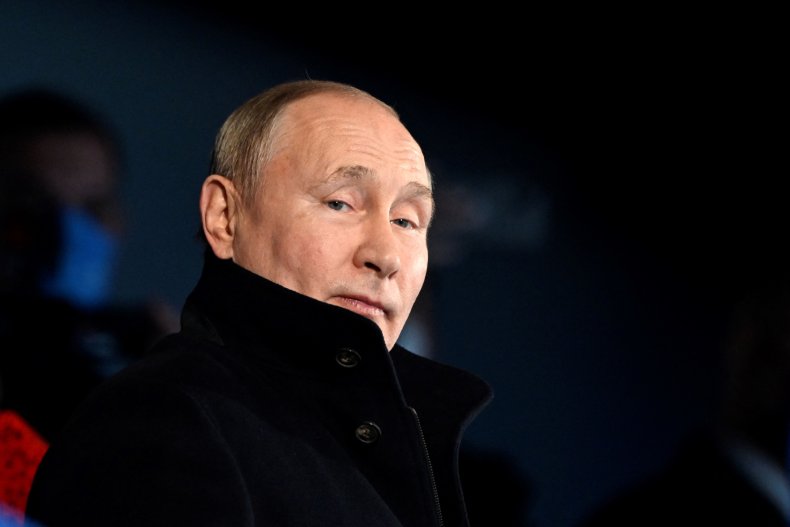 'Non-Story'
Newsweek spoke to Russia experts, who doubted the claims.
Emeritus Professor of Russian and European Politics Richard Sakwa from the University of Kent said there was "absolutely no serious evidence in the public domain about Putin being sick."
"In fact, his vigorous performance in delivering his annual address to the Federal Assembly earlier this week demonstrated that he is well and fully compos mentis," Sakwa said.
"He does have a medical team with him at all times, but that makes sense in purely preventative terms...In my view, Putin is likely to run again in 2024 and win. He will be with us—for good or all—for the next few years.
"The story of his illness is a non-story—put out by the usual crazies."
Professor Peter Rutland, an expert in contemporary Russian nationalism, politics, and the Russian economy at Wesleyan University, said: "I don't take any of these reports seriously.
"People create and spread these bogus stories because it drives traffic. And even if he is sick, then he will be patched up. Both Yeltsin and Brezhnev lived on for many years with serious illnesses."
The evidence for Putin's illness is, publicly at least, thin. It seems likely that both he and the war in Ukraine will continue for some time yet.
Newsweek has contacted the Kremlin for comment.