Putin Is Keeping 'Red Lines' for Ukraine War Secret: Russia State TV
Russian President Vladimir Putin is not disclosing what his "red lines" are for striking "decision-making centers" in Ukraine amid the ongoing war, according to the editor-in-chief of Russian state-controlled media outlet RT.
Margarita Simonyan, who moderated this year's St. Petersburg International Economic Forum, appeared on Russian state television Sunday following the event. She said that when she asked Putin why he wasn't striking Ukraine's "decision-making centers" and asked what his red lines are, he responded, "I won't say which red lines they are, but they know about them.... I won't name them due to the military tactics.
"Why would we show them our cards in advance?" he asked, according to The Daily Beast.
Simonyan also said that while speaking on his reasons behind not conducting more severe bombings on major Ukrainian cities, Putin said: "Would we want to turn those cities into Stalingrad? Indeed, our people are there! Those are our future cities! It's obvious... This is our land and our people, we'll later have to restore it," The Daily Beast reported.
While Putin didn't reveal any of his red lines during the economic forum, Russia and its allies have issued several warnings to both Ukraine and the West on what actions could lead to a larger conflict. Specifically, Russia's ambassador to the U.S., Anatoly Antonov, said in a Telegram post late last month that it would be "unacceptable and intolerable" if Ukraine placed U.S.-supplied long-range rocket systems near its border with Russia. In May, Belarusian President Alexander Lukashenko, a top Putin ally, warned that Western countries supplying Ukraine with weapons could lead to World War III.
Belarus "calls on the countries of the world to unite and prevent the regional conflict in Europe from escalating into a full-scale world war!" Lukashenko wrote in a letter to United Nations Secretary-General António Guterres.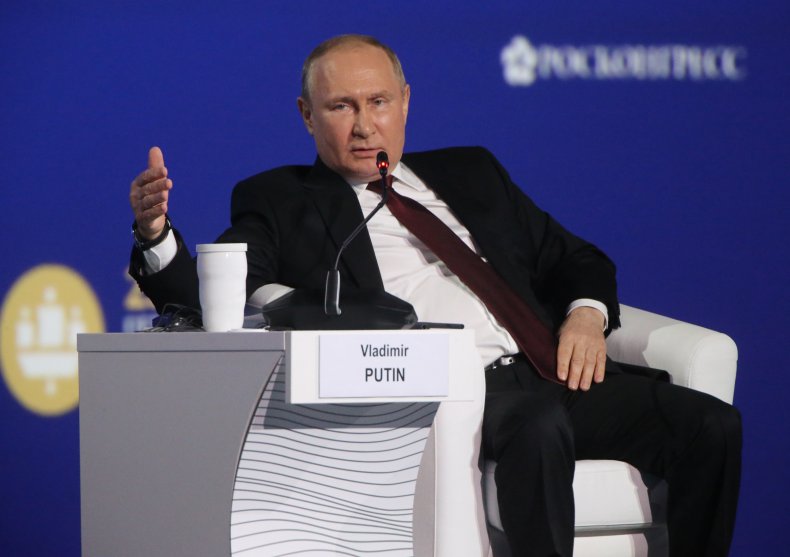 It was not immediately clear if Putin's secret "red lines" are directly linked to weapons, but Ukraine has ramped up calls for Western-supplied arms in recent weeks as Russia continues its offensive in eastern Ukraine. Ukraine's deputy defense minister, Hanna Maliar, said in a televised plea last week that her nation has only about 10 percent of the weapons it needs to continue resisting Russia's attacks.
Last week, Ukrainian presidential adviser Mykhailo Podolyak detailed on Twitter exactly what weapons the country will need to keep fighting off Russian forces, including 1,000 howitzers, 500 tanks and 1,000 drones.
In an interview with France 24 later in the week, Podolyak said Western weapons could allow Ukraine to secure a victory against Russia in the next three to six months if it receives heavy weapons "fairly quickly."
Newsweek reached out to the foreign ministries of Russia and Ukraine for comment.