Putin's New 'Alexander III' Nuclear Submarine Compared to U.S. 'Ohio' Fleet
Russia is fulfilling a years-long naval nuclear plan separate from Vladimir Putin's recent decision to buck an international treaty, a Russia expert told Newsweek.
Alexei Rakhmanov, the head of Saint Petersburg-based United Shipbuilding Corporation, announced Monday that Sevmash, Russia's largest shipbuilding corporation and the nation's only producer of nuclear-powered submarines, will provide the Russian Navy with two new submarines—the strategic Imperator Alexander III, and the multi-purpose Krasnoyarsk—by year's end.
"Sevmash has picked up a rhythm, thanks to which it is now again handing over to the customer one or two nuclear submarines a year," Rakhmanov told Russian state-run news agency RIA Novosti.
Russian state media outlet Tass reported that Putin took part in the ceremony of first setting the Imperator Alexander III afloat on December 29. The Borei class submarine is capable of carrying 16 Bulava intercontinental ballistic missiles.
The Russian Defense Ministry told Tass that the subs, which will commence sea trials in June of this year, have a lower noise level, better systems for maneuvering and control at great depths, and an improved weapon control system.
The Krasnoyarsk began undergoing sea trials on November 1, Sevmash's CEO told Tass at the time.
Earlier this month, The Russian Navy confirmed it decommissioned its nuclear-powered strategic submarine Dmitry Donskoy, formerly part of its Cold War weapon system.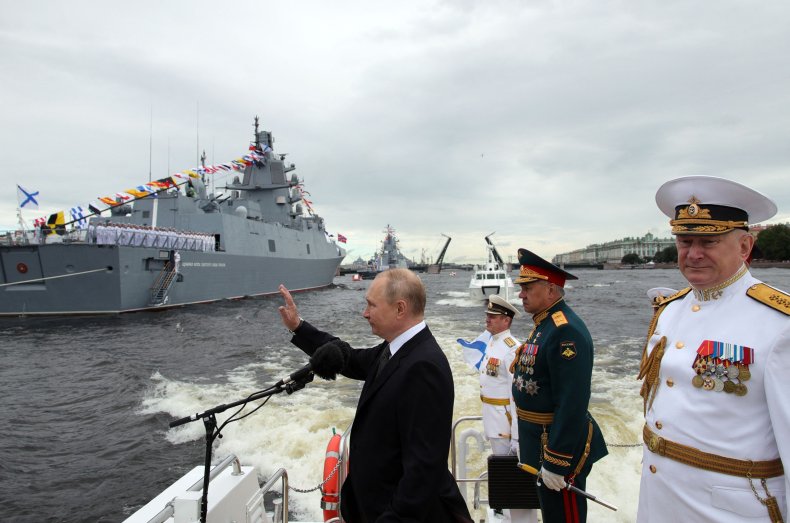 Stealth and "the precise delivery of nuclear warheads" are the focus of the U.S. Navy's ballistic missile submarines (SSBNs), referred to as "boomers."
There are 14 SSBNs part of the Ohio fleet, with each carrying up to 20 submarine-launched ballistic missiles (SLBMs) with multiple, independently targeted warheads. They formerly carried 24 SLBMs but permanently deactivated four of each sub's missile tubes due to following provisions within START.
The SSBN's strategic weapon is described by the U.S. Navy as the Trident II D5 missile, which has increased range and accuracy over the currently out-of-service Trident I C4 missile.
They also possess three larger-diameter hatches that allow for the rapid transfer of supply pallets, equipment replacement modules and machinery components. The Navy says it decreases the time required for replenishment and maintenance, while also allowing for extended patrols.
"The Ohio-class design allows the submarines to operate for 15 or more years between major overhauls," according to the U.S. Navy, with crews on average spending 77 days at sea followed by 35 days of in-port maintenance.
'In the works for years'
Last week, Putin announced that Russia would temporarily be suspending its participation in the New Strategic Arms Reduction Treaty (START). It was the last nuclear arms control agreement shared by both Russia and the U.S.
The decision has been perceived as a bluff by ex-Russian diplomat Boris Bondarev, in terms of Putin never intending to use nuclear warfare as part of the ongoing war against Ukraine.
Putin said this past weekend that Moscow must "take into account" the "nuclear potential" of NATO countries like the U.K. and France, as well as the U.S.
Jeffrey Edmonds, research scientist at the Center for Naval Analyses (CNA) and former director for Russia on the National Security Council, told Newsweek that the two Russian submarines "have been in the works for years" and are unrelated to Putin's recent comments regarding START or nuclear proliferation.
"Some of us have always maintained that Russia's real naval power is its undersea fleet, and I would stand behind that assessment," Edmonds said. "They are extremely capable platforms and are not getting used up in the Ukraine conflict. Regardless of the outcome of the Ukraine war, Russian submarines are going to remain a challenge to US and NATO defense."
While admittedly not an Ohio fleet expert, he said they and Russia's new subs are "peer competitors" in the undersea domain—although the U.S. subs are likely more advanced.
Asked if subs will become more ubiquitous this year as opposed to the first year of the war, he said escalation remains unlikely unless the war drags on for an uncertain period of time.
"The barricade that Russia imposes and calibrates could become a sticking point and a point of escalation should the Russian military continue/begin to lose the war in Ukraine," Edmonds said.
Newsweek reached out to the U.S. Navy and Russian Defense Ministry for comment.