Putin Regime at 'Beginning of the End': Russia Expert
Vladimir Putin's regime is at "the beginning of the end" amid his faltering invasion of Ukraine, predicts Russia expert Iver Neumann.
The Russian president launched the invasion of Ukraine in late February, citing his desire to liberate the separatist Donbas region, but has so far struggled to achieve his major objectives after being met with a stronger-than-expected response from the Ukrainian military. Fighting remains concentrated in eastern Ukraine,
The invasion was met with international backlash amid reports of alleged war crimes and a lack of justification. Most Western nations slapped Russia with sanctions, including on oil, a key Russian export, in the weeks that followed the invasion's launch. The sanctions have been seen as a blow the Russian economy and Putin's leadership, though many Russians continue to back their president.
But Neumann, a Norwegian political scientist who studies Russian politics, predicted the fallout could contribute to "the beginning of the end" of Putin's leadership in an interview Radio Free Europe published on Saturday.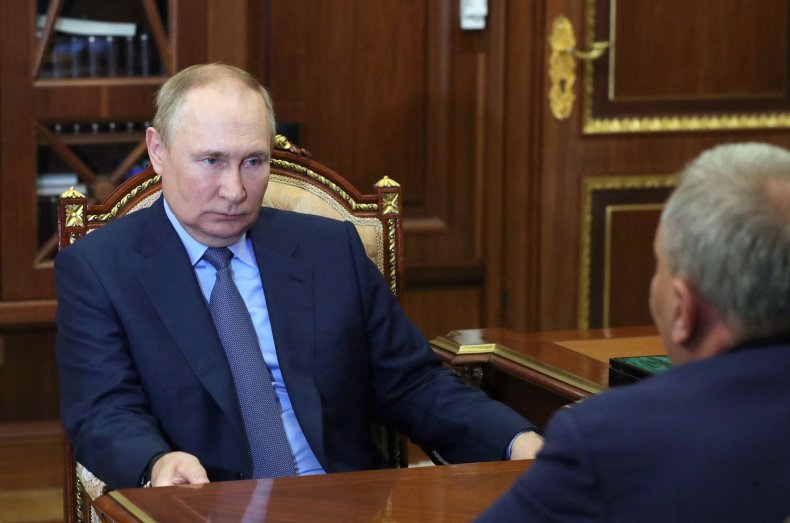 He pointed to myriad contributing factors that could negatively impact Russia's economy, including the sanctions, companies fleeing in the aftermath of the invasion and the reduction in other countries' willingness to accept Russian exports.
"So, since Putin's tenure sort of began 22 years ago, very little, if anything, has really happened to the economy. And I find it stunning that a trained Marxist like Putin simply doesn't grasp that material factors are of the essence," he said, according to Radio Free Europe.
Still, it's difficult to predict exactly when the regime may collapse or what could follow, warned Neumann.
"His regime have done a thorough job of rooting out what there was of organized liberal thinking and work in Russia. Bad for the country, good for the Putin regime," he said.
Russia-Ukraine War Continues
Neumann's remarks come as Russia continues to struggle to achieve its goals in Ukraine, and some experts are suggesting that Russia could remain in danger of losing the war. The United Kingdom's Ministry of Defense tweeted on Friday the Kremlin is "growing desperate," and Richard Moore, chief of the U.K.'s MI6 intelligence service, wrote that Russia is "running out of steam."
Russia's struggles throughout the war have been attributed to the use of outdated weapons, chain-of-command issues and poor troop morale, among other things. Military experts have also suggested that the United States supplying Ukraine with HIMARS—M142 High Mobility Artillery Rocket Systems—could change the tide of the war.
Still, the White House has warned that a recent slowdown in Russia's military operations in Ukraine is not necessarily the military stalling. National Security Council Strategic Communications Coordinator John Kirby told reporters on Friday that authorities believe the Russian military is regrouping to prepare for the sustained conflict.