Russian President Vladimir Putin has thanked his agents for busting hundreds of foreign spies and keeping Moscow's future weapons top secret, ahead of this month's predictable presidential election.
The president spoke only a few days after he dedicated about three-quarters of an hour of his annual address to show dated-looking clips of Russia's next generation of arms in action. Not only did Russian internet users lampoon the old-fashioned graphics, but it emerged that some of the animation was not even new or classified. It had been broadcast on national TV in 2007.
In an address to Russia's Federal Security Service (FSB) Putin harked back to his arms showcase and said that public information about Russia's future arsenal is so hushed because of the intelligence community's work.
Related: Massive sign 'against Putin' sprayed on frozen river gets Russian activists in hot water
"The work over this modern technology has been ongoing for many years," he said Monday, according to state news agency Tass. "Thousands of people have taken part in it, hundreds of scientific and engineering teams from Russia's industrial enterprises. I'd like to highlight that it was possible to ensure the effective and operational counterintelligence shielding of these massive projects."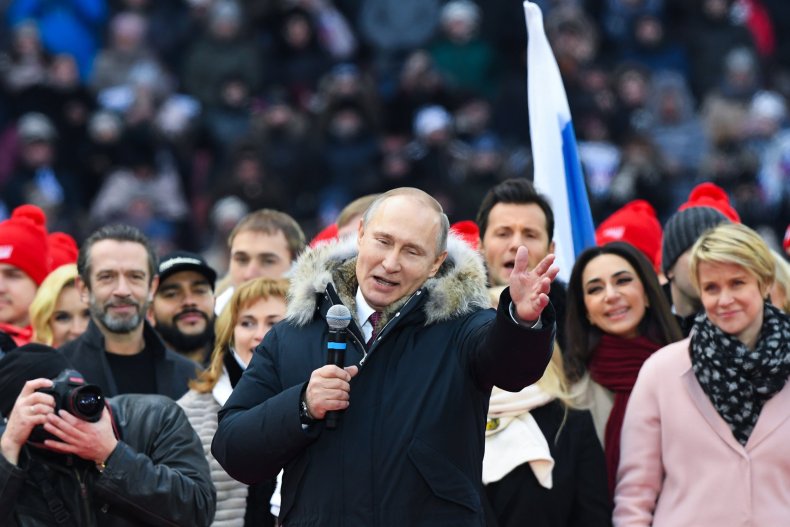 Putin said this was no small feat, as Russian intelligence officials and security forces had intercepted the work of 72 foreign intelligence staffers and 397 agents over the course of 2017. He stressed it was imperative that the FSB keep suppressing foreign attempts to acquire sensitive or secret data.
The president and other officials around him have repeatedly played up the danger of foreign sabotage during the upcoming presidential election in Russia, which Putin is predicted to win easily. Nikolai Patrushev, Putin's top national security adviser, said last month that Moscow is particularly wary of cyberattacks now "on the eve of the election."
The Kremlin has resoundingly rejected the unanimous verdict of the U.S. intelligence services that Russian hackers targeted the 2016 American presidential election. At the same time, Moscow has also tried to portray itself as a potential victim of election meddling, equating not only hacking but U.S. sanctions to attempted interference. Putin's campaign has largely called on Russians to vote for a "strong president" as a bulwark against foreign attempts to reduce Russia's standing.